The moment I learned I was going to be a mom, I found myself faced with endless decisions: choosing a pediatrician, creating a safe space for baby to play and sleep, and for us, deciding where to live since we wanted more space for our growing family. And then there were all the small choices that can sometimes feel big, like choosing which bottles, diapers, and thermometer to buy. 
Shop The Everymom x Kohl's 2021 Mother's Day Gift Guide!
There's so much pressure to make the "right" choices for our babies, and social media makes it easier than ever to compare ourselves to what other moms are doing. If I've learned anything over the last almost two years of motherhood and as we prepare to welcome our second baby this summer, it's that there isn't a  "right" or "wrong"—it's about what works for us and our babies. We are all just doing our best, and we are the best moms for our little ones. 
When choosing a mattress, selecting My Green Mattress' safe, breathable, and organic mattresses for both my girls was an easy decision. Clean, natural, and organic places for both of my babies to sleep? Sign me up. Everything the brand stands for has been important, and like most moms, I was so nervous about where my baby would sleep.
Maybe it's because there's heart disease, diabetes, and high blood pressure in my family. I've managed to keep my blood pressure low and stay healthy, and I attribute what I put in, on, and around my body to that. Not everything has to be natural, and I don't feel a sense of pressure behind it, but I've found that I feel the most at ease when the items we use when we sleep, eat, apply on our skin, or clean our home with feel as close to nature as possible. 
Choosing an Organic, Non Toxic Mattress
Safe, healthy sleep is something that's very important to me. My younger sister has horrible allergies (she's allergic to dust and feathers and dozens of other allergens) and I've watched her struggle to breathe at night for as long as I can remember. When it came to creating a place for my daughter to sleep, choosing a safe, breathable, and hypoallergenic mattress was a must. Enter My Green Mattress.
First, the mattresses are made here in the US and the company was founded by a dad looking for a safe, healthy place for his daughter to sleep. The Emily Crib mattress is handmade with organic, natural ingredients like GOTS certified organic cotton, GOTS certified organic wool, and GOTS certified organic coconut coir. As moms, we have enough to worry about, so knowing our babies are sleeping on something safe and breathable makes those first quiet nights less of a concern. "Is she safe? Is she ok?!" Yes. Yes, she is. 
When my daughter transitions into a big-girl bed, she will sleep on the Kiwi twin. She's had a daybed in her room—a space I envisioned us snuggling up and reading on, and the Kiwi is the perfect cozy spot. It is really comfortable and made of the same natural hypoallergenic materials as her crib mattress, so when it comes time to leave her crib, I'll know she's sleeping on the same safe, natural surface she's used to. 
Mom tip: order an organic mattress protector. The My Green Mattress organic waterproof protector will save your mattress from moisture, dust mites, and other allergens. A waterproof, breathable, and organic cover felt like the safest and healthiest option, and offered me peace of mind as a new mom.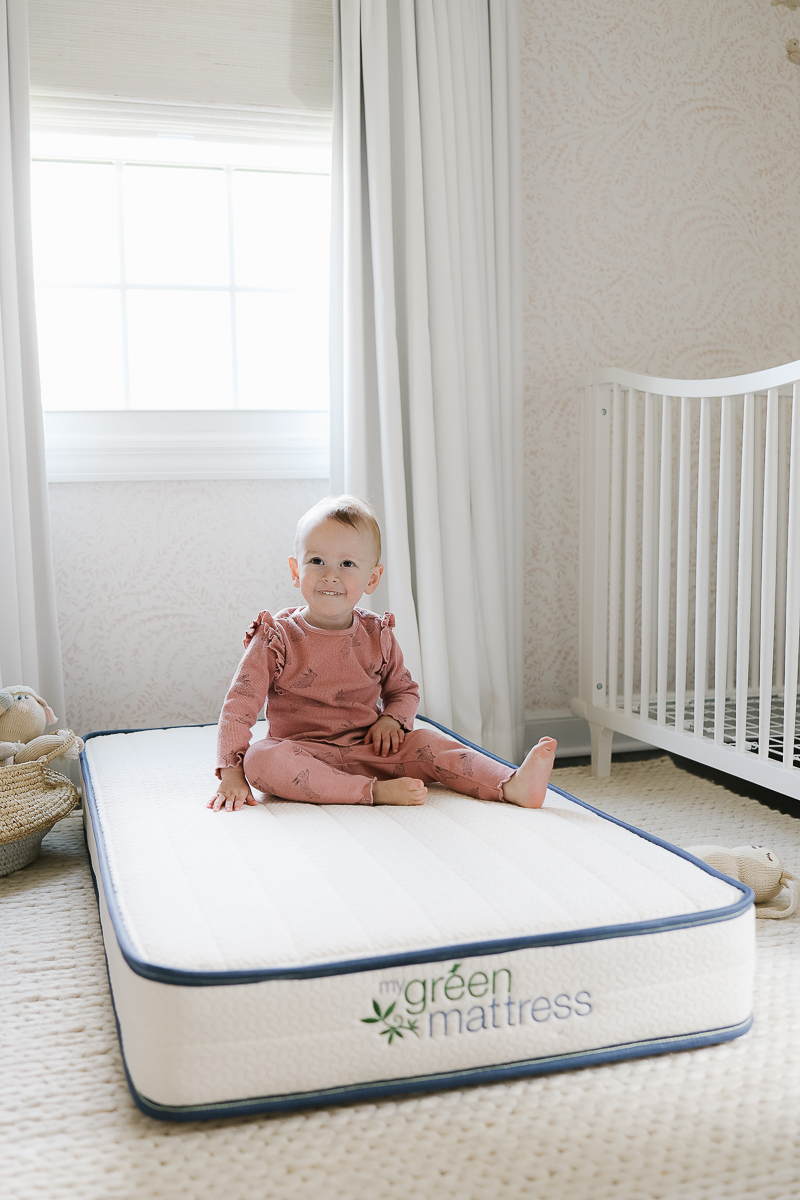 Eco-Friendly Diapers
Diapers add billions (yes, billions) of pounds of waste to our planet each year, and it can take a couple hundred years for a single diaper to decompose. Finding an eco-friendly option and doing my part to save our planet for my daughter was something that felt very important to me. I wanted to be the mom that used cloth diapers and sometimes, I still think about going back.
The cloth diapers I tried were really easy to use. They're so soft, work well, are great for baby's skin, and better for the planet, but the laundry felt like a lot of extra work. Parenthood is hard enough, so why make things harder? They are great to have on hand if you ever run out of diapers, and I've always switched back when Margot has had a diaper rash. 
After trying a few environmentally-friendly disposable brands, I found a subscription service for eco-friendly diapers free of chlorine, dyes, latex, fragrances, and heavy metals. They work well, we have only experienced a few leaks at night (none during the day though!), and I feel great knowing they're a little kinder to our planet. 
Avoiding Harsh Chemicals at Home
As a teen, I worried about the products that were used around my pets, and years (and years) later, that shifted toward what I would use around my baby. I started using this hypoallergenic detergent in 2015 and have been using it ever since, along with clean and natural cleaning products in our home. Since we have another baby on the way, I most recently purchased a steam mop to safely and naturally sterilize our floors. Margot has sensitive skin, and I am confident that clean and natural ingredients have made a difference for her. 
(Mostly) Fresh, Whole Foods
There can be so much judgment and stress around how we feed our babies before they're even born. Will you breastfeed or formula feed? If you're formula-feeding, what formula will you choose? And surely, you'll purée all your own organic baby food, right? For the record, Margot was formula fed, and I did not make her baby food.
I made the choice to introduce formula from day one so all the pressure wouldn't be on me when it came to feeding our baby, so when breastfeeding did not work out for us (we dealt with a tongue tie and low supply), it felt like an easy transition. Was there guilt and some pressure from complete strangers who felt the need to ask about what I was doing with my body? Yes. But I did what was best for my baby and me.
Making baby food wasn't really priority for me, so I chose brands that had limited natural ingredients (she loves these pouches, and these, too) and stayed away from processed food and sugar. I try to stick to mostly fresh, whole foods, but mix in some treats here and there. 
Clean Skincare
I have sensitive skin and have dealt with some minor eczema and allergic reactions to ingredients, so I made the choice to use safe, natural skincare for my daughter. With my latest pregnancy, I made the transition to clean beauty products and feel so good knowing that Margot's skin is safe when she rests her face against mine too. 
This post was in partnership with My Green Mattress but all of the opinions within are those of The Everymom editorial board.