My daughter's 1st birthday is coming up, and as I look around our house full of toys we've already accumulated with my 3-year-old, I know one thing for certain: we don't need any more stuff. I know most parents feel my pain. One minute we're bringing home a little bundle of joy, and the next thing we know the little bundle has garnered enough things to entertain a small army.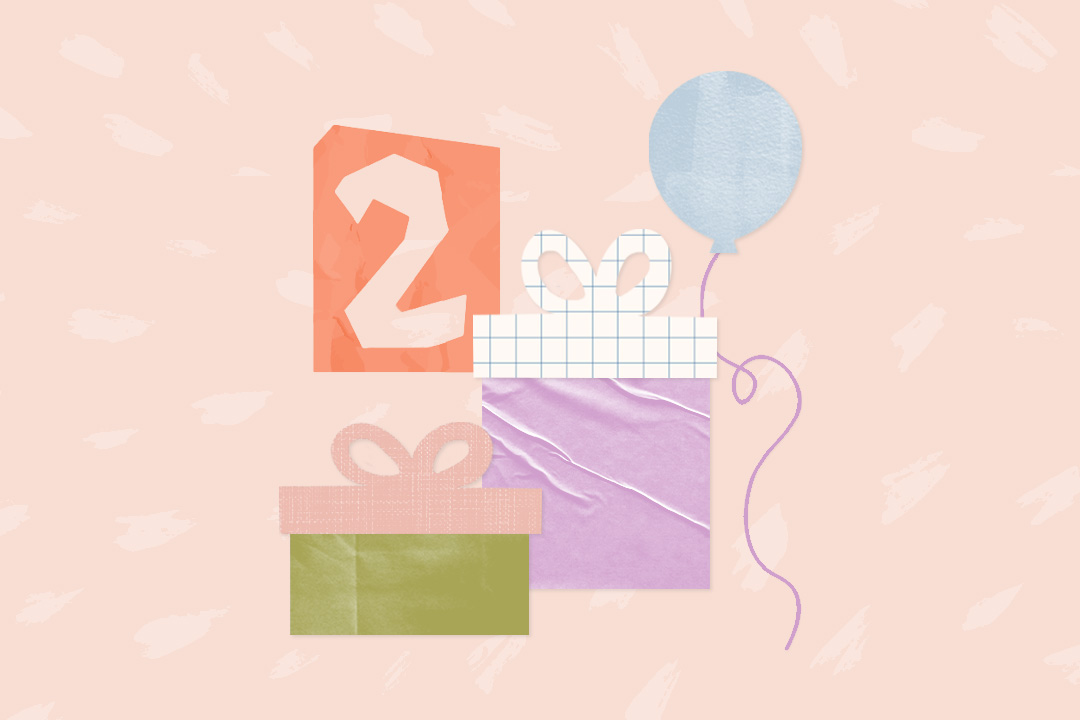 a LO in your life will love these! 🎁
The best thing about a 1st birthday is that the birthday girl or boy generally has no idea what's going on, therefore there is zero expectation in terms of gifts. Buying gifts for a 1 year old means you have a world of opportunity before they start asking you for Paw Patrol figurines and Frozen dolls. No matter what age, though, friends and relatives gravitate towards toy gifts when given no other option. We can't blame them—kids love toys!
But, we wanted to make the lives of parents with limited space (AKA, all of us), a little easier by putting together a list of great non-toy gift ideas. With these great ideas, you and the people in your kiddo's life will never have deal with the head-scratching puzzle of what to buy a 1 year old. While we've curated this list with a 1st birthday in mind, these ideas can be repurposed for stocking stuffers and holiday gifts as well.
Below, we've rounded up 20 ideas for special 1st birthday gifts that won't leave you with more clutter—keep scrolling to shop the list!
The Best 1st Birthday Gifts That Aren't Toys
1. A Photo Shoot
If there's one thing I will never tire of, it's pictures of my kids—especially ones with me in them because it seems as though I'm always the person behind the camera. Photoshoots can be expensive, so a 1st birthday is the perfect time to splurge on a professional to capture this special moment in time. It's more of a gift for the parents than the child, but we deserve something for surviving year one, right? Put the pictures together in a photo album and be prepared to bring it out the first time they bring a significant other home.
2. A Zoo Membership
The best thing we can give to our children is quality time. A gift like a zoo membership is the gift that keeps on giving. You can explore the zoo together and spark their curiosity for animals. Keep the membership up to date for the coming years, and when your kiddo is old enough, many zoos will offer discounts on things like camps, classes, and events for anyone with a membership.
3. Nursery Art
It might seem weird to give a 1-year-old a piece of decor, but it's a win-win if it doubles as nursery art that will grow with your child. Maybe someday it will be something that they give to one of their own children or grandchildren as a gift. Who knows?
4. Diverse Books
Though your little one might already have an extensive home library filled with favorite books, it's also important to remember to include diverse stories in your collection to teach kids about race, diversity in abilities, and diverse types of families.
5. A Custom Illustration
A personalized illustration is timeless, and even if your little one can't fully appreciate it right now, they will someday. Whether it's a custom illustration of your babe or of something they love—like a favorite toy or stuffed animal—this gift is a winner in our book.
Etsy | Lemonade Design Studio
Etsy | Livi Lou Designs
6. Swim Lessons
Another win-win for parents and kids: teaching them to swim. Plus, if it's something you would have invested in anyway, congratulations for saving a few bucks by doubling it as a gift.
7. A Poem or Letter From Grandma or Grandpa
Growing up, I had a framed poem on the wall in my room that my grandmother wrote for me when I was 3 years old. To this day, I have every word of the poem memorized. I'm incredibly lucky that my grandma is still around and is now the great-grandma to my children. Every year for each of their birthdays, I ask her to write a new poem for each of them. While they can't appreciate it now, I know that someday it will be a treasured keepsake.
8. A Memory Book
A different spin on the "baby's first year" memory book that you've probably already started—or in my case, that you'll start before they turn 3—is a memory book where you ask relatives and loved ones to submit a page with a photo and their favorite memory of baby's first year.
Rag & Bone Bindery
Shutterfly
9. A Donation in Your Child's Name
This truly is the gift that keeps giving. Instilling the practice of giving to others with our kids at a young age will be something they take with them for years to come. Find a cause that you support and honor your little one with a donation in their name.
10. A Monogrammed Blanket
I love a good monogram as much as I love a good hand-me-down, which is why I try to do it sparingly for my kids clothes and blankets. Who knows if a younger sibling will want to wear/use the item. A first birthday is a great time to consider taking on the extra cost for special monogrammed blanket.
11. A Personalized Story Book
I love these customized books for a fun way to teach kids their name and all the great words that describe them.
I See Me!
12. Magazine Subscription
Little kids are constantly learning, whether we see it or not. A magazine subscription is a great way to open their minds to new ideas and maybe even spark a new interest that will last a lifetime.
Ranger Rick Jr.
National Geographic Kids
13. A Museum Membership
It's never too early to introduce our children to the world of art and science through museum exhibits. Along with the quality time you'll spend together, maybe you'll even learn a few new things yourself.
14. A College Fund Donation
This may be the most practical of our list of 1st birthday gifts that aren't toys, and trust us, they'll thank you someday.
15. A Recordable Story Book
Record yourself reading so that your little one can hear your voice even if you're far away. These are also a great gift from out-of-town relatives who want to be a part of story time more often.
16. Piggy Bank
Teach kiddos money-saving habits early by gifting them their first piggy bank. Each time they get change or cash in the future, they'll love putting it in their own personal bank. This is a great habit to get them into before the tooth fairy starts making her rounds in a few years.
17. Subscription Box
We love gifting subscription boxes because it's like a new gift each time they arrive in the mail. Plus, these days there are boxes for everything. If your kiddo has already shown an interest in something like animals or science, help them explore it even more with a themed subscription box. While for kiddos this age the boxes will likely involve toys, they tend to be educational activities little ones will learn from.
Lovevery
KiwiCo
18. Travel Carrier
Birthday gifts that have an added convenience factor are always a win in our book. For adventurous families, travel supplies like a quality baby carrier will without-a-doubt come in handy.
Target | Ergobaby
Amazon | Tushbaby
19. New Pajamas
First birthdays are a bittersweet reminder that our little ones are growing. They've likely outgrown their newborn clothes and, chances are, new ones are perpetually in order. Grab them a pair of new pajamas to celebrate their new milestone—bonus points if the PJs are birthday themed! 🎉
Little Sleepies
20. Dinnerware
First birthday gifts that aren't toys can be both special and practical. Chances are, kiddos at this age are loving more solid foods. If you haven't already, invest in their very own set of dish-ware, cups, and utensils. Quality utensils will be both safe and easy for little hands and mouths to use.
Lalo
5 colors available
Target | ezpz
3 colors available