It's hard to believe that just a little over three years ago I didn't own a single toy or kids book. Looking around my house now (home to a 3-year-old and a 1.5-year-old), it seems impossible that none of this stuff was in my possession not too long ago.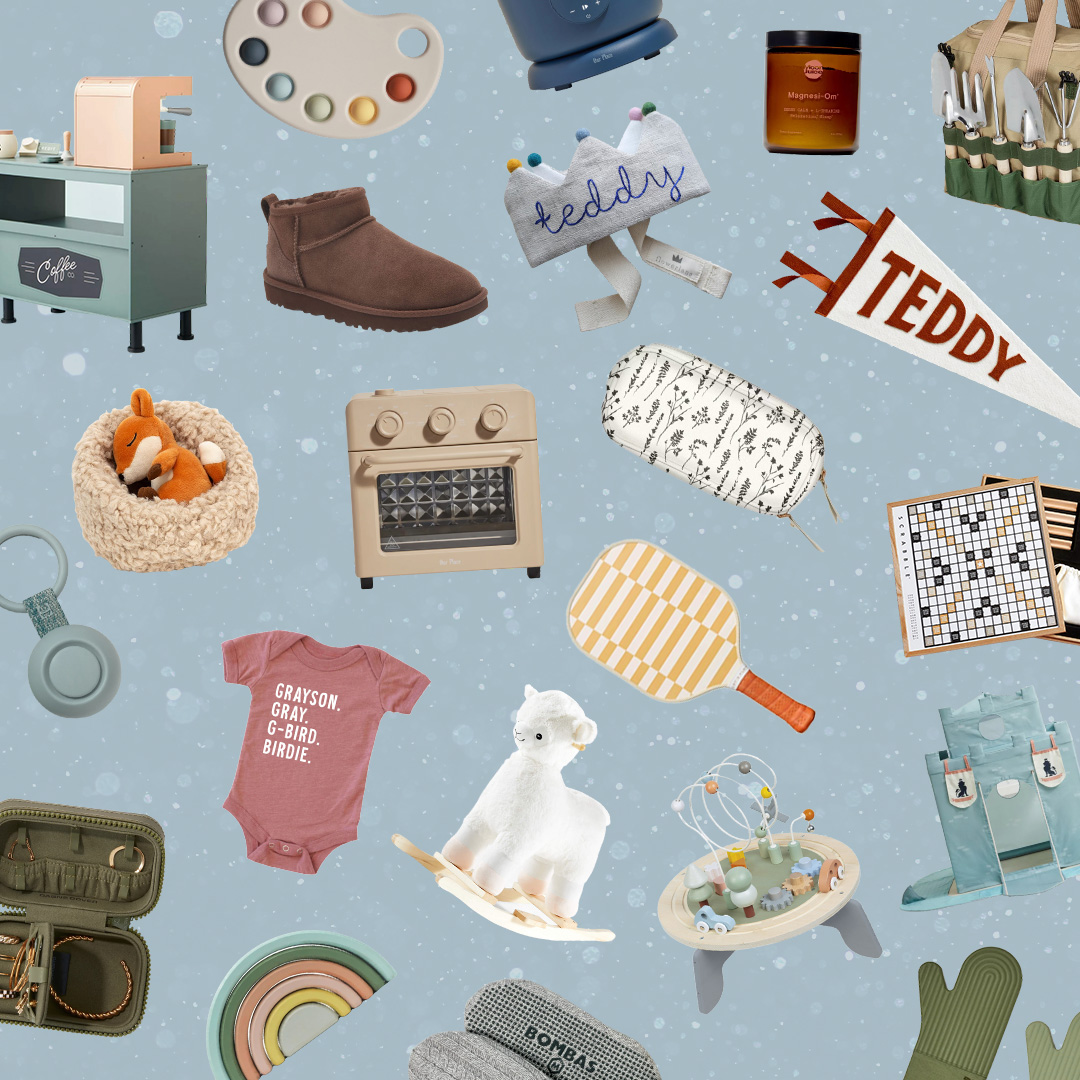 everything you need to ace holiday gifting this year 🎁
I'm not sure how we got from there to here, where my house has so many toys and books in every room that it feels like an FAO Schwarz exploded inside.
I know that having a house full of toys is a privilege, and we are fortunate enough to have so many toys and the space for them to live. However, it has become too much—and it feels like many of the toys aren't helping my child's development and play time, and instead are a hinderance. Not to mention, my house is a constant mess.
If you are in a similar situation, it can be hard to know where to start to clear the clutter. "Going through toys" has been on my to-do list for a while, but it was too overwhelming to begin, so for a long time I didn't. But now that my baby isn't so much of a baby anymore and is into his toddler years, it felt like the right time to clear out our space.
To help in my quest for a more organized home, I reached out to Alanna Gallo of Play. Learn. Thrive. to help. Alanna is a former teacher and mom of four who now consults with families to refigure their place spaces and beyond, giving parents actionable tasks to declutter, organize, and to set up their homes in a way that fosters independent play, growth, and learning.
Meet the expert

Alanna Gallo

Parent Educator and Founder of Play. Learn. Thrive.

Alanna is also a former public school teacher and mom of four.
Why worry about decluttering?
While I thought Alanna would give me simple tasks to help me sift through the toys, she opened my eyes to how big of a deal it is to create the best play space for your kids. Alanna believes that our play space and the way we encourage our kids to play is a huge part of their development and how they will eventually find their passions. As parents, we can create an optimal environment for kids to thrive in. We provide the support, and our kids can go out and find who they are and what excites them.
Though I want to declutter all the toys, it's always been hard for me to depart with things, even if my kids rarely play with them. Alanna put it into perspective when she reminded me that as adults if we are in rooms full of clutter, we have a hard time focusing. It's true, when my office is messy, I can barely focus on my work. It's the same for kids. With too much clutter around and too many toys to choose from, kids may have a hard time picking one activity to stick with and flip from one thing to the next instead of diving into a project.
And from a purely practical standpoint, if you like to have a clean home, the fewer toys you have to begin with, the fewer toys you and your kids will need to clean up at the end of each day. Sign me up.
With the help of Alanna, here we're sharing seven steps you can take toward a better toy situation in your own home.
1. Put all the toys from your house in one pile
For my Marie Kondo fans out there, this likely sounds familiar. Just like with the KonMari Method where you take all of your clothes and put them in one place, you're going to do that with toys. Take every single toy from your living room, playroom, basement, kid's bedrooms and so on, and put them in one giant pile. This is to help you visualize just how much stuff you have. It's probably going to be a big pile. It also leads us into our next step.
2. Categorize your toys
Once all of your items are in one place, you can begin the categorization process. You can make your own categories, and Alanna recommends categorizing toys into the following piles:
Broken toys and toys with missing pieces
Toys your kids no longer play with
Toys that are passive and are only played with for a few minutes at a time
High quality toys you and your kids love
As you might guess, you can probably toss and/or donate many (if not all) of the items in piles one through four. Now that those items are out of the way, you'll need to dig deeper into the fifth pile to further categorize. You can next categorize by toy type (think piles of vehicles, play food, dolls, stuffed animals, etc).
3. Decide how much you need
Once you've further categorized the toys your kids often use, consider how many of each they need. Do they need 20 fire trucks, or do they really only play with five of them? If you find yourself worried that your kids are going to miss a toy you want to get rid of, it's often the case that out of sight, out of mind will happen, and your kids won't notice that 20 fire trucks are missing. You don't need to get rid of something your kid really loves, but focus on quality over quantity.
My own tip for when you are on the fence about getting rid of something, is to put it in a bin in your closet and set a calendar reminder for one month. If your kid doesn't mention the toy in that month, it's probably OK to get rid of it. Nearly every time you can get rid of the toy.
4. Define play spaces that work for your family
Not every home and family's needs are the same, so this is an action item you'll have to consider for your situation. If your home has a dedicated playroom, this is a great safe space to set up for kids that will give them independence to play. If your home doesn't have a playroom, find areas of your home where you can keep the appropriate amount of toys for your kids to access.
It's also ideal if it's a space where you can keep an eye on the little ones while still giving them freedom to explore on their own. Often we insert ourselves into play, which can disrupt the flow for kids.
5. Display your toys
Alanna explained there are optimal ways to display toys to encourage your kids to use them. You want toys to be easy to access and view from a kid's point of view. Just as we mentioned above that "out of sight, out of mind" means kids will likely forget about certain toys, this is true for a playroom or place space. If toys are in closed bins, they may be skipped over. Consider cube organizers. Yon can put one toy per cube, making it viewable and not overwhelming with too many to choose from.
Also think about this with your book displays. If younger kids can only view the spines, they may have a tough time finding ones that pique their interest. Choose a bookshelf that shows off the cover.
Target
Fill each cube with one toy for just the right amount of options to engage but not overwhelm your little one.
Etsy | Sklejkove
For young readers, bookshelves that display the cover of books will attract more kids.
6. Consider toy rotation, but don't force yourself into it
I totally get the hype of toy rotation. It makes perfect sense, and is a great way to keep things fresh for your kids without overwhelming them. However, this system has not worked for me in the past. Toys stay forgotten in storage for way too long, until I inevitably discover them when my child has outgrown them or they are no longer of interest. If you are up for toy rotation, give it a try! However, if it doesn't work for you, it's OK to skip it too.
7. Think ahead
Now that you've made great toy progress, there's a problem ahead. Toys just somehow continue to appear over time. If it's important to you to cut down on toys and clutter, voice this to the friends and family who are likely to give your child toys. Explain why you are cutting down on toys and are focusing on other things.
With birthdays and holidays, Alanna recommends either telling your guests absolutely no gifts, or being very specific about what your child wants and needs. Think beyond toys and create a wishlist of things like art supplies, outdoor items that will keep your child active all year long (rain jackets, snow or hiking books, hats, bikes, scooters, helmets), or focus on experience gifts. There are creative experiences you can ask for that cover a range of budgets like taking your child on a hike, taking them out to lunch, having a movie night, attending a baking class, a membership to a science museum or zoo, swim lessons, covering a ballet class, a snowboarding lesson, and beyond.
---
It can feel hard to get rid of toys or not bring new ones into your house. Kids really do light up when they get a new toy, and that's a fun reaction to see. But the excitement can quickly fade, and there are other more meaningful ways to excite and engage your children beyond stuff. Kids need a lot less than we all think, and having less can lead to more imagination, more discovery, and more space to thrive. Not to mention, you might actually get your living room back and you don't have to risk stepping on a LEGO each night. Now that's a win-win for the entire family.
This article was originally published at an earlier date and has been updated for timeliness.