The countdown is on and the holidays are here! Can you feel it? There's a little more magic in the air, the kids are reminding you what they want from Santa, and Starbucks has your favorite Peppermint Mocha waiting for you. With all the holiday merriment surrounding us, our to-do list can grow exponentially. A big chunk of our "holiday duties" is gift-giving, which can be an all-consuming labor of love. Not to worry, though. The Everymom is here to the holiday rescue!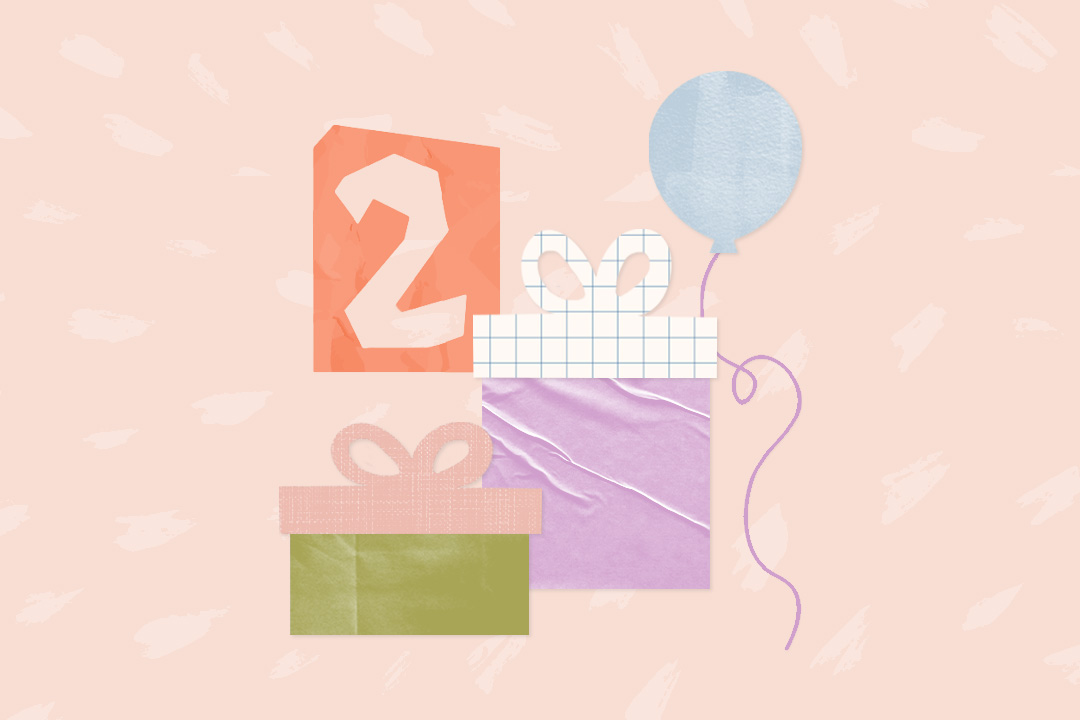 a LO in your life will love these! 🎁
First, grab a cup of hot cocoa and scroll through our extensive holiday gift guide. We've made it easy for you by breaking it down into different categories, including presents for babies, grandparents, and everyone in between. Additionally, we've curated our guide to only recommend gifts that align with our core values: diversity, sustainability, community, and inclusivity. Beyond our official gift guide, we have personalized gifts, gifts we love from Etsy, and even what we—The Everymom editors—are asking for this holiday season!
However, if your house looks anything like mine with stuff on top of stuff, you may be looking to diversify your gifts to give something more unique to those special little people in your life. Instead of another plastic toy, consider giving the children in your life an experience they'll cherish forever. Many times, the best gifts are the ones that allow us to create memories with those we love. Not only does it save our toy containers from bursting at the seams, but it also provides built-in bonding time with our littles.
These gifts can come from parents but are also a great way for grandparents, aunts, uncles and beyond to give something that feels more meaningful than another toy. Below are our recommendations for experiential gifts for kids that don't fit into a box.
1. Magazine Subscriptions
In the era of Kindle and other e-readers, going old school with a real-life magazine subscription gives your sweethearts something tangible to look forward to with every delivery. Kids magazine subscriptions are a relatively budget-friendly investment with a high-yield outcome. Not only do they encourage your child to read, they also provide diverse learning opportunities about on a variety of topics. Plus, they get your little readers excited to run to the mailbox and receive something that has their name on it! In our family, we save a handful of our favorite editions and recycle the rest.
Both National Geographic and Highlights are classic magazines that have withstood the test of time for several generations. They also both have several different subscription models based on the developmental stage of your child. For children 8 and older, The Week Junior magazine provides engaging content every week about news, ideas, activities, puzzles, and live debates.
2. Museum Memberships
Whether you live in a bustling urban center or a quaint suburban town, giving your child (or a friend's child) the gift of a local museum membership can be the gift that keeps on giving all year long! Museums are the perfect place to spend a lazy afternoon indoors (and sometimes outdoors). They provide a wealth of educational opportunities for your little ones, and they give you a space outside your home that your children can explore at their own pace.
If you live in a colder climate, museums are also a great option for an excursion when it's raining or snowing and you just need to get out of the house and keep your child entertained. When giving a child the gift of a museum membership, you may want to get him or her excited about the museum in question by going to their website to see pictures and videos of the space prior to attending. Once at the museum, you and your kids can walk hand-in-hand learning about history, science, art, and more!
3. Movie Passes
Going to the theater is one cherished American pastime that many of us missed during the pandemic. Finding a seat in those red velvet chairs, ordering the butteriest popcorn imaginable, and watching the trailers for the next big blockbuster are experiences your kids can enjoy, too. Give your child a movie gift certificate so they can experience watching movies on the big screen just like you did when you were a child.
4. Kid Gym Memberships
Instead of your children constantly jumping on your living room sofa, give them the gift of a kid's gym membership so they can boomerang freely off the walls—without destroying your living room! There are many different kinds of kid's gym memberships, so I recommend you do your research prior to giving this gift. You know best the temperament of your child and what type of gym membership would ignite them into putting on their shoes and racing out the door.
What I love most about this gift is that gyms are usually enclosed, so you can sit down and watch your little one safely have fun while you listen to a podcast and sip on that Starbucks you picked up along the way. It's a win-win for all parties involved!
5. Art Classes
Your little artist can make art projects at home, where your mini art studio can turn into a colossal mess—or you can give your child art classes so you don't have to worry about clean-up! There are classes for painting, pottery, jewelry making, and so much more. Encouraging your child to be creative and use their hands to make art can be a positive sensory learning experience.
Art is a valuable component of our culture and in many ways provides a vehicle for connections, conversations, and creativity. It encourages kids to discover what they like and how to express that in different art forms. Art classes can also give you cute homemade decor by your little Monet that will brighten up any room!
6. Swim Lessons
Swim lessons are fun for littles, but they're also incredibly important for your kid's safety. Wintertime is actually an ideal time to allow your kids to learn important survival skills and get more comfortable in the water. Weekly lessons are a great way to ensure your kids will be prepared for pool and beach time this summer.
While swim lessons are important, they tend to be a bit pricey, which is why it makes for the perfect gift either for you to give to your kids or for a loved one to contribute toward. Additionally, you can make it more "gift-like" by having them open a cool new pair of goggles to go along with their lessons.
7. Zoo Memberships
For your animal-loving littles, a zoo membership is a fantastic gift. The zoo makes for an all-around great activity, plus it gets your kids outside in the fresh air. If there's a zoo relatively near your home, a membership is one way to encourage you and your family to visit more frequently. On the other hand, if getting to the zoo is a bit of a hike, a single day at the zoo can be an equally great gift.
8. Cooking or Baking Lessons
For a one-off activity where the gifter and giftee can bond, a cooking or baking lesson is an excellent choice. Attend the class with your child and spend an extra-special day together learning something new.
Little kids can view cooking and baking as science experiments as they learn measurements, cause and effect, and creativity. Plus, you'll get to eat tasty treats and bring the skills back home with you. Perhaps your kids will even start helping you prep dinner afterward.
9. A Lunch Date
While this isn't a big-ticket activity, simply going on a lunch date to your child's favorite spot can be a special experience. Make it seem more like a "gift" by DIYing a special invitation to lunch or downloading a cute gift coupon from Etsy.
If a family member is trying to figure out a fun gift, this is a super easy way for them to spend one-on-one quality time with your kids. It also may mean an afternoon off of parenting for you. Sounds pretty nice, right?
10. Trampoline Park Visit
Trampoline parks are a super fun activity but are actually pretty pricey in some places. But let's face it, kids love them and eventually they're going to convince you to take a trip, so you might as well add this to your child's wishlist. Not only will your kid love it, they'll wear themselves out and guarantee a good night's sleep after a day of (literally) bouncing off the walls.
11. Dance Lessons
We all love to attend our little's dance recitals. Could anything be cuter? The not-cute part is the price tag these lessons often come with. Cost aside, dance lessons are a great way to allow your child to learn new things, keep them active, and offer them a new social opportunity outside their daycare or school. Consider dance lessons or a dance camp as a gift for your littles this year.
12. A Day at a Mountain (Skiing, Snowboarding, or Tubing)
For adventurous kids, a day on the slopes is an amazing gift. Give the gift of ski or snowboard lessons or a few hours tubing down a mountain. Because skiing is easier to pick up when you're younger, it's an ideal time to get your child on a set of skis and try out this new hobby. If they love it, you can consider all the equipment and accessories for future holidays and birthdays.
This article was originally published at an earlier date and has been updated for timeliness.