Do a quick Google search on "how to wash and style my baby's hair," and you'll get so many results you could spend your entire weekend sifting through them. I know because before and after my son was born, I spent a lot of time researching this exact question.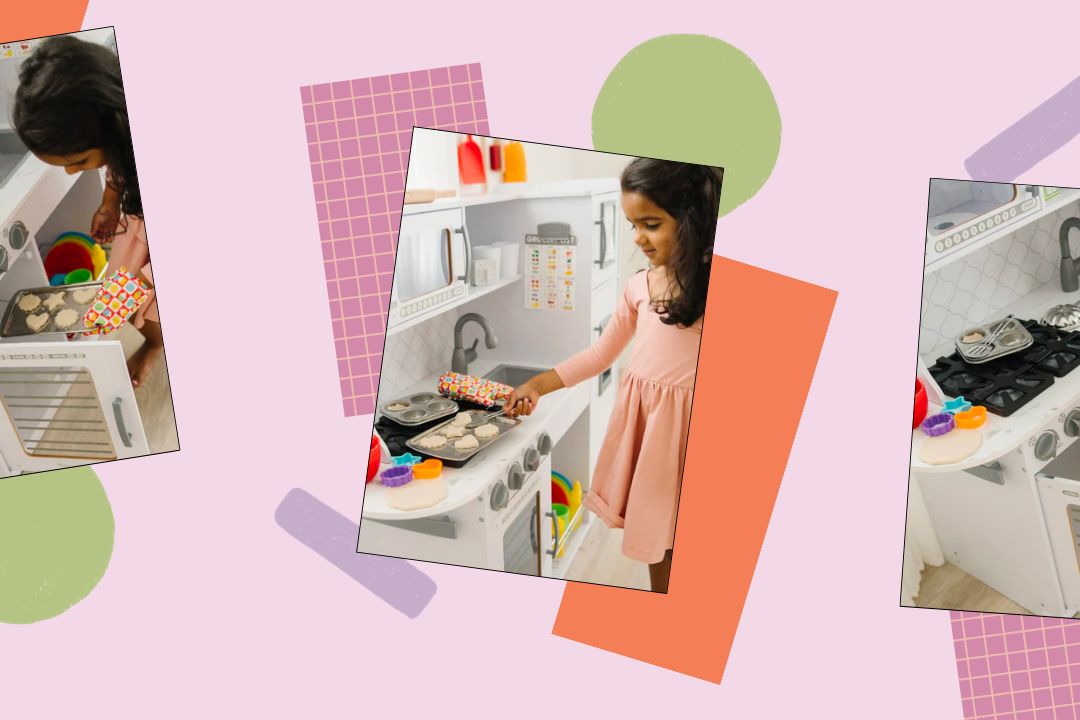 When I was about eight months pregnant, I went in for an ultrasound and the doctor said that she could see his hair in the images. I didn't know it then, but that meant he had a lot of hair. When he was born and even until this very day, the main comment I get about my son is about how much hair he has. I absolutely love that he was born with a curly 'fro from the get-go, but I had no idea how to take care of his hair.
I've always had long curly hair myself (up until I cut it all off a few months ago), and I have been constantly testing and trying different techniques and products on my hair. With curly hair, there are a lot of different things that need to be considered when it comes to products and styling tips. Things like curl type, porosity, whether it's thick or thin or even how moisturized or dry your scalp is all matter in determining the right hair care routine. Knowing this information about your natural hair will guide you towards the right products for your specific hair type.
But what do you do when you're a baby and your curl type hasn't completely been defined and you have to try to avoid any and all chemicals or harsh scents? Also, when you Google the question I mentioned at the beginning of this article, all of the results are about how to care for white babies' hair—you have to search longer and dig deeper to find the information about Black or biracial babies' hair care.
After a lot of research and simply asking other mothers of babies of color, I've learned five key lessons around taking care of my baby's hair—check them out below.
5 Hair Care Tips for Black or Biracial Babies
1. Wash once a week at most
People of Color tend to have drier scalps and need extra moisture for healthy hair. Washing your baby's hair daily could strip the necessary oils from their hair and make it brittle and dry. Try washing their hair once a week to start and upping it to two times per week if you notice it gets oily more quickly.
Baby Shampoos for Curly Hair
2. Skip the fancy stuff and use natural moisturizers
In tandem with the dry scalp tip above, after washing you'll want to add oils and moisture right back into your baby's hair. While there are a ton of baby products on the market, it's best to skip all of them until your baby is a little older. From the time your baby is born, using the simplest most natural products like coconut, avocado, or almond oil are your best choices. Put a little in your palm and run it through your baby's hair with your fingers.
Baby Oils for Curly Hair
3. Your fingers are the best comb for curls
If your baby has curly hair, odds are you've been at war a time or two trying to detangle those beautiful locks. While you can use a wide-tooth comb, running your fingers through your baby's hair will truly do the trick! Using your fingers is easier and will help with keeping their natural curl pattern intact.
4. Be careful of certain fabrics
Due to the texture of Black babies' hair, any amount of friction with fabrics like cotton or wool can cause their hair to be dry, brittle, and break off. Because of this, it is best to use hair wraps, hats, scarves, pillowcases, etc. that are lined with satin or silk. These fabrics are gentler and will help keep the moisture in the hair rather than the fabric.
Mulberry Park Silks
Editor's Note: Remember safe sleep guidelines when introducing a pillow into your little one's bed. According to the American Academy of Pediatrics' safe sleep guidelines, babies should sleep on a firm, flat surface free of pillows, blankets and other soft bedding until at least age 1.
several colors available
Etsy | Gentle Mane Tame
multiple colors and patterns available
Etsy | Lin Sharae Bonnets
5. Embrace your baby's natural hair
In magazines, blogs, and on social media, you will often see more babies with fine, silky, or straight hair, and I understand how frustrating that can be. Even as an adult, I have a hard time finding women who have similar hair as me, from when I had long curls to now with a shorter cut. Just like we want to see other women and moms who look like us or have lives that are similar to ours, we might feel that way about our baby's hair too.
With that in mind, I'd urge you to embrace your baby's natural hair and take the time to learn how to not only take care of it but how to have fun with it! Sure, the hair texture or style may be different from what you might have or what you see online but dig into the fun of using trial and error to play around and find what works best for your baby's specific hair type.
---
Having a baby with naturally curly, wavy, or kinky hair may take a little extra research, and I can't always promise the curls will look the same day to day but lead as an example—the more you love your baby's natural hair, the more they will too.