Initially, I was hesitant to join the AirPod trend. They look a little silly, they are pretty pricey, and they seemed unnecessary to have in my life. But after hearing enough people rave about them, I finally gave in and bought a pair.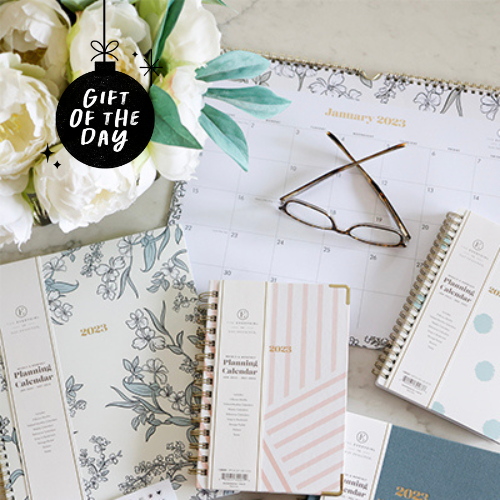 Help a mom stay organized and keep track of important doctor's appointments, playdates, and (hopefully) some scheduled 'me' time with this pretty wall calendar.
And let me tell you, I immediately understood the hype. They. Are. Amazing.
Now, what makes them better than your standard headphones? There are a few capabilities that make these tiny tech items worth it, especially for moms.
For starters, I have a very grabby baby, and if I'm wearing headphones with a cord, you better believe that cord will be pulled in less than two seconds. My baby has noticed the silly looking white things coming out of my ears and now tries to grab those, but they are much harder to get a hand on than a dangling cord.
They have a long battery life (and the case charges them), they allow me to easily catch up with friends, listen to podcasts, or even watch TV. I've used my phone and AirPods to watch shows during middle-of-the-night nursing sessions to minimize distracting bright lights and sounds (thankfully now that she's a bit older, this doesn't happen much, but in the early days, it was constant!).
There are two other stand-out AirPod capabilities. I frequently go for long walks with my baby and dog and listen to podcasts as I stroll. At least once per walk I am stopped by someone who wants to chat about how cute my dog and/or baby are (they both happen to be quite adorable!). Instead of messing around with taking out the headphones, dealing with the cord, getting my phone out of the stroller to pause it, with AirPods, I simply take an earbud out of one ear and the podcast is paused. Magic.
And lastly, AirPods are Siri-enabled, so as I stroll or as I do errands around the house, I can hands-free speak into the headphones to update my grocery list, ask the weather, listen to text messages, and more. It simplifies my life and has me reaching for my phone less and less.
Starting around $159, AirPods aren't the cheapest headphone option, but in my opinion, they are worth it. They make my life a little easier, they keep me connected and entertained, and I'm not worried about cords getting in the way. If you're on the fence about jumping onto the AirPod bandwagon, you now know all the reasons that I'm glad I jumped.