When the dresser and TV atop it came crashing down where my then 18-month-old was playing on the ground in our room, I moved faster than any newly-pregnant and queasy mama has ever moved, I'm sure of it. I was lying in bed with serious morning sickness while my husband folded laundry, and my baby boy played right next to him, less than a few feet away. What I can only describe as a shriek escaped from my husband, and by the time I looked up, the dresser and TV were falling in what felt like both slow motion and warp speed.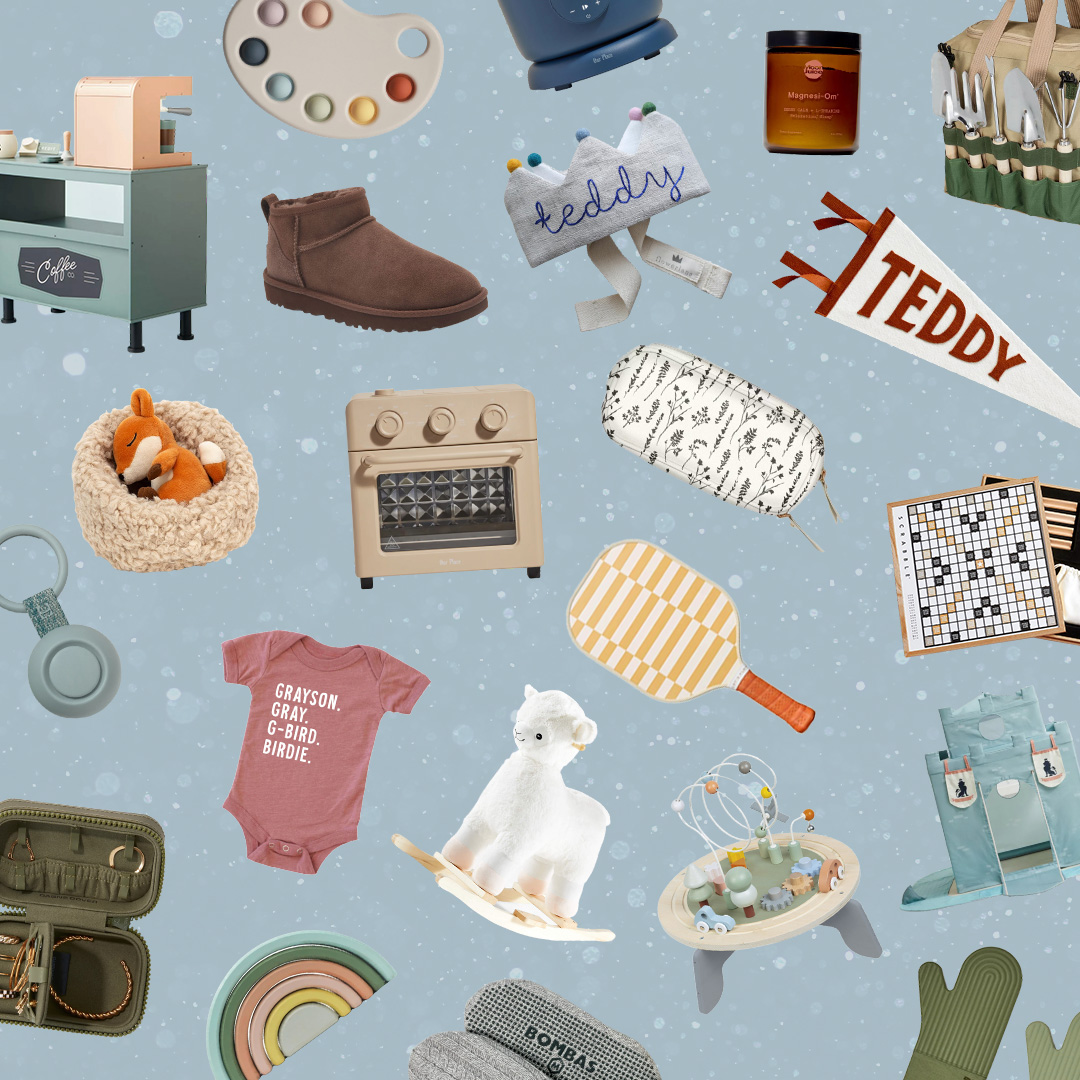 everything you need to ace holiday gifting this year 🎁
To our pure luck, a drawer that was sticking out created a safe space between the ground and the dresser, preventing our son from serious injury. But it was, and is to this day, the most terrifying parenting moment I've had in my 3.5 years as a mom. And it was completely preventable.
It was, and is to this day, the most terrifying parenting moment I've had in my 3.5 years as a mom.
We both knew dressers and heavy furniture should be secured to walls—and they were in the nursery—but in our room? We were in a rented home while finalizing renovations in our new home, and we were moving in just a few weeks. Why go through the trouble? We never left him alone to play and would be right there if anything happened.
Turns out, that doesn't matter. Things happen, whether you're in the room or not, whether you're watching or not. We should have gone through the trouble. We're lucky it wasn't much worse. You can bet that the first thing we did upon moving into our new home was secure everything to the wall.
I share this story not to frighten but to motivate us all to be as diligent as we can be with babyproofing our homes. We all think the unthinkable won't happen to us, but the truth is, it can. Luckily, there are plenty of things we can do to prevent the worst.
When it comes to babyproofing, you want to do it well before your baby has reached the milestones like rolling, crawling, pulling up, and walking. They may start out as immobile nuggets of pure adorableness, but our sweet, precious babies quickly turn into walking, talking, safety hazards on-the-go—read on for what you need to know about babyproofing your home.
All Around the House
Anchor heavy furniture to walls—and not just in the baby's room. Think dressers, floor mirrors, bookshelves, TVs, nightstands, armoires, etc. Anything that could topple needs to be secured.
Put safety covers over electrical outlets.
Place baby gates at top and bottom of the stairs—before baby is crawling or walking that way.
Remove blinds with looped cords or use cord stops to keep them out of reach. These are strangulation hazards.
Install smoke detectors and carbon monoxide detectors on every level of your home if you don't already have them.
Put breakable, heavy, or sharp items out of reach.
Keep choking hazards out of reach—if an item can fit inside of a toilet paper tube, consider it a choking hazard.
Put non-slip pads under your rugs to prevent falls either while you carry the baby or while your baby learns to walk.
If your home was built before 1978, check to see if you have lead paint on any walls or other indoor areas, which can cause lead poisoning.
Secure drawers and cabinets you don't want baby getting into with babyproof locks.
Safety gates aren't just for stairs—if you want baby to stay out of a certain room, say a formal living room for example, place a baby gate in the entry to that room.
Get rid of any poisonous plants—some common houseplants fall into this category, like Aloe Plants, English Ivy, Snake Plant (or Mother-In-Law's-Tongue), Sago Palms, and many more. Look yours up to make sure it's safe.
Check all doorstops to see if they have removable caps, which are choking hazards. Take them off if yours have them.
Place window stops on windows to keep them from opening all the way to prevent accidental falls.
In the Nursery
Avoid hanging anything over the crib or changing pad that baby could pull on and bring down.
Keep all blankets, pillows, and other objects out of the crib (including crib bumpers) and also out of reach of the crib.
Make sure the crib slats are no more than 2 and 3/8 inches apart.
Lower baby's crib mattress before they start standing or pulling up on things. It can happen when you aren't in the room.
Keep baby wipes, diaper creams, and other supplies out of baby's reach, but still within yours so that you never leave them alone at the changing table.
Keep crib away from heaters, lamps, cords, and other furniture.
In the Laundry Room
Move laundry and cleaning supplies, along with any other hazardous materials, out of reach.
Store laundry and cleaning supplies in locked cabinets out of baby's view.
Keep doors closed to rooms—like bathrooms and laundry rooms—you don't want them going in and consider knob covers for the handles to keep baby from turning them.
In the Bathroom
Use a toilet lid lock to keep baby from playing in the toilet.
Move all medicines to a cabinet that is out of reach, and secure it with a babyproof lock.
Make sure your hot water heater is set to less than 120 degrees to prevent burns.
Install no-slip mats on the bottom of the bathtub and soft covers over the spout to help prevent slips and head injuries.
In the Kitchen
Use stove-knob covers to prevent baby from turning on the burners.
Keep dishware, glasses, and utensils out of reach.
Use trash can lid locks to keep baby out.
Move knives out of reach and to a secured place that baby can't get to—even when they start climbing.
Unplug toasters and other small appliances when you're not using them. Keep the cords out of reach.
Get rid of tablecloths that baby could pull on and bring dishes or tableware down on them.
Move dog food and water bowls up high and out of baby's reach when not in use.
In the Family Room
Put safety padding or bumpers on sharp furniture edges.
Move electrical cords (think TVs, computers, etc.) out of reach or get cord holders to fasten them to walls so baby can't pull on them.