Who else can relate to a mom life lived amongst LEGOs, sweet sibling moments, and cozy nights spent on the couch? Such is the life of speech pathologist, licensed real estate agent, and mom of three Natalie Libot (her friends call her Nal) who shared this special peek into her Chicago-area home.
we've curated 40+ presents that are sure to put on smiles on their faces 🎁
Nal and her husband Arnold snagged their current place while it was still undergoing renovations five years ago. They have made this house their home with neutral Joanna Gaines and Shea McGee-inspired styling, a number of personal touches, an adorable shared kids' room, plus plenty of live plants.
Read more about the home projects they took on during the pandemic, including the stunning lower-level living room transformation. It's the place where her family comes together for playtime or downtime during all their extra time at home.
Name: Natalie Libot
Age: 35
Location: Chicago suburbs
Home's Square Footage: Approx. 2,000
Years Lived In: 5 years
Rent or Own: Own
Kids: Logan, 7, Levi, 4, and Luke, 2 
Can you give us a little peek into your daily life?
My daily life is nothing short of busy, loud, fun, and exhausting. My 7-year-old loves to leave LEGOs all over the house, my 4-year-old makes the most intricate forts, and my 2-year-old loves to touch just about everything. 
How does it affect your home design?
I've really had to shift into the mindset of less is more with home decor. I would say that I am a mixer of styles and love muted and neutral tones. I do think that my style is ever-changing and naturally adapts to my family and our lifestyle. Keeping it simple has made home design and upkeep much easier.
It's also important for me to create spaces that are good for relaxation, comfort, and quality time with my family. When we aren't working or schooling, you can find us gathered around the kitchen island snacking and cooking or having movie nights on our huge comfy sectional in the lower-level family room. 
Get the look
We have to talk about your basement living room transformation! 
Our finished basement is my favorite room and space is our home. During this pandemic, my husband and I have really transformed it to be stylish yet family and kid-friendly. It's beautiful, comfortable, and inviting. My husband and I can lounge while the boys run around. We curl up on the couch and do movie nights almost every weekend. It's the best!
Before:
After:
Get the look
What hacks help keep your house put together with three kids?
Storage. I repeat: STORAGE! I am obsessed with storage baskets. You might find several baskets in my home tour pictures, and that's because baskets solve all of life's clutter. They're pretty, and they serve a purpose! I don't think one can own enough baskets. 
Get the look
What have you done on a budget? What's been worth a splurge?
I am definitely a bargain hunter and typically won't buy anything if it's not on sale. But we definitely splurged on our sectional. We wanted something comfortable, durable, and stylish. It is spacious with deep seating and perfect for our family of five! We have done a ton of DIY accent walls which are super inexpensive and adds so much character to our home.
Yes, we love all your accent walls. Can you tell us why you chose the look?
We went board and batten crazy during this pandemic, and we're loving how all of the walls turned out. It really makes our home feel unique and adds so much interest. Each wall is special and will always make us think about what a unique year 2020 was. The whole family had a hand in all of our projects which also makes it very significant.
We went board and batten crazy during this pandemic and we're loving how all of the walls turned out.
We just finished the board and batten wall in our master bedroom about a month ago. It was our first time using bold, moody paint, and we were a bit nervous. I'm so glad we did it though because it makes our bedroom feel cozy and luxurious. 
Before:
After:
Get the look
Two of your boys share a room, how did you decide on a theme? 
When designing my kids' rooms, I wanted something that could grow and change with them. My 7-year-old and 4-year-old share a room, and it's so fun watching them bond. They have before bedtime convos and will sneak into each others' beds when scared at night.
I love how their room turned out! I started with a neutral palette and added touches of color and their current interests (dinosaurs). This way, I could easily swap out the dinosaur accents whenever they grow sick of it! I also wanted to focus on function and play. The rug space between their beds gives them an area to create, jump around, and make a mess! The bookcase serves three purposes: book storage, toy storage, and seating!.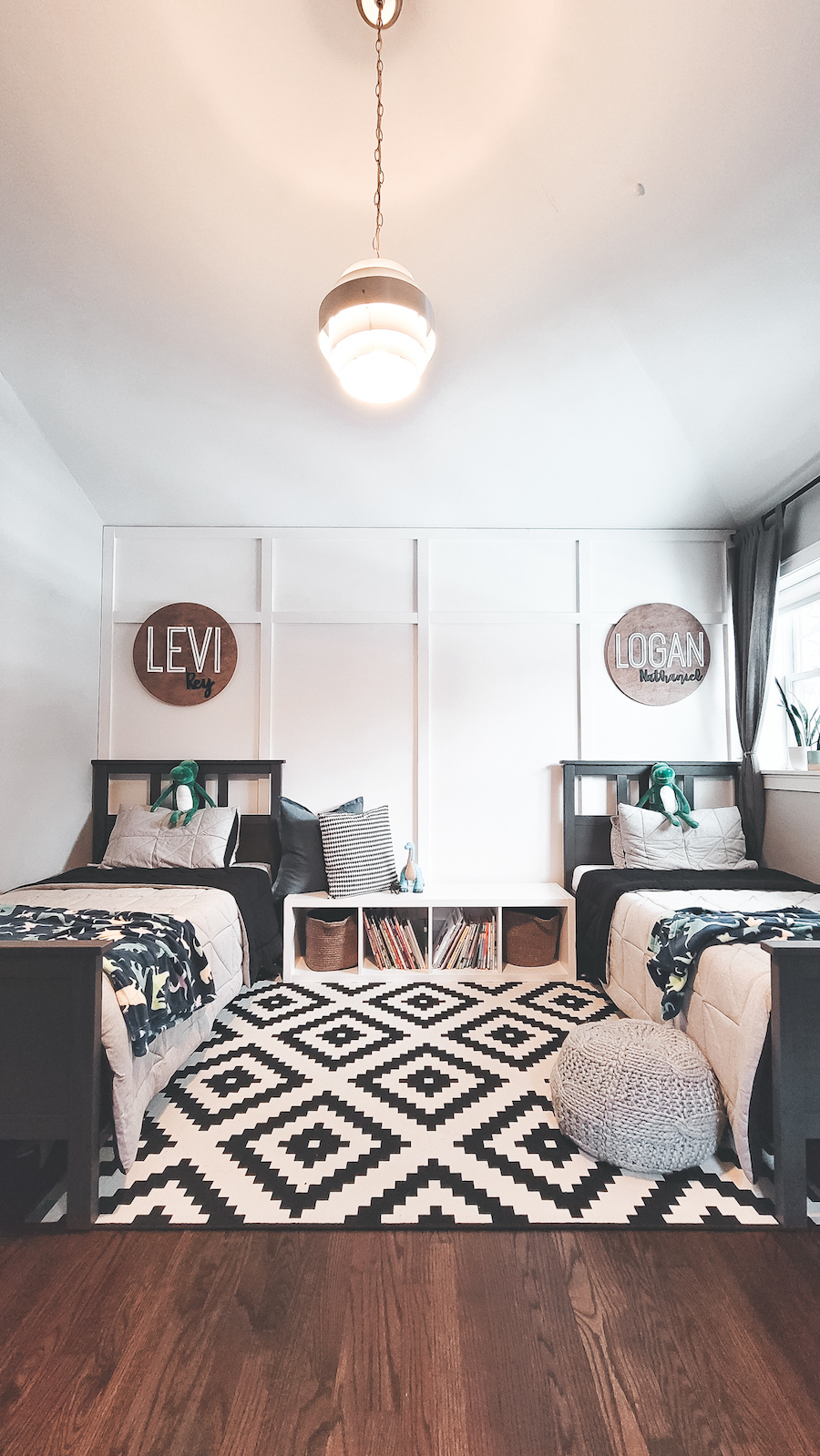 Get the look
On living through the pandemic with three little boys…
The pandemic has honestly helped us to slow down. Before the pandemic, our weekends were filled with birthday parties, sports, and all types of events and gatherings. We have really taken this time to show our home some love and start and finish projects that we've been wanting to do forever.
To balance out the slow life, it has also been pure chaos! I had to squeeze in an "office space" in our master bedroom (which is on the smaller side), and my first-grader has to constantly kick his younger brother out of their room so that he can do E-learning. We are making it work and counting all of our blessings during this time.
Natalie Libot Is The Everymom…
My ideal Sunday is … sleeping in and slowing down.
Go-to coffee order? Skinny Caramel Macchiato 
Last show I binged was … Love Life on HBO MAX. Love Anna Kendrick!
The last book I read was… Little Fires Everywhere
This year I want to learn how to … practice more mindfulness and be more patient
First trip you'll take after the pandemic? Hawaii
Most memorable mom moment? My two older sons meeting their baby brother for the first time! I knew our family was complete.