Traveling with kids is hard, but when it comes to what you need to pack, I think traveling with babies and toddlers is harder. Now that my kids are older, packed travel necessities like cribs, high chairs, and diapers have been replaced by scooters and favorite stuffed animals, so our car seems to have much more room to spare. It wasn't always this way, of course, and packing for even the shortest weekend getaway would mean a precarious, barely there view out the back window of our car.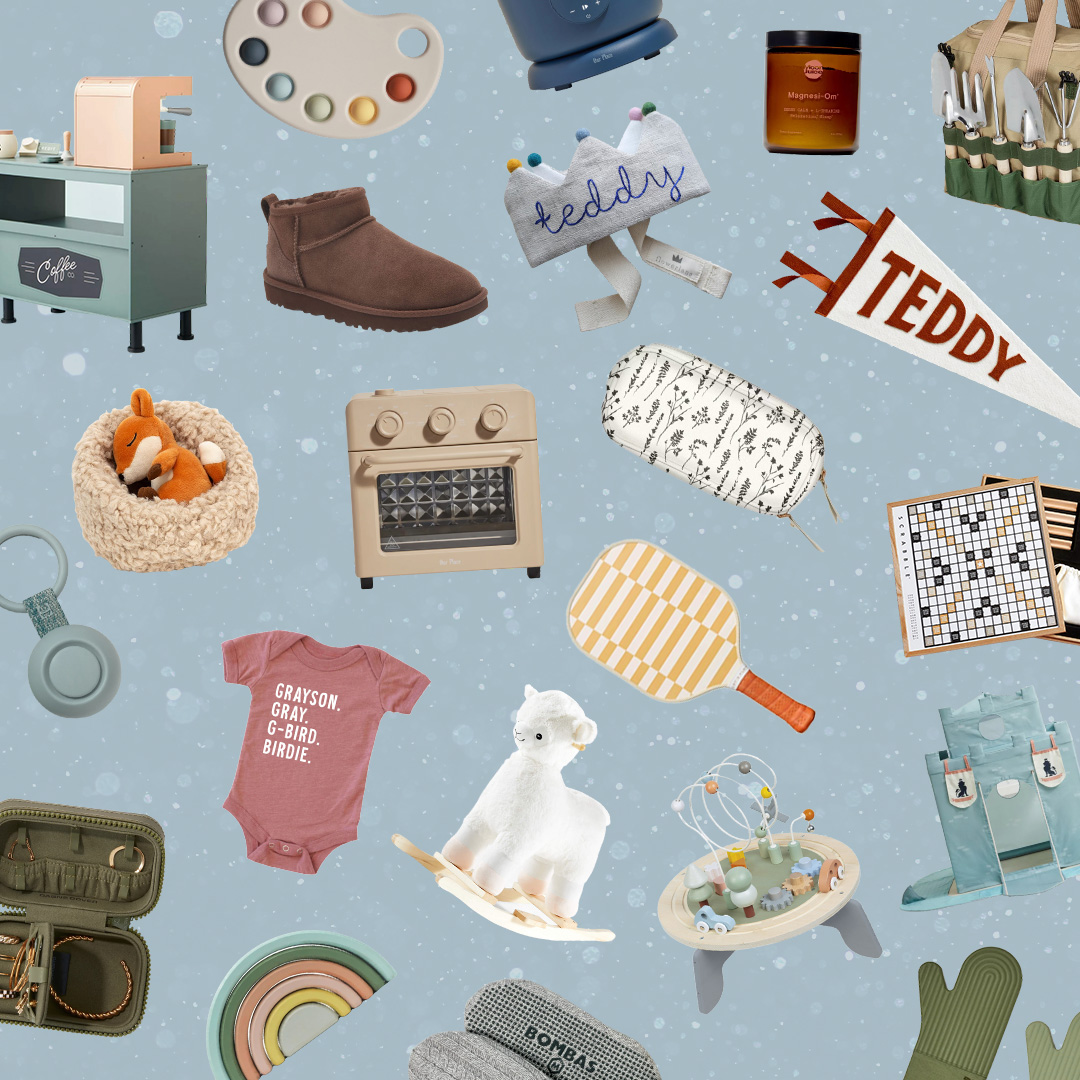 everything you need to ace holiday gifting this year 🎁
My husband and I learned the beauty of having baby gear at grandma and grandpa's house on our first cross-country flight to visit my parents. We brought our car seat and bottles for our 5-month-old daughter, but everything else my mom had set up for us. We'd sent my mom our formula brand and daughter's diaper size ahead of time, which she bought at her local grocery store (Amazon Prime delivery could have worked as well). Plus, my mom borrowed a portable crib, bouncy seat, and some baby toys from her friend, a fellow grandma, so we didn't have to schlep everything through the airport. I was so grateful to have everything we needed right there.
Whether you have to drive or fly to visit grandparents, we thought it would help to put together a list of baby essentials to have at a grandparent's house so you don't have to pack them. We kept nearly every price point on this list under $100, so your parents or your in-laws won't have to spend too much to outfit their abode for the grandkids. And we chose portable options or basic-models to make it easy to store items away in-between visits. This list can also be helpful for in-town grandparents who wonder "why you don't visit more often." You might consider forwarding them this list as a gentle hint.
Read on for a list of baby and toddler gear essentials to keep at grandparents' houses for stress-free visits.
For Sleep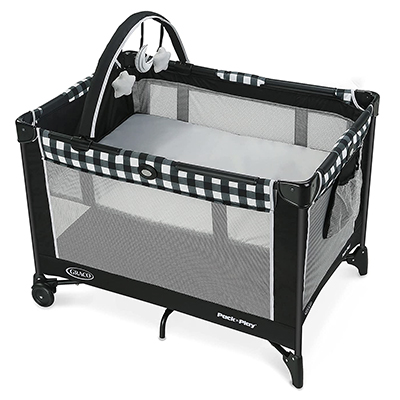 Amazon | Graco
You can never go wrong with a Pack 'N Play. This great option can go from a bassinet for baby to nap in to a portable crib and playpen in a matter of seconds.
Amazon | Yogasleep
The new noises of a different space can be distracting and may make it difficult for baby to fall asleep. This portable white noise machine is great for drowning out anything that could prevent your little one from resting peacefully.
Amazon
If your little one is staying in a particularly bright room at their grandparents' house, this black-out curtain is a great option for blocking out the sun and helping them sleep better.
For Feeding
Target | NUK
Whether you forgot to pack enough bottles and accessories or just like having a second set for grandma or grandpa to keep on-hand, this bottle gift set comes with nearly everything you'd need for feeding.
Amazon | Inglesina
It's no secret that little ones don't travel light. Instead of packing their usual high chair to take with to a grandparent's house, consider this portable option that is lightweight and can be added onto any counter or table.
Amazon | CLCROBD
Speaking of high chairs, babies get messy when they eat. Help with the clean-up process with this splat mat that catches all the mess and is easy to clean.
For Bath Time & Diaper Changes
For Safety
Target | Safety 1st
We all spent hours babyproofing our homes, but we may have forgotten the other places our little ones would be spending time. This safety essentials kit makes babyproofing the grandparents' house for safety super easy.
Amazon | Perma Child Safety
Speaking of babyproofing, these easy-to-use (and install!) retractable gates are great to add to any home.
For Play