With the ever-growing to-do lists of motherhood, it's essential to set aside time for small acts of self-care. I'm not saying you need weekly vacations or daily spa treatments, but simple moments of relaxation are crucial. We need to allow time for ourselves to help us feel collected and confident. Getting your nails done is a simple yet effective way to treat yourself.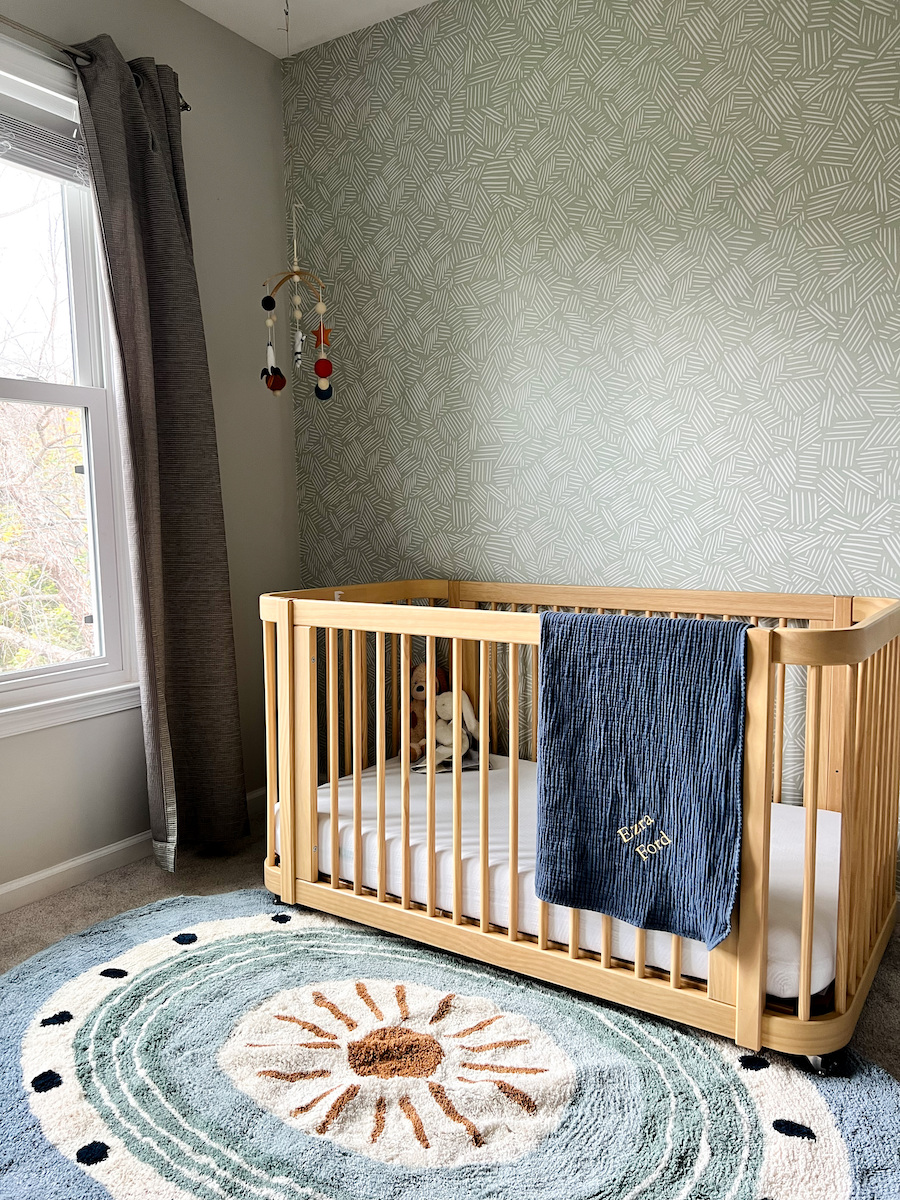 editor-favorite crib brand Nestig just released gorgeous new wallpapers that will easily transform any space 😍
As fall approaches, the season's nail trends are gaining momentum. We've rounded up eight top trends that are timeless, simple, and perfect for every mom's lifestyle. If you can't find the time to make it to the salon, we've included all the shades to achieve these looks at home!
Read on for the 2022 nail trends that scream, "She's an on-trend, put-together, cool mom."
Glazed Donut Nails
Recently popularized by Hailey Bieber, these chic, pearly nails go with any aesthetic. They are undoubtedly the #1 trend of the season. While Bieber initially sported the look at this year's Met Gala, achieving the look is just as attainable at your local salon.
Olive Green
All shades of green have been trending in 2022, but this olive shade hits the sweet spot between dark and bright shades. It adds a pop of color without being too flashy. Plus, it complements pretty much every fall outfit combo. Rest assured, it will be everywhere this fall.
Ulta | Essie
Essie has so many green options to try this fall, including this olive hue, "Willow in the Wind".
Lights Lacquer
For a darker olive, try this army green hued polish.
Plum
A rich purple shade is sophisticated yet fun and perfect for all occasions. Dress it up or dress it down. It's a bold yet timeless color and pairs well with all the other colors in our fall wardrobe.
Half Moon
This classic nail art look never fell out of style, but it's making a strong reemergence in the coming months. What we love most is that we don't have to worry about the look of our nails as they grow out. It's a busy mom hack and a trendy nail look, all in one!
Target
When creating the half-moon freehand, it doesn't have to be perfect because you can clean up using a brush like this dipped in nail polish remover.
Warm, Neutral Ombre
This super fun trend captures all the lovely shades that remind us of fall. While unique and out-of-the-box, it's muted enough to go with your everyday look. Imagine the cute photos you could take with these nails and a latte in hand—just saying.
Olive & June
This set includes five 7-free, vegan, and cruelty-free nail polish colors:
- Tip Your Barista - espresso brown
- JJ - warm cinnamon
- Coffee Milk - creamy tan
- The Usual - lavender grey
- HGC - rosy almond
Lights Lacquer
This set comes with six 12-free, vegan and cruelty free neutral nail polishes.
Muted Lilac
As the weather cools down, it's only fitting that a cool-toned purple would join this season's trending colors. A sister shade of the bright and bold plum, this color adds a bit of brightness while remaining neutral enough for an effortless, low-key look.
Nail Art Stickers
Nail stickers are fun if you want to add an extra flare to your look without the salon price tag. With countless adorable options, you're bound to find some keepers that will spruce up any of your fall looks.
Olive & June
This set would look amazing with so many of fall's on-trend nail colors.
Etsy | Tattoorary
Or lean all-in to the season with this cute and spooky Halloween nail sticker set.
Dazzle Dry Nail Kit
If you haven't been introduced to Dazzle Dry by your mom friends, consider this your introduction. This DIY salon-quality nail kit will make any of these fall trends achievable and look as if they were professionally done! With hundreds of colors to choose from—that include a prep primer, base coat, top coat, and revival serum—you'll be amazed how long this at-home mani lasts!
Dazzle Dry
For about the same price as two professional manicures, the Dazzle Dry system kit comes with:
- Nail Prep Primer
- Base Coat
- Top Coat
Dazzle Dry
Not ready to commit to a full-size kit, give Dazzle Dry a try with a mini-kit using one of fall's on-trend nail colors.
Amazon | Dazzle Dry
Grab your favorite shade to try this fall, like this plum color "Stolen Kiss".
Also available in a mini kit.