Growing up, I remember almost exclusively using the grill every night for dinner. It didn't have to be summer, if the weather was good enough, the grill was on all year long. Now that I have a family of my own, I hope to do that as well. I can't quite put my finger on it, but something about the smoky grill taste on a hot dog, burger, or even corn on the cob just takes the flavor up a notch. And while those classics are always a hit, I'm realizing there are so many grilling recipes to try out there.
Lately, I've been looking for some new recipes to try out, and keeping with the grill theme, I wanted to try some non-traditional recipes that can also be used on the grill. Burgers, chicken breasts or thighs, or bratwursts are always my go-to grill favorites, but I've seen people get really creative with their grilling meals—and I want to get in on that action too.
I'm not sure who said it, but I once heard that anything you can do in the oven, you can make on a grill. I've seen grilling recipes for fruit, pizzas, macaroni and cheese, and so much more. So, fire up the grill because I've rounded up 20+ mouth-watering grilling recipes for you to impress your family and friends with this summer.
20+ Grilling Recipes to Try All Year Round
Grilled Appetizers & Sides
This healthy appetizer or side can be made in 20 minutes (yes, seriously!) and the recipe includes a yogurt curry dipping sauce for the fries. Yum!
There's just nothing like a delicious corn on the cob—but instead of making it on the stove, make it on the grill for an extra burst of flavor. This recipe includes several seasoning options including Mexican, Cajun, Italian, and sweet and spicy.
Zucchini is one of the best vegetables to grill because of its savory flavor, and this recipe's lemon garlic marinade really punches up this side or appetizer.
This recipe warns: beware, these polenta chips are highly addicting. Plus, they're super easy and quick to make—simply slice, grill, and serve!
These deliciously smoky peppers are sure to wow any party guests. The best part? The recipe can be whipped up in just about 10 minutes.
A great side or main dish, these baked potatoes have a crispy skin, salty crust, and a perfectly fluffy inside. Load them up with your favorite toppings to make them extra yummy.
Grilled Main Dishes
A great meal to make if you're hosting an outdoor barbecue, this platter includes five different kinds of sausage paired with baby potatoes and mini bell peppers.
There's nothing more classic than a soup and salad combo—but have you ever made them on the grill? This recipe includes a simple grilled romaine lettuce with shaved parmesan and charred lemons paired with a savory tomato soup.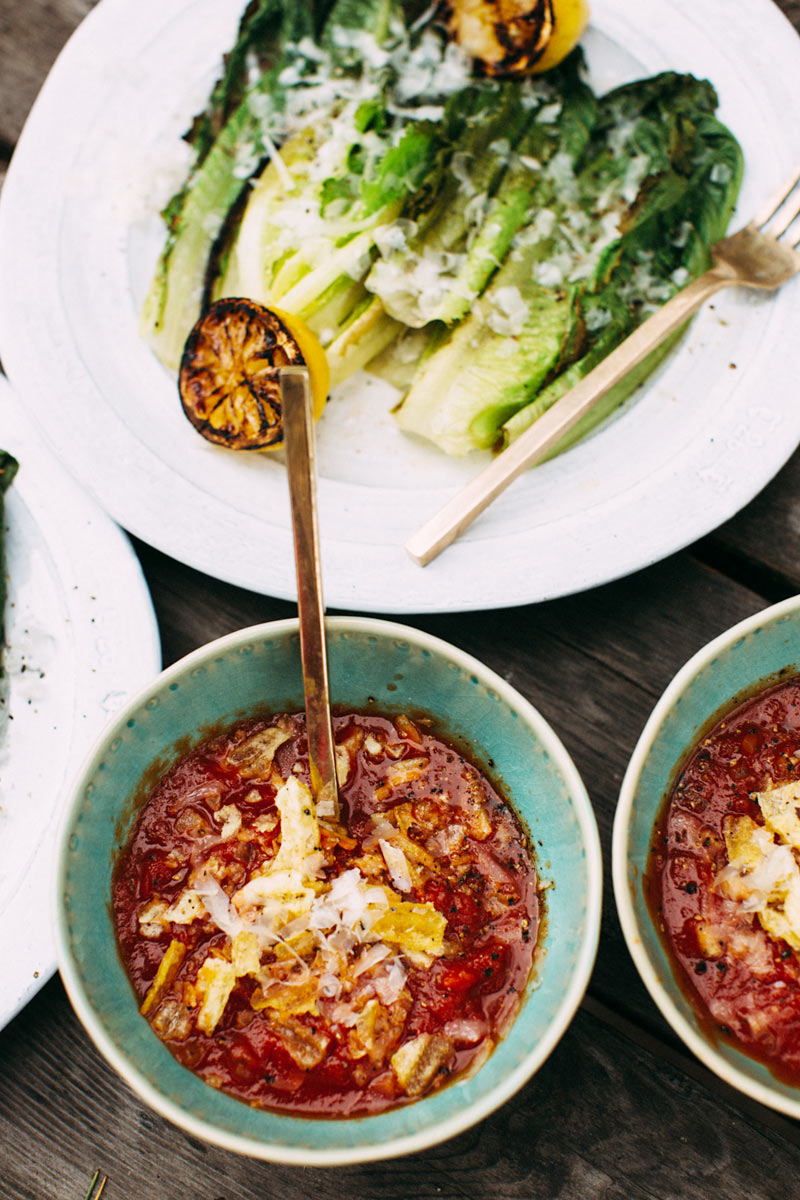 Did you know you can make homemade pizza on the grill? With this recipe, you can make your own dough or use a store-bought option and add any toppings you'd like—but the grilled crust will ensure your pie is crispy on the outside and soft on the inside.
This recipe is great for both at-home family dinners or serving a bigger crowd. Simply marinate the steak before grilling it alongside a variety of veggies, then assemble them on wooden skewers for easy serving and eating.
Plus up your typical grilled cheese recipe with this version that features a fresh mint pesto and provolone cheese. It's a great vegetarian option and can be easily adjusted to be vegan or gluten-free, too.
We love a heavily topped salad as a main dish in the summer (or anytime, really!), and this one won't disappoint with avocados, cucumbers, tomatoes, bell peppers, grilled corn, romaine lettuce, and grilled shrimp.
For seafood fans, look no further than this recipe for grilled swordfish topped with a tangy rosé wine mayo. Pair it with an easy side salad for a delicious meal.
With 10 customizable ingredients and a prep + cook time of just 30 minutes, this fish taco recipe is a no-brainer for an al fresco dinner when the weather is warm.
Have you ever made a foil packet meal? If not, this is the perfect one to start with: simply season steak and potatoes with butter, garlic, olive oil, onion, Italian seasoning, parsley, and salt and pepper and cook everything together wrapped in aluminum foil.
Hot dogs are a grilling classic, but this recipe takes things up a notch with a grilled corn relish and chipotle mayo that the whole family will enjoy.
Simply marinate this teriyaki salmon before throwing it on the grill and pairing it with a side of air-fried broccoli for an easy dinner you'll make time and time again.
Though this recipe is only for grilled portobello mushrooms, they're perfect to add to veggies, pasta, or protein to make a full meal. Trust us!
Grilled Desserts
Grilling recipes aren't just reserved for apps, sides, and mains! Whip up a delicious dessert on the grill like this one featuring pound cake topped with homemade mascarpone and fresh berries.
Your family will obsess over this dessert that combines two universally-loved items: donuts and ice cream! Grill donuts and slices of pineapple and then assemble them into an ice cream sandwich for an unforgettable treat.
Before grilling them, season fresh bananas with maple, cinnamon, and nutmeg and then top them with your favorite vanilla ice cream. Delish!