Traveling with an infant is relatively easy. Then your child starts walking, talking, and throwing tantrums and taking a trip sounds less than desirable. But trust us—the memories of taking a family trip far outweigh the challenges of traveling with a toddler.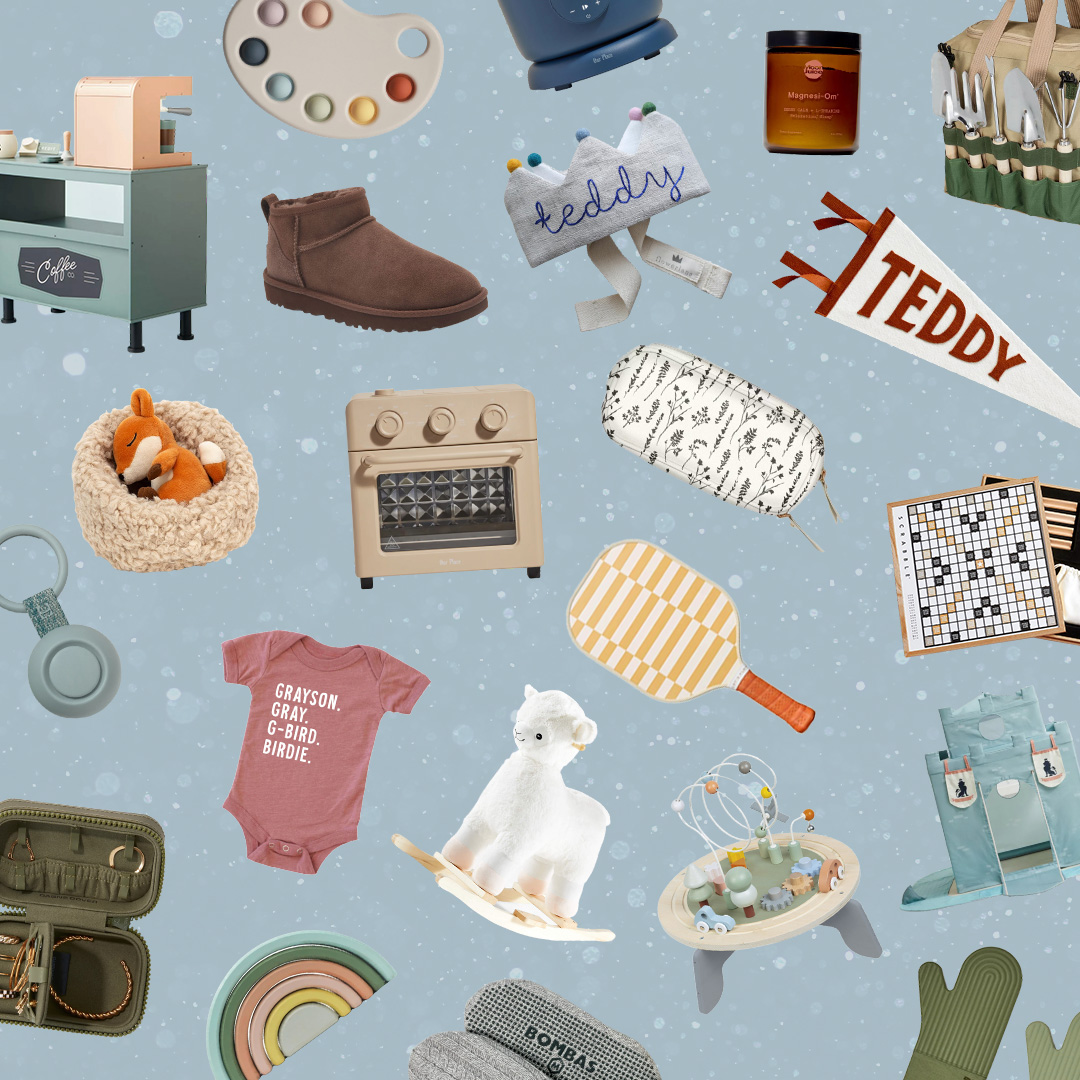 everything you need to ace holiday gifting this year 🎁
I joked that our last flight with my 2-and-a-half-year-old was like giving birth: unpredictable, messy, exhausting, exciting, beautiful, unforgettable, and worth it.
Plus, you walk away with great stories—like the time that my husband opened my son's water bottle only to find it had pressurized during takeoff, resulting in a perfect arch of water that ricocheted off the ceiling into the row behind us. Our reactions could not have been different: I could not stop laughing and my husband was mortified as my son shouted, "Daddy spilled my water! Daddy spilled my water!" But, we survived. And we learned some lessons along the way.
Before you embark on your next trip, here are some tips, tricks, and must-have products for traveling with a toddler.
1. Pack light
The lighter you pack, the easier it will be to get from point A to point B. If you have plenty of snacks and the essentials, you will be totally fine. Trust us, you'll want an extra hand more than you'll want those three outfit change options you packed in your carry on.
Stick to the basics for your carry on: a change of clothes for your little one and an extra shirt for you, an empty water bottle or sippy cup, a few small toys (pro tip: mini toys wrapped in foil are toddler gold), headphones, a device loaded with their favorite movies or shows, and lots of snacks. Stick to a combination of favorite snacks and new novelties such as a tube of mini M&Ms.
2. Have a plan
Think about what you'll do when passing through security. Decide if your family will eat before leaving for the airport or if you will grab something when you arrive. Take turns walking around to wear your little one out before getting on the plane. Pack the essentials where they can be easily accessed. Having a plan takes away some of the mental stress and allows you to be prepared for anything that may come your way.
After the age of 2, federal regulations require that all children have their own seat in-flight. While car seats are not required, they are highly recommended by the FAA. If you plan on renting a car when you get to your destination, a car seat stroller can convert your child seat into a stroller to help you breeze through the airport. Remember that most airlines' seats are less than 16 inches wide, so an inexpensive car seat made to FAA regulations may be a good option if you plan on flying often. You may also want to consider the CARES safety harness—we use this and absolutely love it!
3. Take advantage of help
When your airline calls for early boarding, take advantage of the extra time. Does the airport have family bathrooms or a nursing station? Use them! Call ahead to get a crib assembled and ready in your hotel room. Take advantage of any help you can find and don't feel bad about it.
Research before you go! For example, Chicago's O'Hare International Airport has a play area in terminal two, plus many mothers' rooms and family bathrooms. The Atlanta airport features several Mamava nursing pods and you can locate them via a handy app that works at airports across the country. Detroit, a large Delta Airlines hub, sports seven—count 'em—seven play areas. Got a long layover in LA? Enjoy free admission at The Flight Path Learning Center of Southern California to keep your littles entertained before your flight. Entertainment is just a Google search away—be prepared and look before you go.
4. Stick to your routine as much as possible, but be flexible
If you can, plan flights around your child's usual routine. Try to keep things as normal as possible—from nap time to meal times to the things they play with. If you're leaving later in the day, wake up at normal time and follow your normal routine as much as possible—the park, swim class, museum, etc.
If flight times don't align and you do end up missing nap time, don't stress, because toddlers are much more resilient than you think. They might be overtired at night, so try to do bedtime half an hour earlier. You'll be back on track the next day.
5. Laugh it off!
In the end, having a good attitude is the best thing you can do when traveling with a toddler. Meltdowns are bound to happen—for you or your kids. Your water bottle may explode (or maybe that's just us.) TSA may want to inspect all your snacks. Keep in mind that your child will feed off your energy, so stay calm—you've got this!
6. Live like the locals
When you arrive at your destination, live like the locals. Check out local restaurants and coffee shops, hit up the neighborhood parks, explore museums, and ride public transportation. Pro tip: check out local bloggers' sites to find the family hot spots—they know the good places!
I recommend making a list before you go, but leaving your itinerary open. This allows you to be educated but flexible, allowing your family to go with the flow. In the end, a vacation should be a break from your regular routine and allow great opportunities for family bonding and lifelong memories.
7. Don't pack what you can get at your destination
The two main things I didn't need to pack in my suitcase were diapers and food.
We are navigating a few dietary adjustments for my son and I didn't want to get into a situation where I couldn't find the alternatives we know, love, and trust. Looking back, even though different states have different grocery stores, pretty much everywhere has Target. While I didn't bring a lot of food with us, I still could've left behind the big boxes of his favorite snacks and other go-to favorites.
When it comes to diapers, they can take up a lot of room in your suitcase. Save yourself space and either get them shipped to your destination or make a plan to grab them once you land. I, of course, took some in my diaper bag just in case he needed to be changed in the airport, during the flight, or as soon as we landed. I also use specific nighttime diapers and I packed enough of those just to get us through the nights. For all other diaper needs, though, we got them once we arrived. I could've probably done the same with the specialty diapers, but again, I didn't want to take the chance of not being able to find them.
Our Must-Have Products for Traveling with a Toddler
Gear for the Flight
In-Flight Toys & Entertainment
Gear for the Destination