Seeing Christmas trees in Target the day before Halloween inspired this mom's holiday home decor when she was just decorating her own small apartment years ago. Fast forward a few years—and a few kids—and Brooke Smith has found the perfect balance of cozy and chic holiday decor in her Wichita, Kansas home. Mixing investment pieces and budget finds, Brooke seems to effortlessly blend holiday pieces into her home's already warm and welcoming decor.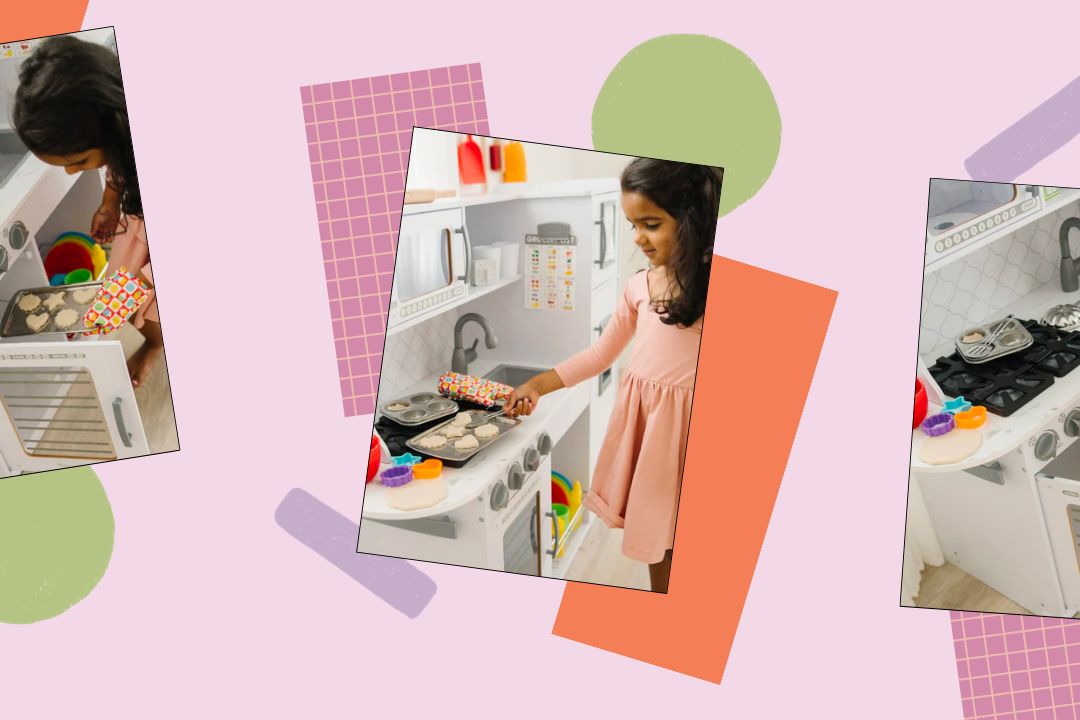 An engineer by day, Brooke uses interior design and photography as a creative outlet. When it comes to the holidays, her family is used to being flexible, as her husband's work schedule often dictates when they celebrate. But this pandemic year has them missing one tradition she has always loved (although she sees the silver lining, based on realities as a mom of two under three). Read on to see where she finds creative home inspiration, how she makes decorating special for her kids, as well as a holiday decor hack she learned from her dog. 
Name: Brooke Smith
Location: Wichita, Kansas
Home's Square Footage: 3,600
Kids: Aspen, 3, and Cooper, 2
Before we take a peek through all your amazing home holiday decor, can you tell us a little bit more about your family?
We are a family of five (yes, I count the dog) with two toddlers 16 months apart. I'm an engineer by day and a home decor enthusiast and photographer in the evenings and on weekends. Photography is my creative outlet since my career doesn't lend itself well to creativity. My husband's job is to operate a plant that runs 24/7, so he is considered an essential worker. I'm able to work from home right now, but he works lots of weekends too.
With his schedule, the time we get together as a family is very precious. We love spending time together in our own home. We enjoy playing outside and baking and cooking dinner together. We also have a nice pond in the neighborhood and enjoy going to feed the fish.
When do you start decorating for the holidays?
I've always been an early decorator. My very first time decorating for Christmas as an adult was in my 696 square foot apartment. I was in Target on Halloween to get candy and saw they had put the Christmas trees out. I bought one on Halloween and put it up the very next day. Ever since then, it's been a tradition to put the Christmas tree up the day after Halloween or a few days after.
Get the Look
How would you say your holiday decor differs from your home's everyday decor?
I think I'd describe my style as traditional/contemporary. I want everything to feel homey and lived in but also current. Studio McGee and Amber Interiors are my biggest inspiration when it comes to designing and decorating our spaces. I think that style also transitions into my holiday decor, so it's not all that different than my everyday decor.
Winter is a fun time to bring in additional cozy textures and lots of greenery.
I always try to make rooms feel cozy and inviting, and I feel like my holiday decor amplifies that feel. Winter is a fun time to bring in additional cozy textures and lots of greenery.
What is your favorite piece of holiday decor in your home?
A holiday wreath print that my friend Abbey Storey made and sells in her Etsy shop, And So The Storey Begins.
Get the Look
Where do you typically shop for holiday decor?
I really have a pretty decent mix of decor items. I've loved investing in good quality pieces from McGee and Co. and Stoffer Home but also mixing those items with more affordable items from Target or HomeGoods.
Do you ever make DIY holiday decorations?
Yes! I made some ornaments this year and am planning on making more soon. I'm also going to DIY some candles for the first time and am planning on DIY'ing some Christmas gifts!
Get the Look
How do you keep your holiday home decor kid-friendly?
Well, the good news is the dog gave me lots of practice on this. With my first Christmas tree, she thought the ornaments were balls and broke almost all of them at the bottom of the tree that year. So, shatterproof ornaments go on the bottom of the tree and pretty glass ornaments up top where my kids and the dog can't reach.
I also make sure I decorate their rooms and let them help so they feel a sense of pride in the effort that goes into decorating a home for the holidays.
What does Christmas morning look like in your home?
With my husband working rotating shifts and not knowing what his schedule will be year-to-year, it's not always the same. Ideally, we'd all wake up together, see what Santa brought, open presents, and then go to my grandparent's house for breakfast pizza (a tradition from growing up!).
We've always had to be flexible in our holiday celebrations due to my husband's work schedule, so this year is really no different. We don't know his schedule yet, so that will determine when we celebrate.
Get the Look
What's your family's favorite holiday tradition?
We always do matching Christmas jammies. It's a tradition we wear them on Christmas Eve, and my dad comes over and takes pictures of us. Last year, we got zero smiles from the kids and just them screaming. It was actually quite comical and depicted perfectly what having two toddlers is like!
How are you adjusting your celebrations this year?
My grandparents always host a party near Christmas and Santa makes an appearance. It's the same Santa that has been coming to their house for over 20 years, since I was a kid, and now my kids are seeing the same Santa. He reads stories and sings songs, and everyone enjoys it. This year, we have to adjust to keep my grandparents (and Santa) safe. So instead, we have signed up for a private, socially distanced Santa seeing at a local shop. Quite honestly, my kids will probably like him better from a distance.
Get the Look
Brooke Smith Is the Everymom …
Favorite Christmas song? "Christmas" by Mariah Carey
Go-to holiday recipe? Ooo. don't have one. Might have to start a new tradition this year with all the extra baking we are doing!
Top of your kids' lists this year? Everything in the Amazon toy catalog! Ha! They are getting Everwhere Chairs, Loog Guitar, dolls and doll supplies, and a play grill.
Gift you're giving yourself this year? A new camera lens
Hallmark Christmas Movies: yay or nay? ABSOLUTELY