When web designer and mom Leanne Adams and her husband first toured their now home, a 1930s English Tudor-style house, she immediately imagined the cozy living room fireplace decorated for Christmas. As you'll see, her vision came to life beautifully with gorgeous greenery, knit stockings, and more.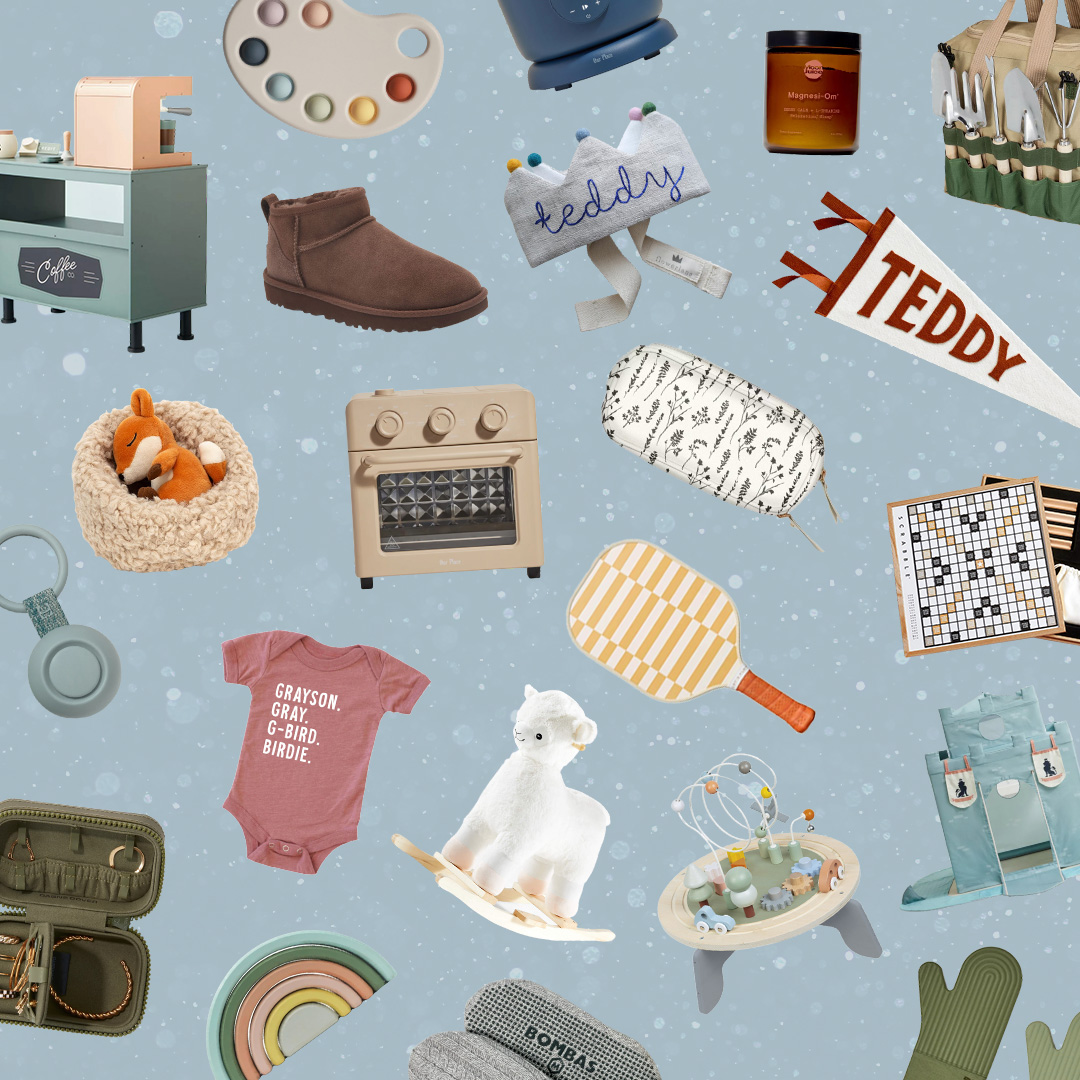 everything you need to ace holiday gifting this year 🎁
Her Portland home perfectly mixes Minimalist style with warm touches of holiday decor complementing each space. Read on for how she keeps her decor kid-friendly, where she adds DIY touches, and what holiday traditions she's excited to share with her growing family.
Name: Leanne Adams
Location: Portland, Oregon
Home Sq. Footage: 2,200
Kids: Luna, 3.5 ,and baby #2 arriving March 2021
Before we take a tour of your 1930s home, could you share a little more about your family?
I'm a 31-year-old web designer and stay-at-home mom. I've been married to my husband Mars (yes, like the planet) for five years. We have a daughter, Luna, and are expecting our second baby just a few days before Luna's 4th birthday in March 2021. We live in Portland, Oregon in our 1932 English Tudor. It is full of gorgeous, original character, but we have been working on adding more modern touches that reflect our style. We are currently in the middle of some major renovations, adding a bathroom and closet to our master bedroom before baby #2 arrives!
We have a boxer dog named Ivi, and Luna has a welsh pony named Ruby Slippers. I grew up riding horses competitively, so it only feels natural for Luna to start her adventure into the horse world sooner rather than later. I have worked from home as a graphic/web designer for eight years now and have loved every minute. I took a step back when Luna was born but still take on a few projects every year while my husband works as a buyer for Adidas.
When do you start decorating for the holidays?
It's the tradition in my family to decorate the day after Thanksgiving AKA Black Friday. I never go out and shop in person (I hate crowds, ha!), so I always spend the day getting the house completely decorated and getting a lot of my holiday shopping done online. Later in the weekend, we visit the same Christmas tree farm we do every year. It's always fun walking the farm, even in the pouring rain, to find the perfect tree. It really kicks off the holiday season for us.
Your fireplace looks like it was made for Santa and stockings! How do you complement your home's everyday decor with holiday decor?
The fireplace in our home was what made me fall in love with it when we bought it a couple of years ago! I immediately imagined it decorated for Christmas. Our everyday decor is fairly minimalist and neutral in color, so when it comes to adding holiday decor, I like to keep it fairly simple and natural so the space doesn't feel overwhelming. I use a lot of greenery, both real and faux, and bring in small pops of deep berry reds to keep a traditional Christmas color palette.
Hands down, it's the overall look and feel of our fireplace decked out for Christmas that is my favorite holiday spot. The garland and stockings, combined with a roaring fire, are what completes the cozy holiday vibes of our home. I think next year, once baby #2 is born, we will upgrade our stockings to have embroidered name tags.
Get the Look
Where do you typically shop for holiday decor?
As I've gotten older, I like to invest in higher quality pieces. I like to shop at West Elm and Pottery Barn. Of course, there is also the occasional Target or Amazon purchase, but I don't buy all new Christmas Decor every year. I usually just get one or two new things.
Do you ever make DIY holiday decorations?
Yes! Every year I always make a wreath for our back door, and usually one for somewhere inside, from foraged forest clippings. It's a really simple, easy, and free way to add some holiday and winter vibes to our home.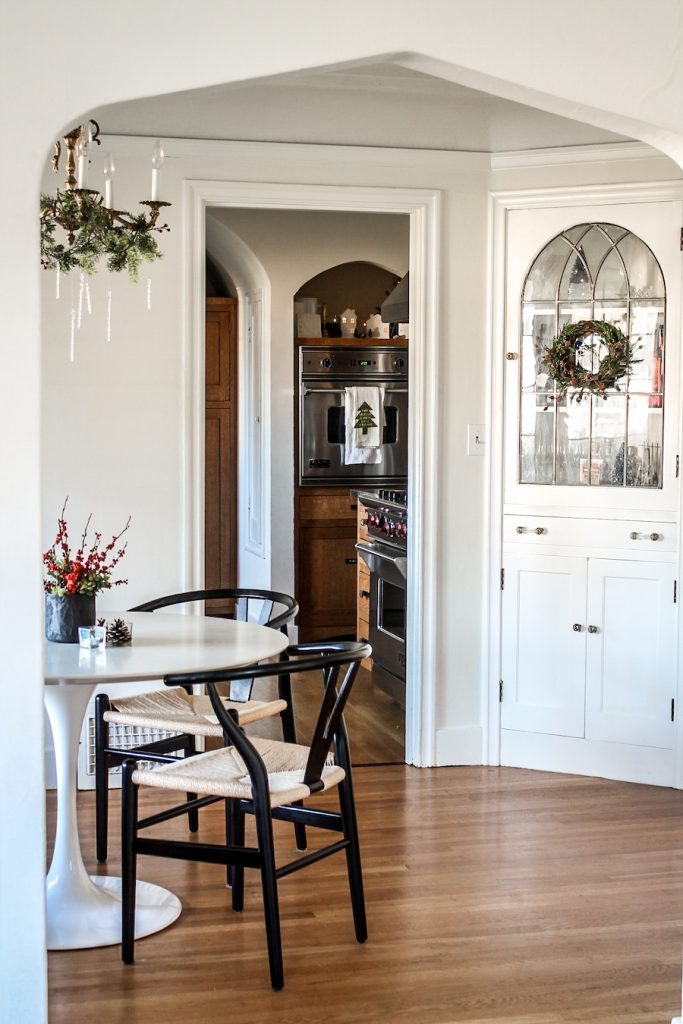 Get the Look
What does Christmas morning look like in your home?
Before kids, we would always spend Christmas morning at my mom's house. But now that we have our own little one and another on the way, I wanted to give them the same experience and memories I had growing up. So, now Christmas morning is spent at our house, just the three of us.
I make the same scones my mom always makes, a hashbrown casserole, eggs, and veggie sausage for breakfast, usually accompanied by mimosas. I do this all before anyone else wakes up—luckily, Luna is a good sleeper and is never up before 7:30. I love spending a quiet Christmas morning, prepping breakfast and sipping coffee with the ambiance of the Christmas tree lights.
I wanted to give them the same experience and memories I had growing up. So now Christmas morning is spent at our house, just the three of us.
Once Luna wakes up, she rushes out of her room to see what "big present" Santa brought her. While she plays with her new gift, we eat breakfast and then open stockings. Once stockings are done, we move on to the gifts under the tree. We go around and take turns each opening one until they are all gone. When I was growing up, we always did Christmas morning this way, and I love that we have kept that same tradition for Luna and soon-to-be Baby #2.
How do you keep your holiday home decor kid-friendly? Does Luna like to help you decorate?
By keeping our decor pretty minimal, there just isn't a lot for Luna to be able to wreak havoc on. Anything breakable, like the glass icicles I use, are up high and out of her reach. She definitely likes to help decorate the Christmas tree and rearranges the ornaments she can reach often.
Allowing her to have her own little space to decorate freely helps to not have her really wanting to mess with any of the main decorations in the rest of the house.
But last year, I bought her her own little faux tree and set of ornaments for her room, and I let her decorate it as she wishes. I think allowing her to have her own little space to decorate freely helps to not have her really wanting to mess with any of the main decorations in the rest of the house.
Get the Look
How are you adjusting your celebrations this year?
Usually, we are running from different parent and in-laws' houses on Christmas Eve and Christmas Day, but this year we will be keeping it simple and safe and just staying home. While it will feel a bit strange to not see all our family, it will also be kind of nice to enjoy the holidays just the three of us, especially before we welcome a new baby into our family.
Leanne Adams is the Everymom …
Favorite Christmas song? "Christmas, Baby Please Come Home"
Hot Cocoa or Hot Toddy? Hot toddy! But since I'm pregnant, I guess hot cocoa right now.
Most memorable gift you received as a kid? Anything horse-related. I was so obsessed with horses that most years my gifts related to horses in one way or another.
Favorite Christmas movie? Christmas Vacation or Christmas with the Kranks
Top of your holiday wish list this year? Myx Fitness Bike
Top of your daughter's wish list this year? An American Girl Doll