We've been fans of blogger, dental worker, and mom of four Kara Cofield (AKA @mrscofieldandco on Instagram) for years. Her creative and colorful home decor is the stuff kid-dreams are made of. Plus, she always seems to make each holiday extra special for her family—from themed snack boards to fun breakfast spreads to easy and kid-friendly crafts. So we were so excited for her to give us an exclusive tour of her kids' holiday spaces this season! She's sharing her teen daughter's "Fa La La La" inspired room and her sons' plaid Santa Claus bedroom.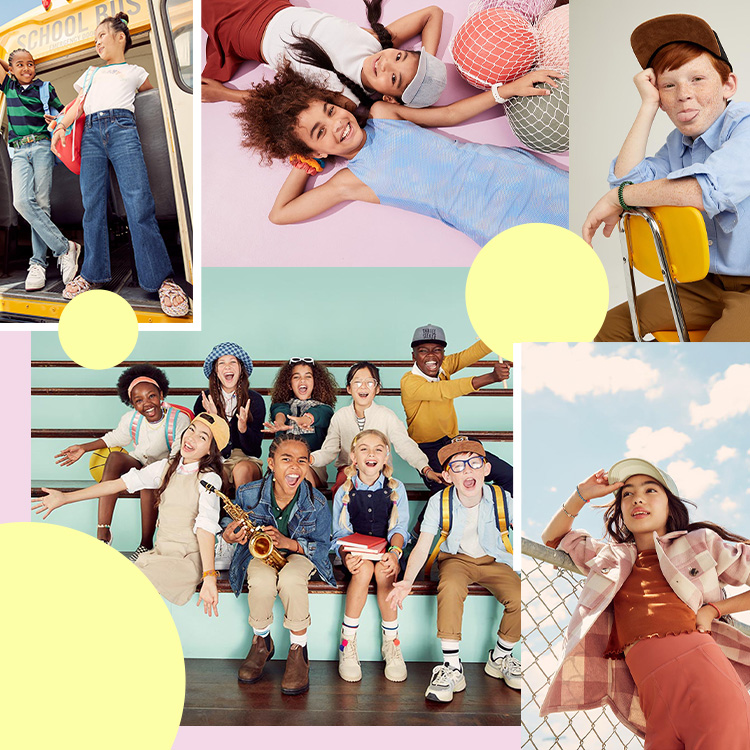 we did all the work for you—download our free printable and shop the list! 🍎✏️📚
Beyond making her kids' rooms magical, Kara also shared some of her family's favorite traditions, like an open-all-day hot cocoa bar in the kitchen. Read on for plenty more of her holiday home inspo, plus where to shop her super cute finds!
Name: Kara Cofield
Location: Southshore, Massachusetts
Kids: Jaya (15), Royce (9), Lenox (5), and Tru (10 months)
Before we get into touring your kids' holiday spaces, can you tell us a little bit about yourself and your family?
So we're a newer family of six; we added a baby boy this year who we are all so obsessed with! My husband works for himself as a delivery contractor and I work part time at a dental office, but I've been working really hard as a content creator and blogger, so I would say that is my full-time job other than being a mom. We are usually pretty busy with sports and extracurricular activities, and when we're not doing that, we're going to some kind of fun event or doing a festive activity I dreamed up!
When do you typically start decorating for the holidays?
I used to decorate the day after Thanksgiving, but the last few years, I started the first weekend in November, and now I love decorating early! I love Christmas decor and how cozy it makes the house feel, so having it up longer (and during our Thanksgiving dinner) makes me happy.
Tell us a little bit about your holiday decorating process.
I normally start in the kitchen with my beloved holiday mugs and setting up a hot cocoa station (which is a winter necessity in our house) and then work my way out into the living room with the mantle, tree, etc., and then upstairs in the bedrooms. I add a few holiday touches in my bedroom but kind of go all out in the kids' rooms!
I tend to be more playful and use more color in the bedrooms. Although I love Jaya's kind of whimsical decor and color scheme, I wouldn't use it in a main room like the living room.
What is your favorite piece of holiday decor in your kids' rooms?
In Jaya's room, it's the throw blanket I made to match the stocking. It's just so cheery and bright and I love the color scheme! I also really love textured dots/pompoms on things, so that's another reason why it's my fave.
In the boys' room, probably their sheets and decorative Santa pillows. They just look so coordinated and cute together!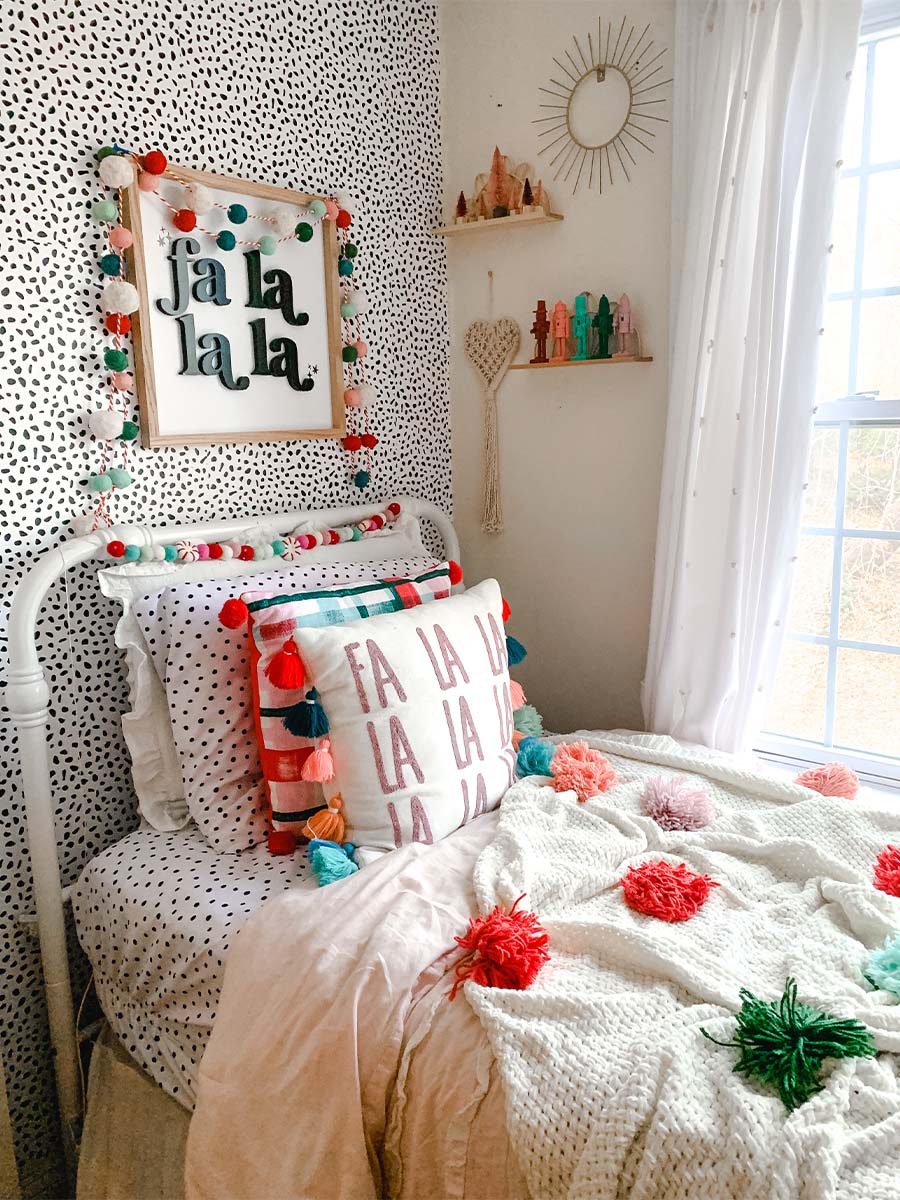 How do you tailor holiday decorations to each of your childrens' individual spaces?
Usually, it's something I found that I love, and I kind of coordinate things around it. For example, in Jaya's room, it started with the cute pompom stocking. I absolutely loved the colors, so I went ahead and DIY-ed a matching pompom throw blanket! I found pillows and garlands that were similar colors and painted things like little nutcrackers to match as well.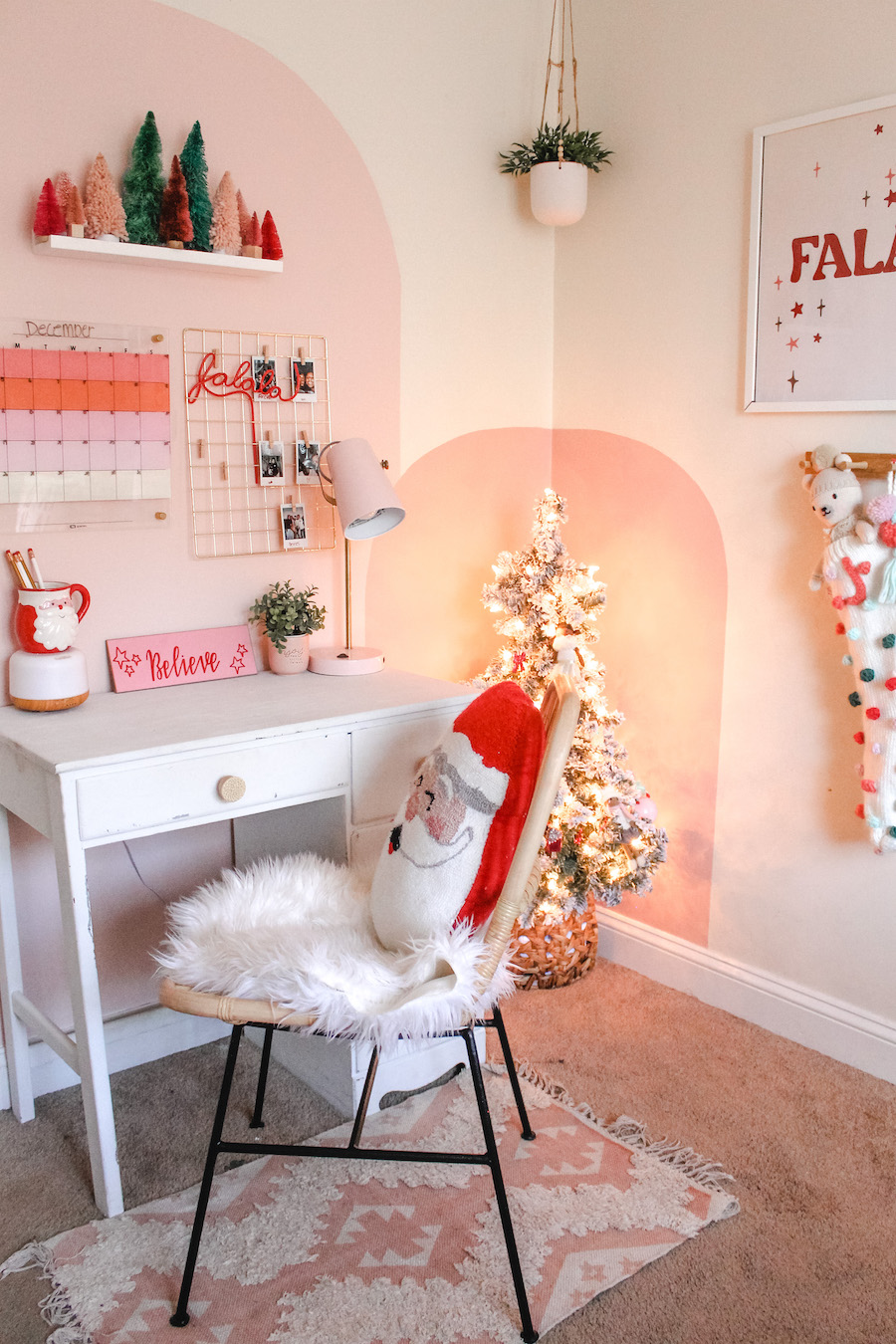 Where are some of your favorite places to shop for holiday decor?
Small shops have my support always! As a small shop owner myself, I know how much time and effort go into every piece. Plus, they always have the cutest things you won't find anywhere else! I also love HomeGoods, T.J. Maxx, and Marshalls because they always have fun finds at great prices. And Target, because who doesn't love Target?!
Shop the Room
Do you have any tips for keeping your holiday decor kid-friendly?
If you are putting decor in little kids' rooms, add things without tassels or pompoms. Or if you do add those things, place them where they can't get to them. I love them in my older daughter's room, but my boys tend to not be so careful with things like that. Not sure why they are so drawn to playing with them, but they always seem to rip them off.
Have fun with it! They're only little for so long, and they think having a tree in their room is very magical, so lean into the magic!
Shop the Room
What does Christmas morning look like in your home?
Honestly, a hot mess—but a beautiful, magical, memory-filled hot mess, haha!
What are your favorite holiday traditions with your family?
Definitely decorating the tree! We also love to decorate gingerbread houses; we do one together every year. Lots of movie nights with hot chocolate, and baking and decorating cookies for Santa on Christmas Eve.
Kara Cofield is The Everymom…
Favorite holiday song: Can this question be favorite holiday songs, LOL? I love Christmas music so much, I can't pick just one! Definitely "This Christmas"—I love the Chris Brown rendition. "Wonderful Christmastime" by Paul McCartney, "Let it Snow" by Boyz II Men, "Snowed In" by Conor Matthews, and Tori Kelly's entire Christmas album!
Hallmark Christmas movies: yes or no? Absolutely! Although I tend to watch Lifetime Christmas movies, but they're basically the same thing.
Favorite Starbucks holiday drink: I'm a Dunkin' girl, so Peppermint Mocha Latte.
Favorite gift: Last year, I had a belated Christmas gift: my baby boy Tru.
At the top of your holiday wish list this year: Nothing extravagant. I really need some new clothes and shoes. I'm forever buying my kids cute stuff, but me, not so much.
Most funny/odd thing at the top of your kids' wish lists this year: My 5-year-old has been asking for random things if we run out of it. I mentioned we needed kid floss picks and he said, "For Christmas, can you buy me rainbow floss?"