Becoming a stay-at-home mom was one of the biggest adjustments I've had in my life. Only a few months in, I realized I was not someone who would want to stay home until my kids went off to college.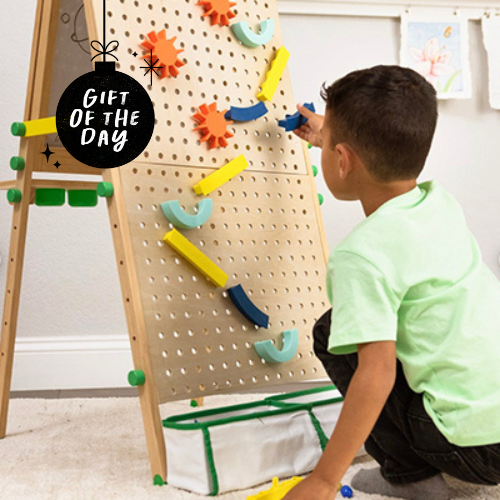 Art, fine motor skills, and fun all mixed into one great gift! Kids will learn engineering with the marble run but also get creative with the art easel mode.
Work has always been a part of my identity. I started working long hours at my dad's restaurant at sixteen, then worked all through college, and had several job offers when I graduated with my Bachelor's. But when I was pregnant with my first son, I knew I wanted to be able to care for him at home for at least the first year of his life.
Then my second child came along quicker than planned. With two under two, staying home became less of a choice and more of a necessity due to the high cost of child care. After a few years of staying home and caring for my boys, I realized not working outside the home was affecting me negatively. I soon learned going back to work would benefit our whole family. Here are a few ways going back to work made me a better mom.
1. It helped remind me of my value as a person and a mom. 
For the first year of my children's lives, I felt lost in an endless cycle of diaper changes, sleepless nights, and spit-up. Some people thrive at home with their children. But I learned, for me, working with other adults who valued my creativity and relied on me for something other than a food source and booboo fixer helped me remember I have more to give the world. And when I am able to combine what I've learned as a mother into my day job (prioritizing, multitasking, managing conflict, etc., etc.), it reminds me how important both jobs are.
2. Going back to work improved my mental health.
I have anxiety and bipolar disorder, so I thrive on routine. Being able to have a schedule that isn't ruled by diaper changes and my kid's snack habits allowed me to get the stability I need for my mental health.
At work, there are clear goals and projects I need to finish by certain dates. Finishing up a task or collaborating with my team on a project helped me remember how my skills and intelligence can be used in different ways. It gives me a sense of pride and accomplishment I did not feel at home because the job of mothering is never finished. 
Now, when I am done with work and playing with my kids, I no longer need to hide out in the bathroom to snag a few minutes of peace and quiet. Work has given me the space to recharge. I usually leave work feeling fueled to give them the one-on-one attention they need. Before, I would get grouchy from being overstimulated and touched out and often struggled to make it to bedtime.
3. I can be the "fun mom" again. 
When you are a stay-at-home mom, it can be difficult to find time to be your own person. Being "on" as mom is a 24/7 job. You're there for everything—from middle-of-the-night wake-up calls to endless hours of playing with PJ Masks action figures. The constant needs can make you start to feel a little worn down.
Now, don't get me wrong, I love playing with my kids, whether it's tag or reading a book over and over, but being the stay-at-home parent for years can become emotionally draining for anyone. 
Now when I am done with work and playing with my kids, I no longer need to hideout in the bathroom to snag a few minutes of peace and quiet. Work has given me space to recharge.
Since going back to work, I've found that I am more refreshed. I can be more hands-on and present when I'm with my kids. Having the dedicated time to work on my own goals and career means I can enjoy the quality time with my kids without feeling mommy burnout. I find that I have more patience, more creativity, and feel more joy when I have time off from work to be with my children. Not to mention, having some time apart from my kids gives us all a chance to miss one another and value the time we do have together even more.