If your baby is at the adorable yet worrisome stage of grabbing everything in sight and immediately shoving it into their mouth, or if your toddler is constantly banging their toys while causing irrevocable damage to your eardrums, fear not. This is actually a win for your little one and the development of their fine motor skills, albeit a loss for our collective sanity.
Fine motor skills involve the movement of your child's upper extremities, such as their hands, wrists, and fingers. It's vital for our kids to learn how to use these tiny muscles in order for them to eventually perform everyday tasks like tying their shoes and writing their names. We know there's an immense amount of pressure surrounding developmental milestones, and thinking about them all can be overwhelming. But the good news is that helping our littles expand their fine motor development can be incorporated into simple, everyday tasks at any age. Here are five easy ways to encourage fine motor skills:
Playing is one of the best ways to advance a child's developmental skills. And, let's be honest: We're all busy moms in need of toys that make learning effortless for our kids. We have so much on our plates already. Creating intricate and overcomplicated activities for our kids from scratch doesn't fit within our packed schedules.
Open-ended toys are a natural way to promote learning, and Melissa & Doug is our first choice when it comes to skill-building play. Their wide selection of high-quality toys inspires your LO to be an active participant in playtime rather than be passively entertained by toys with bright lights and screens. Melissa & Doug offers countless products that help strengthen the coordination between kids' brains and muscles. And for your convenience, we've rounded up these great fine motor skill toys with their corresponding age group.
2. Practice grasping
Most babies come out of the womb already knowing how to close their tiny fists around our fingers (which is literally the cutest thing). They can expand on those natural skills by using toys that are easily graspable like Melissa & Doug's Ice Cream Take Along Toy, which even vibrates when baby pulls on it.
Melissa & Doug
Ages 0+ months
Another take-along toy that works for playtime anywhere baby goes!
Use code EVERYMOM20 to get 20% off any Melissa & Doug product!
3. Introduce utensils from a young age
We get it. The temptation to airplane a tiny spoon into a tiny mouth while making the corresponding "whoosh!" noise is too strong. But we urge you to put the spoon down and hand over the reins to your baby. The goal here is to allow them to explore and make a mess—just cringe through it. Yes, 99% of their food will be literally anywhere except the inside of their mouth. But they will have so much fun figuring out how to coordinate their hand movements, which is the point.
4. Encourage bottle or cup holding
Once their grasp is stronger, you can place their hands on their bottle if you're bottle feeding. If you're not using a bottle, then this is also a good age to introduce water in a sippy cup or open cup. There are baby cups specially made for this age range that will assist their fine motor skills.
ez pz
Open cups are a tool for encouraging fine motor skills! This one features a non-slip silicone grip and a weighted base to help babies hold it with ease. It may feel a little scary to let your tiny baby use an open cup of water but use a bib shirt and you're good to go!
5. Take items out of a container
If your little one is starting to sit up by themselves, this will be a great activity. Sit them in front of a basket full of toys so they can take the items out and put them back in. This will encourage both fine motor and problem solving skills.
Melissa & Doug
Ages 6+ months
This fill and spill toy is perfect for this activity. Each piece that's included has a fun feature like crinkle noises, rattles, and squeaks.
Use code EVERYMOM20 to get 20% off any Melissa & Doug product!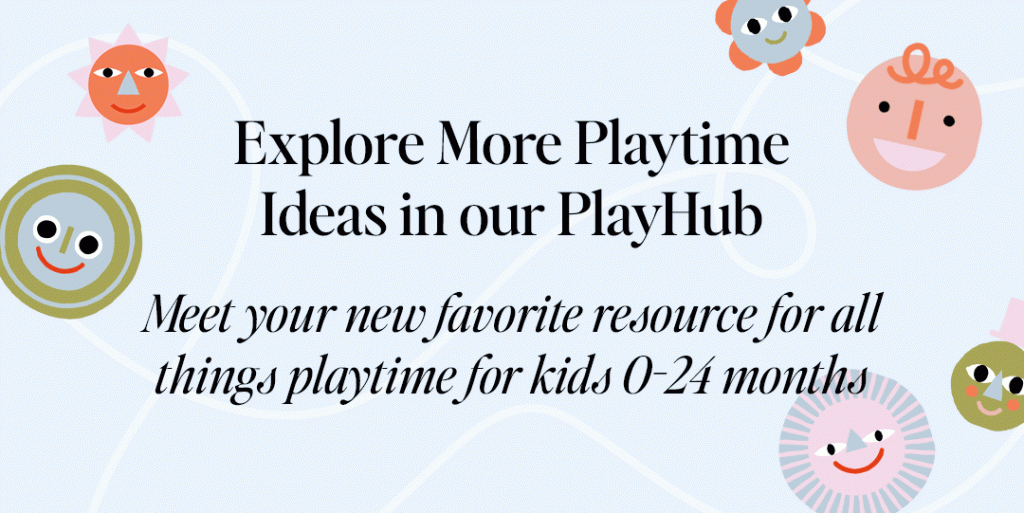 This post was in partnership with Melissa & Doug, but all of the opinions within are those of The Everymom editorial board. We only recommend products we genuinely love.