The past year has done a number on our relationships. Due to distance or lack thereof, they are either strained or non-existent. We either see way too much of people (ahem, dear husband), or nothing at all. Throughout much of this strange pandemic life, I've put my focus on nurturing the relationships outside of my home—I mean, why on earth would I need to connect to people I literally cannot escape from? But weeks ago I caught my kid's eye across the breakfast table and it hit me: I miss her.
Maybe that sounds crazy, but being cooped up with the ones you love can really dim the delight you once found in them. Pre-pandemic, I loved hitting up the library with my 6-year-old. We found adventure exploring our city one bookstore and doughnut shop at a time. Now, here we are stuck inside in survival mode and, truly, where's the fun in that? So, time-strapped and energy-spent, I set out on a mission to discover how to cash in on that ever-elusive quality time. 
My findings? They're pretty simple. A spare 15 minutes here and there can indeed rekindle your bond with your kid. All it takes is a little inspiration and a willingness to invest in some good, serious fun—yes, even during a pandemic. Here's how.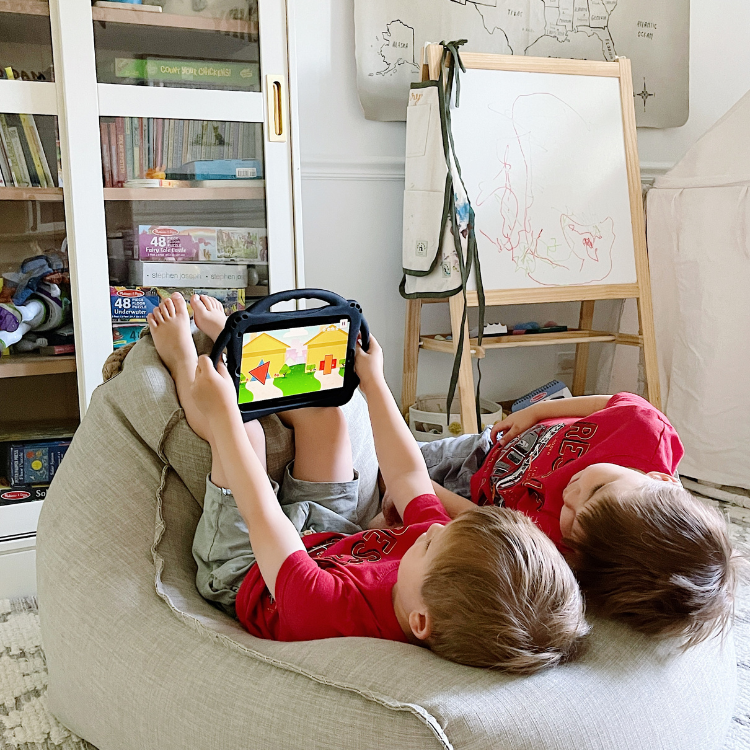 a pediatrician shares what she *really* thinks about LOs and screen time
Plan a Bookish Adventure
We won't be boarding a plane anytime soon, but that doesn't mean adventuring is off the table. Like an engrossing Netflix binge, a good book can keep you and your little one staying up well past bedtime, hungry to see what happens next. With nowhere else to go, my daughter and I have spent untold hours turning pages on some of the most exciting reads. During the day, we push each other to finish our work so that we can steal away for a chapter or two. We swap theories on where the story is heading, talk about what we love, and discuss what we'd change. By throwing ourselves into a new world, we're left to navigate it together—and that can be a thrill on its own.
Get Curious
What could be sweeter than learning a new skill alongside your little one? There are endless online classes to teach any number of subjects, from music and art to cooking and indoor gardening. Or take the free route and crack open a book, agreeing to cook or bake your way through each of its recipes together.
Last week, my daughter and I dragged out my husband's old Playstation and threw ourselves into a fast-paced game called Little Big Planet. We are unquestionably awful at it, losing one round after another with impressive speed and zero skill. But it is good, hilarious fun and we're both really enjoying teaming up to bomb each new level together. The lesson here is that you don't have to be especially good at anything to make it a moment worth remembering.
Schedule a Dance Party
Every parent I know espouses the undeniable power of a dance party to bring little ones together and turn around a bad day. Especially with a schedule full of Zoom calls, a date to get rambunctious and let loose can really be something to look forward to. Plus, a little built-in movement throughout the day can double as exercise during these cooped-up winter months. When I feel like my daughter is a million miles away, blasting some Moana and letting our silly sides out to play can inch us back together.
Be Kind
Plan a weekly date to conduct super-secret random acts of kindness together. Leave fresh-baked cookies at someone's door. Or leave a handmade card—a little one's specialty!—in a friend's mailbox. Whatever you wind up doing for others, the effect is two-fold: you brighten someone's day and you share in the excitement of hatching a plan together.
Have a Movie Day
Set your screen-time fears aside and revel in an afternoon snuggled up on the couch with your kiddo. In my view, one of the perks of parenthood is the chance to pass your childhood favorites on to the next generation. There is serious delight to be found in sharing a sliver of your younger self with your children. It's like briefly tinkering with time travel.
Last week, I had this experience while sharing my one-time obsession with my daughter: the '80s classic, Labyrinth. I can still remember visiting the corner video store and catching sight of Jennifer Connelly's pink poof of a ballgown on the cover of the movie. That dress, in all its decadence, spoke to my first-grade self and I became a quick Labyrinth convert. So, imagine my sheer joy in 2021 when the credits rolled and my daughter leaned in to whisper, "I can see why you really liked this movie."