It's a miraculous experience raising a child. I catch myself so often reminiscing about how much time jumps ahead. One minute, we were bringing her home from the hospital, and now, we're getting ready for kindergarten. I remember when she couldn't talk, and now she's an independent and fierce 4-year-old with her own personality and thoughts on life. She's curious and inquisitive, saying words I had no clue she knew and noticing things and making associations that regularly blow my mind.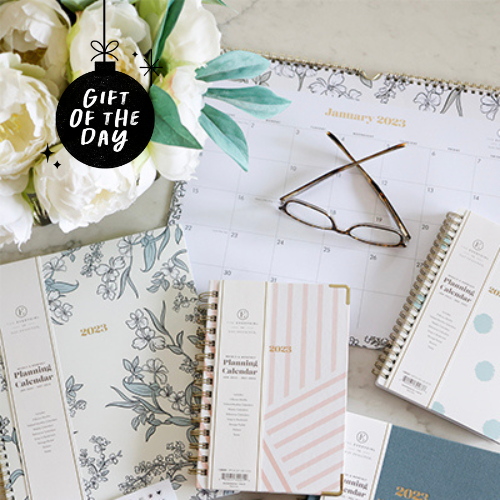 Help a mom stay organized and keep track of important doctor's appointments, playdates, and (hopefully) some scheduled 'me' time with this pretty wall calendar.
As newborns, our little ones are in controlled environments. We dictate what they eat, what they watch, and the people who surround them. As they get older and go out into the world, attend school, and interact with others, our ability to shield them dissolves. We take pride in our children becoming more autonomous, but as they become more independent, their worlds move further out of our reach and control. We want to protect them—their physical safety (obviously) but their emotional well-being as well. Meanwhile, we hope and pray that their identities stay intact and they love themselves and all that they are, just as much as we do.
We take pride in our children becoming more autonomous, but as they become more independent, their worlds move further out of our reach and control.
One of the most painful aspects of parenting is the harsh reality that our children will feel pain, especially when it's a pain we've gone through ourselves. We remember how the hurt feels and never want them to experience that feeling: disappointment, loss, heartbreak—the trials and tribulations of growing up.
When your child is different from their peers
Then, there's a separate category: the pain from ignorance and hatred your child will face. This often rears its ugly head when you are a minority or your little one encompasses any sort of "otherness," which is heartbreaking and infuriating. Otherness is not celebrated in this country, in a system that oppresses and silences those who are not white and cisgender prejudice and microaggressions persist.
Of course, our minds automatically think of race when it comes to this topic, but it is so important to remember that there are so many unique differences that children can have. Visible, such as racial differences or physical disabilities, and less noticeable differences, such as autism or mental and social disorders.
How to approach differences
Fostering self-love is just as important as teaching your child their name. Instilling in our children that what makes them different is the most beautiful part of them is imperative to creating an impenetrable foundation of pride in who they are. I spoke with child counselor and founder of Tea of Therapy Nicole Henry on how to approach handling when your child is different from the other children around them.
Celebrate differences
"Not all children have the same abilities," Henry said. "I've always looked at it as a child's uniqueness. I would encourage parents to highlight that they have a different ability."
A good way for this to be demonstrated is by looking at superheroes—they all have their strengths and weaknesses but look completely different. The Hulk, for example, is bright green, but with super strength and healing ability, he stands out from the crowd, Henry said. Differences should be celebrated.
Be intentional and involved
It is important to stay involved and constantly communicate with your child. This goes beyond asking how their day was and really asking about the interactions they've had with their peers and teachers and what topics they talk about. The best way to be an advocate and ally to your child is by showing up.
I spoke with mother Jamie T. Lenis, whose 10-year-old son was diagnosed with Autism Spectrum Disorder at age 7. "Early on, in pre-K and Kindergarten, my son 'stimmed' a lot more; some stims were vocal. I worried that other children would not understand, would laugh, tease," Lenis said. "I saw the teacher practicing inclusiveness with the children in her classroom, and our public school does a great job recognizing children's differences."
Lenis recommended communicating with your school, the teachers, and the administrators. Find out what they do to help every student feel comfortable, confident, and safe. Attend Board of Education meetings and any district special education meetings if time allows. Always be an advocate for your child (which, of course, goes for all children, special needs or not!). They need us.
Teach diversity and inclusivity
Being adamant and hands-on about teaching diversity—in all senses of the word—is the most important responsibility for all parents in my opinion. Expose your children to socially dissimilar groups of people. Make sure you have representation in children's toys, their books, and the videos they watch. It changes their perspective and allows for an open conversation about differences that make up other people and helps gain insight into their thoughts and views about people who do not look like them. Inclusivity is a necessity, even if you live in a predominately homogenous neighborhood. Make diversity of all kinds commonplace in your environment to dispel the notion that inclusivity is abnormal.
Diversity starts at home. Self-love starts at home. It may be scary when your child is the only one that looks like them in their class, but instilling in them the brillance and beauty in what makes them unique will give them confidence and pride in all that they are.
Additional resources for parents and kids
"The Conscious Kid Is An Education, Research And Policy Organization That Supports Families And Educators In Taking Action To Disrupt Racism, Inequity And Bias," according to their website. They are an amazing platform that shares resources and books that center the diversity of children, from racial to religious differences.
Stephanie DeLussey, dual-certified special education (N-12) and elementary education (K-6) teacher, created this website. She shares 60 books for children about disabilities and differences. Whether your child has disabilities or not, they should be exposed to these types of reading so that they are accepting and knowledgeable when they do meet people with disabilities.