When I was pregnant for the first time, I went into full-on nesting mode. We lived in a 900-square-foot house in Chicago and had to wisely and affordably decorate a small nursery. I began gathering ideas from across the web in a Pinterest board, and one piece of furniture was in so many of the pictures: the IKEA Hemnes dresser. With its reasonable price point and classic lines, I understand why the single, double, and tall versions were used across so many of my dream nurseries. I pinned away and eventually bought (and assembled) my very own Hemnes dresser for my baby girl's new nursery.
we've curated 40+ presents that are sure to put on smiles on their faces 🎁
It's been years, and we still have the dresser, but now I love seeing how creative parents are updating the standard Hemnes with IKEA hacks. New hardware, unique drawer pulls, bold stencils, bright paint, and chic baby accessories round out this list of kid's rooms and nurseries featuring the classic collection of IKEA Hemnes dressers.
Scroll down to see 11 kids' rooms and nurseries that include a DIY IKEA Hemnes dresser to get inspiration for how to hack your own in your little one's space!
EDITOR'S NOTE: It's important to ensure any dresser in your child's room is safely and securely anchored to the wall to avoid tipping. To request a free anchoring kit to secure your IKEA dressers, click here.
DIY Inspo for the Hemnes 3-Drawer Chest
At $269.99 and available in three colors, the 3-drawer chest has the potential to grow with the family. It's a great nursery item, with plenty of space atop for a changing pad and space in the drawers for diapering essentials and clothes. As babies grow up and have a big kid room, this versatile dresser can continue to be used as a dresser or transitioned into a nightstand.
Update the Hardware
One of the simplest ways for a DIY update on the chest is simply replacing the hardware with something more customized. While the black hardware the dresser comes with won't look bad in any room, it can look even better with hints of gold or pops of color by matching the hardware to the aesthetic of the space.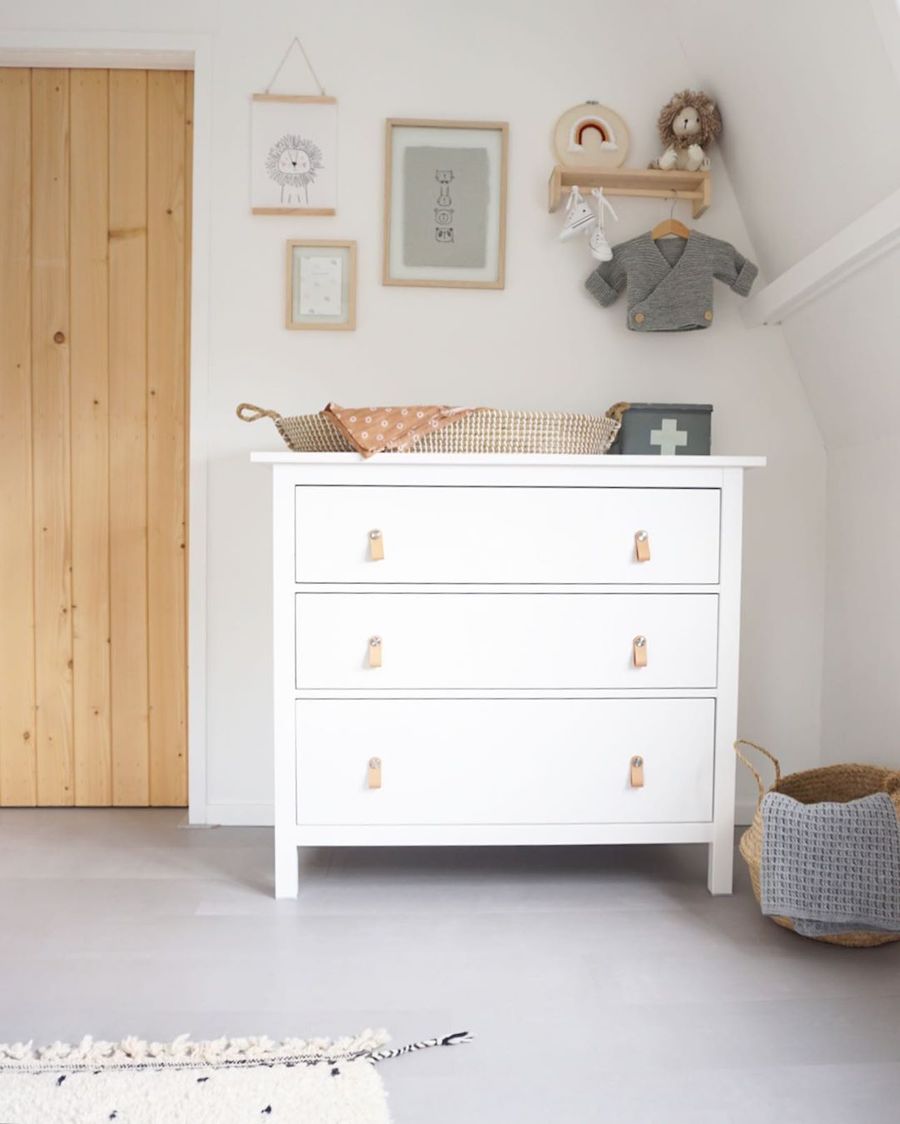 Add Fresh Paint
What better way to make a piece of furniture look like it was hand selected for a space than by painting it a custom color? This is also a great way to capture a child's personality as they grow, or to fit a certain decor theme. Adding a small pop of color in a room that's otherwise full of neutrals is always a fun addition. Plus, a simple paint job is one of the easiest DIY options. Spend an afternoon every few years updating the color and see how well this dresser grows with your kiddo.



Get the Look:
DIY Inspo for the Hemnes 6-Drawer Chest
While I love that the 3-drawer chest can easily be converted into a nightstand, if you think you'll get more use with a bigger dresser, the 6-drawer option may be the way to go. An investment piece with tons of potential, this option comes in at $349 and is available in three colors. Over four feet high, this dresser offers enough room for tons of clothes as your little one gets older. Even though you won't be able to use this as a changing table, it will look great in any room bigger kid's space.
Swap in Colorful Knobs
Perhaps the best way to make this dresser your own is by personalizing it to your kid. We love that the dresser below not only utilizes adorable, colorful hardware, but is also styled to show personality. The simple, feminine touches added to and around the piece give this an inviting and elegant look that a kid won't outgrow in just a few months or years.

Get the Look:
DIY Inspo for the Hemnes 8-Drawer Dresser
For the best of both worlds, the 8-drawer Hemnes dresser offers both space and usability. It's short enough to use as a changing table in a nursery, while also offering enough room to store clothes or supplies. And, with two different drawer sizes, it's as functional as it is aesthetically-pleasing. This option is also available in three colors and sells for $399 at IKEA.
Add Unique Hardware
Picking out unique hardware is one of the easiest ways to make the dresser more eye catching. Whether you go with colorful knobs or prefer the functionality of interesting drawer pulls, this easy DIY hack is a great way to customize the dresser. From unique shapes to fun textured options, new hardware will elevate and personalize the piece in no time.

Get the Look: