It's true what they say: You learn from your kids as much they learn from you. In fact, I would argue that parents actually further develop their own knowledge by re-experiencing life through their children's eyes. As a mother of two boys, I feel that every day is another adventure, where I discover something new about the world by simply following their lead. This is especially true with my boys' interests, as they have a fascination with anything engineering/science-related. In school, I excelled at English and writing. Science and math were never subjects I naturally gravitated toward.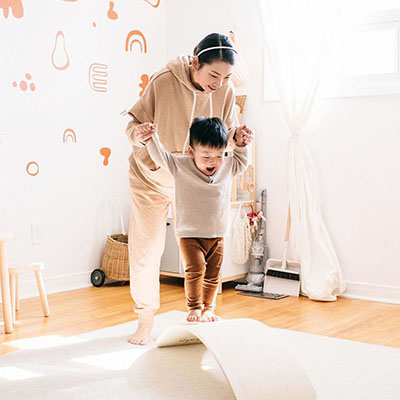 If your kid is turning 2, get ready for hilarious conversations, much more involved play, and lots of sweet, sloppy kid hugs and kisses. As for what you'll need? Leave that to us.
Now, thanks to them, I have done more science and engineering experiments in these last seven years than I had done in the 35 years before they were born!
As parents, we are always managing multiple responsibilities on never-enough sleep, so researching which activities to do with your kids can add more stress to an already full plate. But, because we love our kids, we fight through the exhaustion and do so willingly. We at The Everymom understand how busy your lives are, so we've done the research for you and created a list of easy and fun experiments to do with your little scientists. We hope you enjoy exploring, experimenting, and learning alongside your little ones!
KiwiCo is the best monthly subscription you could ever invest in because it delivers everything you need right to your door to give your little scientists, engineers, and artists tools to experiment with at home. Designed and perfected by a team of educators, engineers, makers, and rocket scientists (real ones!), this "all-you-need-is-in-this-box" delivery service has the most engaging and creative experiments that are tailored to be age appropriate for each range. By the time it reaches your door, it has gone through over 1,000 hours of tinkering and quality control to then be put to the true test by kid-testers!
These boxes, otherwise known as crates, are packaged with all the tools, materials, and instructions you need to execute the experiment or create the design. We have had the Kiwi and Koala crates for a few years now, and they have been a godsend during the pandemic. My kids ask me every month, "When are my crates coming?" and they count the days until their next delivery! With easy-to-read-and-understand instructions, I find myself looking forward to receiving these crates too because I can utilize a part of my brain I rarely invest much time in. Once we finish a crate, my boys use them to build towers, or we repurpose them as storage boxes!
My kids ask me every month, 'When are my crates coming?' and they count the days until their next delivery!
What I love most about our KiwiCo activity crates is the family time it seamlessly allows us to carve out in the hustle and bustle of our everyday lives. I know that I can allocate less than an hour of my time to bond with my boys without feeling pressured to research an activity from scratch. The box is a tangible reminder that it's that special time of the month dedicated to me and them, and my heart melts when I see my kids do the experiments together without my involvement. My oldest takes pride in mentoring his younger brother on completing his Koala crate. Below are snapshots of two typical Kiwi and Koala crates my boys recently completed.
KiwiCo
Designed for preschoolers ages 2-4, this crate gives toddlers a fun balance between art and engineering projects.
The instructions guided my son (and mommy by his side) to create a campfire first, then do an imaginary cookout with his newly designed campfire. These crates allow even the youngest of minds to practice their fine motor skills and exercise problem-solving techniques!
Use code EVERYMOM for 30% off your first month's subscription of any KiwiCo line!
In this particular crate, he was instructed to paint sticker planets and then incorporate them in a solar system mobile. He's grown strong spatial intelligence and analytical skills thanks, in part, to our monthly KiwiCo crates that inspire his learning. Since his room is space-themed, we will be hanging this up around his bed!
KiwiCo
These crates are designed for ages 5-8 with the understanding that at this age range, they may be reading at a certain level and eventually be able to complete most, if not all, of the activity independently. My oldest has gotten so skilled at his KiwiCo crates that, at this point, he asks to complete them on his own so he can proudly share the finished product with us.
Use code EVERYMOM for 30% off your first month's subscription of any KiwiCo line!
2. Lava Lamp Experiment
Kids will jump for joy with this mesmerizing and easy experiment about chemical reactions with oil and water. The final step of inserting an Alka-Seltzer tablet brings the lava lamp to life!
Materials Needed: Water bottles, water, oil, Alka-Seltzer tablet, and glitter (optional)
3.  Lemon Battery Experiment
Who knew a lemon could produce low volts of electrolytes? Your little scientists can study the concepts of positive and negative electricity with this easy-to-follow science experiment.
Materials Needed: Lemons, zinc-covered nails, alligator clips, medium gauge copper wire, and 3-volt LED light
4. Rainbow Walking Water Experiment
This experiment produces the most colorful result that will entice your little ones to learn more about the concept of liquid absorption. Your kids will enjoy seeing the before-and-after rainbow effect!
Materials Needed: Water, clear cups, blue/red/yellow food coloring, and paper towels
5. Density Experiment
Why do certain items float while others sink? Find out more with this simple yet fascinating experiment on the exploration of density.
Materials Needed: Water, food coloring, oil, honey, marble, grape, LEGO brick, and foam cube
---
You are now equipped with hours of STEM learning and fun activities for spending quality and explorative time with your children. If you find yourself wanting some quick go-to experiments, I highly encourage you to subscribe to the monthly KiwiCo crates so you can remove this off of your to-do list and simply enjoy the projects with your little ones. And for even more science and engineering projects, check out The Dad Lab, Mrs. Nancy Bullard, and Little STEAM Learners on Instagram.
This post was in partnership with KiwiCo but all of the opinions within are those of The Everymom editorial board. We only recommend products we genuinely love.