As a parent, Thanksgiving is one of my favorite holidays. I love enjoying decadent foods and time with family without the pressures of gift giving and ultimate home decorating. As most moms can also relate, I also really enjoy picking out my kids' Thanksgiving outfits. It's always fun curating outfits for special occasions and during the holidays, you get the added joy of sharing just how cute your kids are with your family members and friends.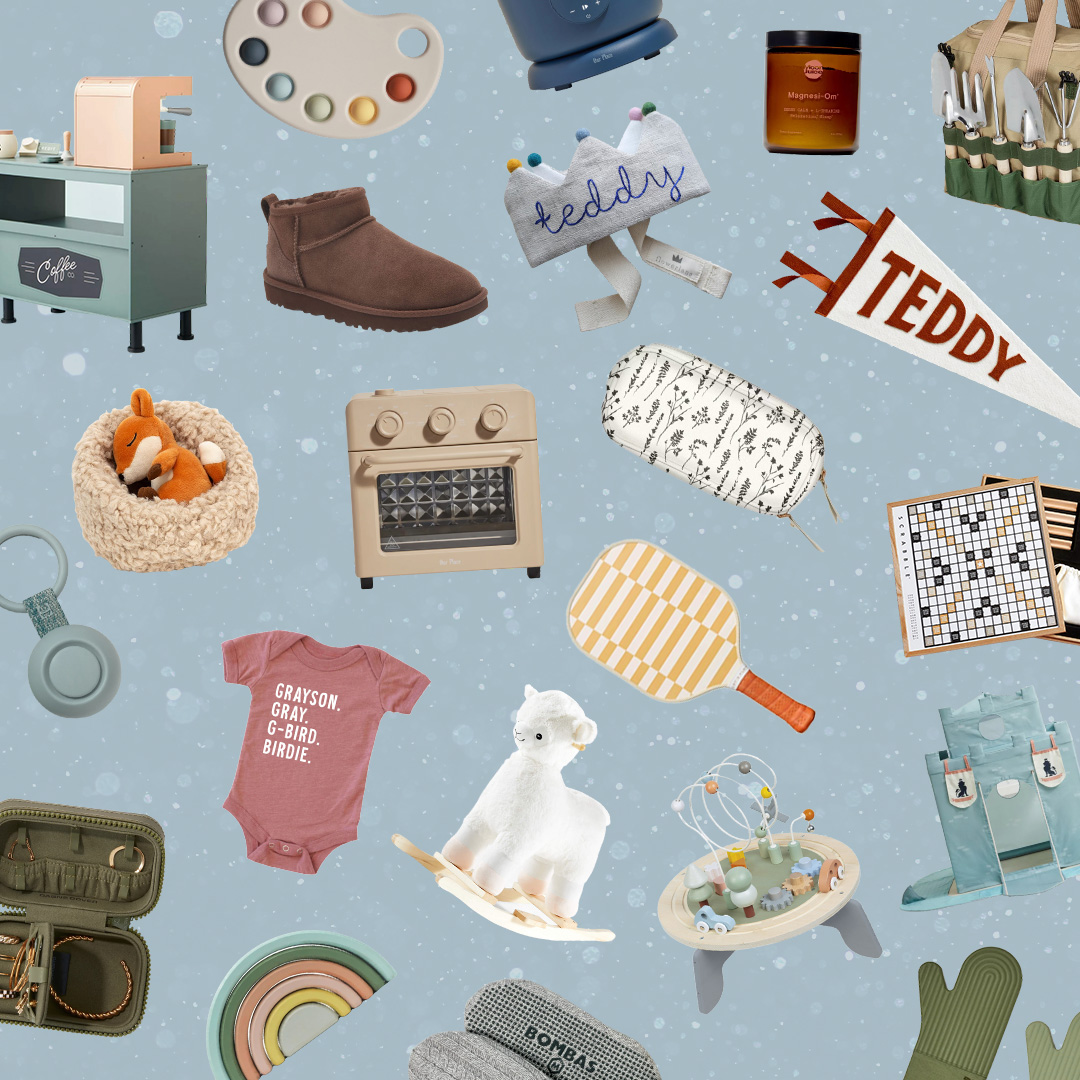 everything you need to ace holiday gifting this year 🎁
Of course, as most moms also know, assembling the perfect Thanksgiving outfit for your child(ren) isn't always the easiest task. Naturally, you want your kids in clothing that will be festive and adorable, but you also need to choose items they'll actually wear—a challenge I've been becoming very familiar with as a mother to an almost 3-year-old. What's a favorite shirt one day can easily be deemed a non-starter the next morning. 
Beyond budding fashion preferences, there are also logistics to consider. Will your baby need a nap-safe outfit that you'll feel comfortable putting them down in while the rest of the fam enjoys turkey and stuffing? Will your child be spending the day roughhousing with their cousins or tossing the football in the backyard? While every child and Thanksgiving plan combo dictates its own unique outfit considerations, in my own personal parenting journey, I'm learning that a balance of put-together and practical is often the best road traveled.
Whether you're a parent to a baby, "big kid," or any age in between, here are some ideas to spark inspiration as you plan your kids' Thanksgiving outfits. 
Babies Thanksgiving Outfits
Girl: 1. velvet romper | 2. tights | 3. headband | 4. shoes
Boy: 1. sweater | 2. pants | 3. shoes | 4. hat
As much as I love a baby girl in a dress or a baby boy in a pair of suspenders, both outfit options have always been unrealistic for me come Thanksgiving Day. My husband and I always eat an early Thanksgiving dinner at my mother-in-law's house during the kids' nap time. This means I need to feel comfortable putting them down to nap in whatever outfits they're wearing (or, of course, pack a second outfit). If you can relate to this specific, yet common conundrum, then dressy-yet-practical is the way to go.
A sweater or velvet romper in lieu of a dress reduces risk of extra fabric falling over a baby girl's face while she sleeps, and a button-free sweater and pair of corduroy pants for baby boys is a set that's both adorable for photos and cozy enough for sleep.
Toddlers Thanksgiving Outfits
Girl: 1. ruffle-trim top | 2. pants | 3. bow | 4. ballet flats | 5. coat
Boy: 1. plaid shirt | 2. cardigan | 3. pants | 4. boots
It's no secret that toddlers are incredibly active. If you're dressing a toddler, it's worth planning a Thanksgiving outfit that can keep up with their busy lifestyle. With my son coming out of the toddler phase and my daughter currently entering it, I've also learned not to throw them in cute sweaters and call it good—their level of activity causes them to overheat quickly. Instead, I like to always start their outfits with a light base layer, layering on sweaters and jackets as needed.
Since potty training is also common at this age, it's also important to consider bottoms that can be easily pulled down and back up. I love khakis or printed pants that look elevated but have a sneaky stretch or drawstring waist. Shoes that are easy to slip on or strap also encourage independence.
Little Kids Thanksgiving Outfits
Girl: 1. dress | 2. cardigan | 3. tights | 4. boots
Boy: 1. turkey sweater | 2. plaid shirt | 3. pants | 4. Chelsea boot sneakers  
Past the toddler years, little kids can handle a little more complexity and dress in their outfits. A gingham dress in an autumnal shade paired with tights is a festive option for little girls. A cardigan can complete the outfit, keeping the November chill away while also providing an easily removable layer for if and when sugar from the pumpkin pie has all the littles running laps around the house.
Little boys will get a kick out of an on-the-nose turkey sweater. Layer with a button-down shirt beneath to add extra prep and a base layer that's also seasonal, should the sweater get too warm. Finish the look with elevated chelsea boot sneakers that provide much-desired comfort and durability.
Big Kids Thanksgiving Outfits
Girl: 1. dress | 2. tights | 3. tall boots | 4. headband
Boy: 1. plaid shirt | 2. pants | 3. sweater blazer | 4. oxford shoes
I excitedly dressed my son in this exact plaid shirt and sweater blazer last Thanksgiving, knowing that the color combination could not have been more perfect for the holiday. Corduroy pants are quintessential to autumnal fashion and fall into that winning combination of put-together and comfortable.
For girls, a flannel dress is a classic, composed option that can be worn well beyond the holiday (which is always a bonus when you're talking about investing in kids' clothing). Feminine details, such as a ruffled collar and tie waist, add a sense of maturity.