Earlier this week, I was mindlessly doing things on my computer (read: online shopping and researching vacations I cannot book) when I glanced at the corner of my screen, at the date in the top toolbar. I had a mini existential crisis and thought, that absolutely can't be right.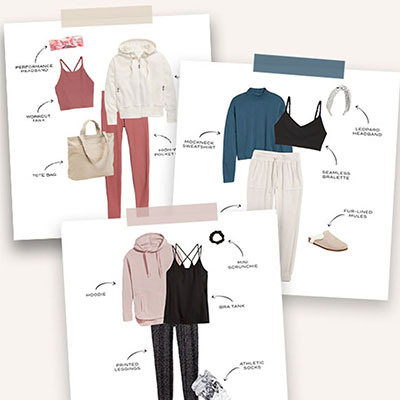 Shop 6 of Our Favorite Loungewear Outfits From Old Navy
Need to spruce up your at-home wardrobe? We've put together six cute, comfy, and budget-friendly loungewear looks from Old Navy.
This way to shop! —>
But, in fact, it was. We're halfway through December, and more importantly, Christmas is sneaking up on us very quickly. If you thought you had lots of time to get your holiday looks together, think again, because Christmas Eve is less than a week away (*gasp*)!
However, you know we have you covered. Whether you don't have time to order a new outfit, don't want to spend more money, or just want to utilize items you already own to dress up for the holidays this year, you're bound to already own the items to recreate at least one of these looks.
Here are five last-minute holiday outfits (for your virtual, small, or at-home celebrations), utilizing pieces you already own:
1. If you want to be comfy but still look cute… red sweater + straight-leg jeans + pom beanie
2. If you want to look put-together and chic… mock-neck top + plaid blazer + faux leather leggings
3. If you want a classic festive look… emerald sweater + black jeans + faux fur jacket
4. If you want to dress up a little… sweater dress + camel coat + snakeskin booties
5. If you want to be cozy at home… basic tee + long cardigan + leggings