Most mothers would agree: on a daily basis, mornings can be unpredictably chaotic or surprisingly smooth. Whether you're startled awake by a crying newborn or a toddler jumping into your bed—or you're tip-toeing downstairs to savor a ritual moment before everyone wakes up—mornings are usually better with the lift of a delicious drink, like one of the at-home latte recipes below.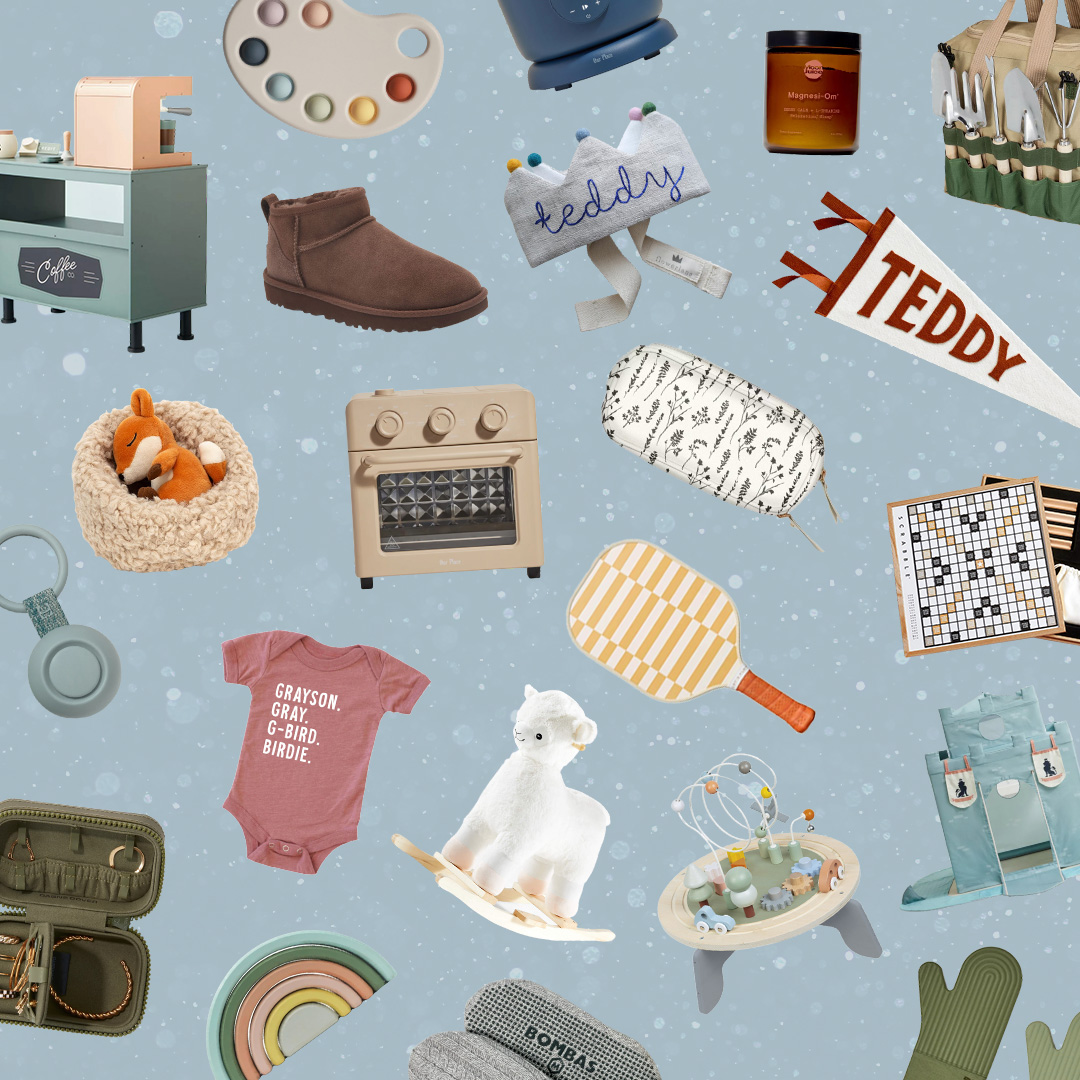 everything you need to ace holiday gifting this year 🎁
If you start dreaming of your morning latte while drifting off to sleep, you're not alone. Knowing you'll have a tasty, reliable beverage as you wake up can make embracing whatever else comes your way so much more pleasant. While time may not always allow for that extra indulgence of DIY lattes, if you can conjure up just a few extra minutes, you might surprise yourself with what you can create.
Ready to expose the undercover barista that has lived in you all along? We have an abundance of flavorful latte recipes to choose from; classics like pumpkin spice and vanilla are just the beginning of your newfound latte love affair. And good news: all of the recipes below, whether they're caffeinated or caffeine-free, can be modified to match your caffeine-level preference! And for the caffeine recipes, don't fret if you don't have an espresso maker–you can always swap in instant espresso powder or brew a strong pot of dark roast coffee.
If you're still thinking, "How am I ever going to find the time for this?," one great hack is to prepare multiple servings of your favorite recipe(s) in advance using a large saucepan or blender, so they're prepped and ready to go on your craziest of mornings. It's also worth trying this handheld frothing wand for effortless mixing with smooth results. And hey, even if you only wind up creating a latte once in a blue moon, it'll certainly make for a memorable morning in the string of those go-go-go days. Below, check out 20+ delicious latte recipes to spice up your morning caffeine fix.
The Best At-Home Latte Recipes
With autumn just around the corner, the PSL is a beloved fave. Cut back on the sugar and additives of the Starbucks version by brewing up your very own!
The chili powder alone will bring you to life with this latte! Before you crinkle your nose in disgust–it's the powdered sugar, cinnamon, and cocoa powder that temper this spice for ultimate deliciousness.
In this recipe, the floral chamomile rounds out the earthy matcha for an all-around soothing beverage that Mother Earth would be proud of. Of course, you can also leave the chamomile out for a more traditional matcha latte.
Learn how to make this staple latte of chai spices from three ambitious women who know what they're doing in the kitchen!
It's the dynamic duo of coconut sugar and coconut cream that creates that unmistakably snickerdoodle flavor, giving you a 100% plant-based drinkable cookie of sorts–but much healthier!
Oat milk is heart-healthy, and also puts less strain on the environment to produce compared with other milks. Take your pick from the five included variations!
Pretty in pink! The key to the heart of this latte is the addition of beets, alongside a medley of lovely spices to balance it out. Why beets? They can provide fiber, antioxidants, and a blood tonic to your AM nutrition.
In addition to turmeric, warming spices like nutmeg, cardamom, and cinnamon make this a spectacular gold-standard vanilla latte.
Bring a little southern hospitality into your mug with this autumn indulgence–you can't go wrong with the fusion of sweet maple and vanilla, nutty pecan, and spicy cinnamon.
At this latte's essence is maca root, the superfood for the divine feminine in you–this adaptogenic Peruvian root has been known to help remedy stress, fertility, libido, menopausal symptoms, and more.
Who said you can't combine your daily dose of berry antioxidants in your latte? Not only is this drink's color mesmerizing, but the taste is bold, sweet, and tangy all at the same time.
Fresh ginger coupled with a homemade gingerbread spice mix makes for a fragrant, uplifting mix. Plus, ginger is stress-relieving and promotes healthy digestion.
A heavenly combination of honey, cinnamon, and your favorite creamy milk. Don't be surprised if it leaves you glowing as golden as the honey!
A completely dairy-free recipe, right down to the homemade salted caramel sauce. The secret ingredients to make it so smooth and decadent? You'll have to try it to find out!
What's unique about this version of a turmeric latte is that you blend in cashews for a smooth, buttery taste—and a serving of healthy fats, minerals, and plant protein.
Here's your chance to incorporate the latest craze of medicinal mushrooms into your diet for immune support, relaxation, brain function, and stress reduction, to name a few possible benefits. Mushroom complements the flavors of cacao and cinnamon so perfectly–you won't even know it's in there!
This is an aromatic upgrade to apple cider, and is a wonderful recipe to celebrate the complementary tastes of fruit and spices.
An amorous blend of dried culinary lavender and rosebuds to give yourself a dose of self-love alongside your latte.
It doesn't just have to be the holiday season to cherish the festivity of eggnog, and receive your omega-3s and protein to boot. The included eggnog recipe will be helpful if it's not the time of year where you can easily find eggnog at stores, but you're still craving it!
Who doesn't love a twist on a classic PSL? This recipe is made with just four ingredients (that you might already have in your pantry!) and makes an oh-so-delicious drink for any fall morning.
For the sophisticated Earl Grey aficionado who appreciates the citrus flavor of bergamot.
This recipe replaces chocolate syrup with Nutella mixed with cocoa powder–your kids don't have to be the only ones on the receiving end of Nutella as a sweet treat!
Ruby red hibiscus and energy-lending Ashwagandha powder come together in this revitalizing latte. While it's caffeine-free, you can certainly pack an extra punch by adding your favorite espresso or coffee.