When my oldest son started preschool, he quickly became obsessed with Magna-Tiles. For weeks on end, he bounded out of his classroom ready to tell me what he and his friends had built that day. Then when his birthday rolled around, I went to my local toy store to buy him his very own set. I knew nothing would make him happier, but I had sticker shock when I saw how much Magna-Tiles cost. I couldn't think of a better gift, so I took the plunge and decided they would be his "big" gift for the year.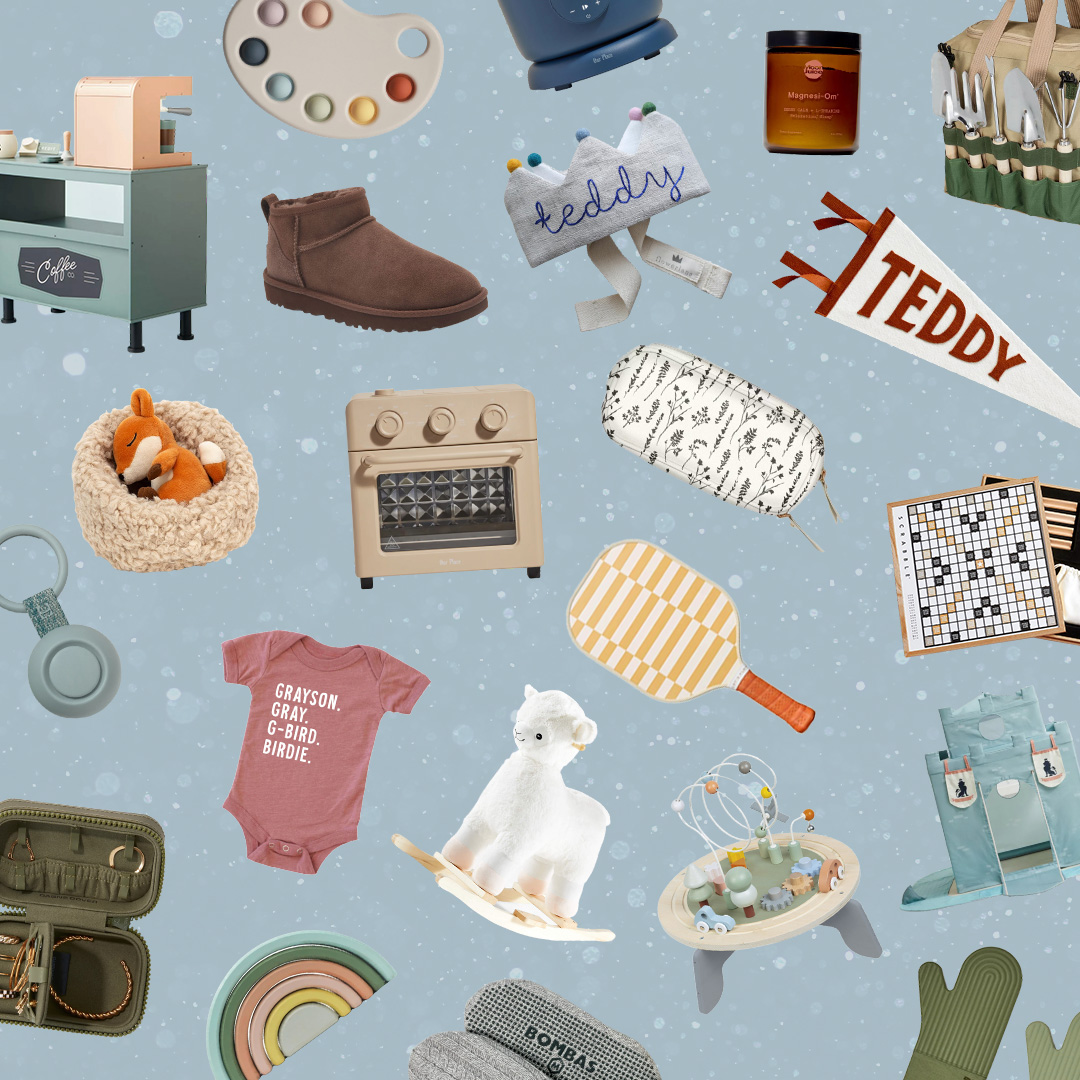 everything you need to ace holiday gifting this year 🎁
As I pulled out my credit card, I worried that he would get tired of Magna-Tiles as soon as he had 24/7 access. Luckily, I was wrong and he (and his younger siblings) have been happily playing with Magna-Tiles for years. Since that first set, we've added to our collection, sometimes supplemented by generous grandparents. Magna-Tiles have been a great investment, and I can confidently say that they are the most played-with toy among the many we have for my four children. Here, I'm sharing more about our experience with Magna-Tiles, what makes them special, and whether the Magna-Tiles dupes are worth considering. Read on for my honest Magna-Tiles review.
Magna-Tiles Review
What Are Magna-Tiles?
For those not familiar, Magna-Tiles are simple plastic, magnetic tiles, similar in some ways to magnetic building blocks for children ages 3+. Small magnets are securely encased in the tiles and the tiles connect to make geometric designs. Basic sets usually include square and triangular pieces in either solid or translucent colors. Other Magna-Tiles sets include tracks, animals, and more. There are some specialty sets with tiles that look like school buses or rocket ships or that come packaged ready to build specific structures like barns. Unlike LEGOs and other building toys, Magna-Tiles are meant for free-building. However, there are also plenty of suggestions for what to make for those who need a little help getting started.
The Educational Benefits of Magnetic Tiles for Kids
Just from observing my children playing with Magna-Tiles, I think they are one of the best educational toys and creative building toys around. I see first-hand how they encourage creativity, problem-solving, and help with fine motor skills.
Pediatric Occupational Therapist Laura Petix from the OT Butterfly agrees. Petix says that Magna-Tiles help with key skills like visual-motor integration (which is needed for handwriting), visual perception (which helps with learning to read and recognize letters), kinesthetic and body awareness, creativity, and motor planning (which helps with executive functioning skills). Another benefit of playing with Magna-Tiles is emotional regulation since kids learn to need to cope with frustrations when builds go wrong or when a tower topples, Petix adds.
The benefits keep growing as kids get older. "As kids explore and progress in their building skills, they are secretly learning about engineering, geometry, spatial awareness, and visual perceptual skills," says Brenda Chilstrom from That Makes Sense OT. Chilstrom also believes that Magna-Tiles are the perfect toy for siblings to play with together and for parents to play with alongside their children. Their open-ended qualities leave no room for a "right or wrong way to play" and put everyone on a "level playing field and create opportunities for bonding and exploration together," she says.
Why Are Magna-Tiles So Expensive?
There is no denying that Magna-Tiles are expensive. Prices for Magna-Tiles vary by set, but by my rough calculations, I estimate they cost a little over $1.00 per tile. The bigger the set, the less the per-tile cost. Nevertheless, I think there are several factors that justify the price.
Materials and Durability
Magna-Tiles are made from food-grade, non-toxic, and highly transparent MABS plastic. Each tile includes ceramic magnets made to resist corrosion and demagnetization for lasting strength, according to the Magna-Tiles website.
In my experience, the tiles are also extremely well constructed. The brand shares on their website that the crisscross lattice isn't just a unique design; it acts like a skeleton, providing additional support within each piece, so the tiles won't break open if accidentally stepped on or dropped. Even after having some of our Magna-Tiles for a decade, not one magnet has ever come loose. Anyone with babies and toddlers knows how important it is for magnets to be kept out of little mouths.
Are Magna-Tiles Worth the Cost?
I think Magna-Tiles are worth the price because they inspire so much creativity and are so versatile. They integrate with other toys we already have in our collection. For example, our Magna-Tiles have withstood sports cars and Monster Trucks rolling over them and emerged with no more than a few scratches.
Magna-Tiles helped my kids build problem-solving and STEM skills thanks to the basic engineering needed to build structures. They have used creativity and cooperation when they build together, which is often.
Although I didn't know this at the time we bought our first set, I love how Magna-Tiles grow with kids and adapts to their interests. My kids started building flat, basic designs on the table or floor then grew to building increasingly complex structures. Our Magna-Tiles have been used to create castles, a Bat Cave, the Washington Monument, and to practice spelling by using them to create letters. We stuck Magna-Tiles to baking sheets and created a marble run on-the-go. Although Magna-Tiles are for kids, I like playing with them too, which is not true of all my children's toys.
"Although Magna-Tiles are for kids, I like playing with them too, which is not true of all my children's toys."
Despite their high cost, another Magna-Tiles benefit is that once you have a good starter set, each time you add a smaller set with more (or different) pieces, it's like getting an entirely new toy that can be re-discovered. Because Magna-Tiles' quality is so good, they can be passed down to younger siblings.
Whenever anyone asks me "Are Magna-Tiles worth it?" I always say yes! When looking at the pros and cons of Magna-Tiles, there aren't any downsides other than the price…and the fact that your child will probably ask for more.
Where to Buy Magna-Tiles
In an ideal world, you could buy Magna-Tiles secondhand for a lot less than retail. I'm constantly on the lookout for used Magna-Tiles and rarely see any. When I do, they go fast. This isn't surprising because families like mine find new ways to play with Magna-Tiles as their children grow.
Besides the Magna-Tiles manufacturer itself, major retailers like Amazon, Target, as well as specialty toy stores often carry Magna-Tiles. If you're looking for a kid's birthday or holiday gift, keep an eye on Black Friday and Cyber Monday sales, which can be the perfect time to grab Magna-Tiles at a discount.
Magna-Tiles Review: Magna-Tiles vs. Other Brands
Since Magna-Tiles has exploded in popularity, several competitors have sprung up. Some of the most popular are Connetix, Picasso, Playmags, and Magformers. Connetix, Playmags, and Picasso Tiles are all compatible with Magna-Tiles so you don't necessarily need to choose one, and you can mix and match sets to see which your child prefers. Because all of these toys contain magnets they are not recommended for children under three.
CreateOn Magna-Tiles
There is also a line of Magna-Tiles called CreateOn. These Magna-Tiles come in various themes, including The Very Hungry Caterpillar, The Grinch, a castle, a barn, and more. I really like the CreateOn Doodle-Tiles that allow kids to create Magna-Tiles of their own design. Since CreateOn tiles are made with "official" Magna-Tiles, my family has collected several CreateOn sets and they work seamlessly with other Magna-Tile sets as they are made by the same manufacturer.
Picasso Tiles vs. Magna-Tiles
Picasso Tiles are similar in shape and style to Magna-Tiles. They are significantly less expensive, which makes them an attractive option. However, whereas Magna-Tiles are secured with metal rivets, Picasso Tiles are glued together. Magna-Tiles also have a crisscross design, making them stronger to stand up to years of playtime. Picasso and Magna-Tiles are compatible with each other.
Playmags vs. Magna-Tiles
Playmags are also very similar to Magna-Tiles in many ways, including being secured with rivets. They have a wider variety of shapes than Magna-Tiles. One unique feature of Playmags is that they have tiles with cut-out windows where letters and numbers can be placed. Theoretically, this could help with letter recognition. Playmags are less expensive than Magna-Tiles, but in my experience, they feel flimsier and probably won't last as long. Playmags are not reinforced in the same way Magna-Tiles are, and they are not engineered as well, so sometimes pieces don't fit perfectly together, which could be frustrating.
Connetix vs. Magna-Tiles
Connetix are also similar to Magna-Tiles in size and shape. They come in varied color schemes, including pastel colors that don't exist in the Magna-Tile universe. Connetix also has some add-on options that Magna-Tiles don't have, such as ball run expansion packs. A key difference between Magna-Tiles and Connetix is that Connetix has beveled edges, which help improve durability and refract more light. The magnets in Connetix seem stronger. This has some benefits but also makes each tile heavier. Connetix are welded together and reinforced with rivets so the magnets are at least as secure as Magna-Tiles, which is an advantage over other Magna-Tiles competitors. Of all of the Magna-Tiles alternatives, Connetix are the closest in terms of quality. They are also priced similarly.
Magformers vs. Magna-Tiles
Magformers are magnetic building tiles, but they are not compatible with Magna-Tiles and are different in many ways. Despite these differences, they are often lumped into the same category, which can cause some confusion. Magformers are smaller than Magna-Tiles, and the tiles are open in the middle. Another key difference is that Magormers have magnets all along the outer edges. This makes it possible to build more complex, 3D shapes. The smaller size of Magformers means they may be harder to grasp for the youngest builders so they are better for kids who are a little older, I would say ages 5+. It's harder to build vertical structures like towers with these smaller tiles, so there is a trade-off. Like Magna-Tiles, most tile sets are made for open-ended building.
Magna-Tiles Review: Final Thoughts
Magna-Tiles are the original magnetic tiles. It's hard to beat the OG version that spawned so many imitators. They have been around the longest and have stood the test of time. The Magna-Tiles line has grown from simple sets to include a huge range of special tiles, including glow-in-the-dark tiles, tracks, and color-your-own. I fully expect that Magna-Tiles will keep adding to their selection.
Whichever version of magnetic tiles you go with, you can't go wrong. I can confidently say that I do not regret buying Magna-Tiles and that they remain the most played-with toy among my four children.