As a veteran AMI Montessori teacher and a parent to small children (3 and 4 years old), I have experienced countless back-to-school transitions. Returning to school after a long summer break can be challenging, so it is OK to ease into this slowly and allow your child the space to process and fully prepare for their new endeavor. But, along the way, there are several helpful Montessori hacks you can start practicing now to encourage independence in your children for school and beyond.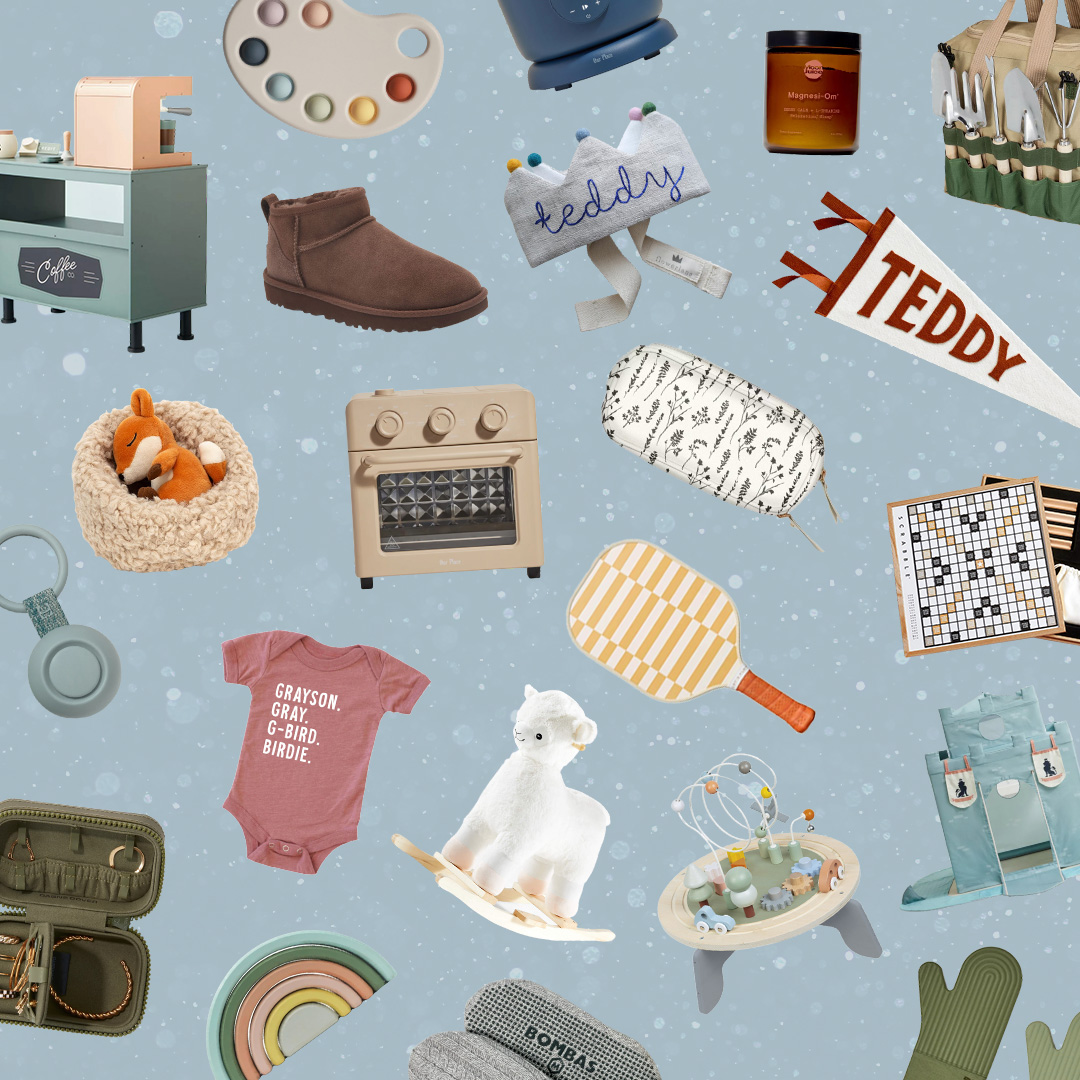 everything you need to ace holiday gifting this year 🎁
This advice is useful for back-to-school but may also be applied to any change or transition you and your child experience. Talking through the details will support their ability to handle new situations and events in alliance with your expectations. While many young children may be anxious about separating from parents and meeting new peers and teachers, keep in mind that calm parents equal calm children.
Here are a few Montessori-inspired hacks to empower your child to do things for themselves, boosting their self-confidence and self-esteem through their independence.
Use a Visual Routine Chart
Children thrive with an established structure and routine. Before the age of 6, children are concrete and visual learners, so the use of a routine chart is helpful in establishing a schedule. Introduce two or three responsibilities, then implement more as you observe your child's capability. For example, if your child is struggling with getting dressed, invite them to start with the pants, and then you can help with the rest.
Etsy | Pippi Post
These adorable chore charts come in multiple color schemes and are easy to download and print.
Create a Child-Friendly and Accessible Entryway
Begin to establish a routine for your child to care for their own belongings. Hanging up coats and jackets when they arrive or leave the home encourages your child to dress themselves and know where to find the appropriate layers they need. Keeping all of their school possessions in one place gives them the responsibility to manage this process.
Make sure there is a place for all of their items when they return home from school. Mount low, child-level hooks so they can hang their backpack, coat, or hat. Add a low shelf or basket for their shoes and an eye-level mirror to help them check their appearance and apply sunscreen. One helpful hack is to use a ribbon or string to create a loop around your child's jacket tag so they can easily hang it themselves.
Establish a 'Getting Dressed' Routine
In the last few weeks of summer, begin practicing with your child how to dress independently. Invite your child to place a pair of pants or shorts on the ground to recognize that tags go in the back, and then put on one leg at a time. Do the same with all articles of clothing so your child has enough time to really practice and develop the muscle memory for dressing independently.
This is a great opportunity to build self-awareness by asking your child this question: "Is it comfortable?" If shoes are on the wrong feet or a shirt is on backward, ask your child to feel for themselves. If they feel comfortable, don't correct them! By allowing them freedom without judgment, they will feel successful and powerful in having done it themselves.
To set your child up for success with shoe placement, cut a sticker in half and place them on either shoe. They can line the sticker up to match which visually demonstrates the appropriate fitting.
Mabel's Labels
Mabel's Labels also offers shoe name labels to help with right and left feet for little ones as part of their Little Kid School Combo label pack.
Practice Using Lunch Containers
Whenever a parent comes to me to ask why their children won't eat their dinner, I advise them to involve their child in the food process as much as possible. Whether it's the trip to the grocery store to pick out desired foods or helping to prepare a meal, the more your child is invested in the journey, the more likely they are to enjoy the food in front of them.
Prior to the start of school, work with your child to pack up a snack or lunch and practice using them during an outing so your child begins to confidently manage them. Remember that with any food preparation, children will be eager to taste the food, so pack lunch together during a time that you're OK with them eating along the way.
Walmart | Sistema
For school snacks and lunches, I highly recommend these containers that make a "clicking" sound when snapping shut, which will meet your child's auditory interest. 
Amazon | LunchBots
The metal containers by LunchBots are easy to handle for young children.
5 colors available
Act Out a 'Happy Goodbye'
Begin preparing your child to say a "happy goodbye" at school. Find a special way to create a routine and limits around how you will leave. Whether it's giving a hug, a hand squeeze, a high-five, or whatever you decide together, practicing the separation before the actual day will be helpful. Children are creatures of habit and find security in the consistency of repetition, so establish a goodbye that can be repeated each morning.
Find out from your school what the drop-off routine is so that you can go to the school or practice with your child beforehand. Look for opportunities to prepare and communicate to your child what is coming. For example, "We are pulling into the parking lot, so we are going to say goodbye soon."
As a parent, you may be emotional during this transition as well. Ensure that your child feels your confidence in them as they separate and talk through any emotions. "I understand you may be feeling nervous, but I know how brave you will be at school!"