We all have them: overflowing from our drawers and closet shelves, as trustworthy as our oldest friends. Classic black leggings are arguably the most essential of all wardrobe essentials, but that doesn't mean they don't deserve a new look every once in a while.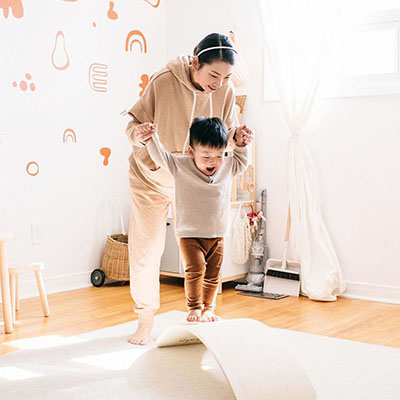 Shop Our Most-Used Items From Amazon for Toddlers!
If your kid is turning 2, get ready for hilarious conversations, much more involved play, and lots of sweet, sloppy kid hugs and kisses. As for what you'll need? Leave that to us.
This way to shop —>
If you have tons of black leggings—especially if you, like most of us, have been wearing them nonstop for the past 10 months—you might be feeling like you need to switch it up. And I know that we all have that one favorite pair that we just can't wait to be clean again so we can wear them, but these six outfits might even have you wanting to reach into the bottom of your drawer and grab a pair from the B-team.
One of the best things about a trusty pair of plain black leggings is how versatile they are—they can be worn for working out and lounging around, but can also be dressed up for a more chic and trendy look. Keep scrolling for six ways to style your favorite pair of black leggings…
But, first thing's first: our favorite pairs of black leggings
Now, how to style them:
1. For working out: with a cropped tank and zip-up hoodie
2. For running errands: with an oversized hoodie and sherpa puffer
3. For working from home: with a comfy bralette, cardigan, and chic accessories
4. For dressing up a bit: with a button-down, plaid coat, and booties
5. For lounging at home: with a sweatshirt and slippers

6. For playing outside with the kids: with a cozy sweatshirt, parka, and warm accessories