As moms, it's inevitable that we do an unending amount of research—whether it's baby products or gear, childcare options, food, extracurricular activities, books, or simple home products, we're unified in our efforts to find the best options for our families and ourselves.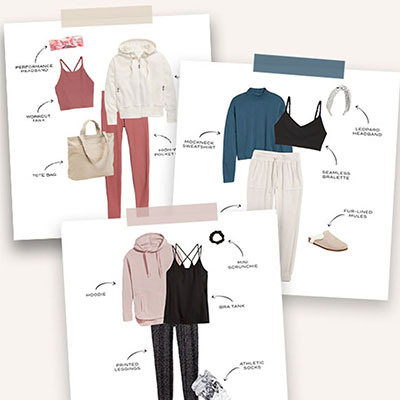 Shop 6 of Our Favorite Loungewear Outfits From Old Navy
Need to spruce up your at-home wardrobe? We've put together six cute, comfy, and budget-friendly loungewear looks from Old Navy.
This way to shop! —>
But let's face it, it's exhausting. What we need most is an honest review from another mom who tells you whether or not a certain product really works and is worth the investment. Personal recommendations are always best, and that's what we're here for!
In this series, each month, the Everymom Editors are sharing their empties—that is, the products that they have used and finished. You'll get their unfiltered thoughts on what the product is, whether or not it works, and if they would repurchase it.
We hope these empties help you ease some of that research load and provide you with helpful options for your own families. And if there are things you absolutely love and recommend, we'd love to hear about them!
Check our team's November empties below. 
EQUILIBRIA
These roll-on CBD oils come as a pack of two: Energizing Roller and Calming Roller. It probably says a lot about the state of my mental health that I went through the Calming Roller about twice as fast as the Energizing one. Couldn't we all use an extra dose of calm right now, though? In my home, the answer is yes—even my husband has gotten in on the CBD oil routine. I'll definitely order more of these. In fact, my husband will 100% be getting this as a stocking stuffer this year.
Today, Equilibria is donating 10% of sales to Black Girl Ventures to support Black and Brown female entrepreneurs. Plus, all customers will receive 10% off. And use code THEEVERYMOM for an extra 20% off your first order!
Hims & Hers
I bought these on a whim in the hopes that they would help my nails get stronger. I'm a regular dip manicure kind of gal—it makes me feel put together even when I'm definitely not, but it also takes a toll on my nails. Not only did I notice a difference within a month of using these, I also found these helped with postpartum hair loss/regrowth after I had my second baby. I've been using them for months and plan to continue indefinitely.
Trader Joe's
I'm a huge fan of Trader Joe's face products and use their SPF face lotion all summer. For winter, when I'm not worried about SPF—I figure my body could use the rare glimpses of vitamin D— I usually go through one bottle of this lotion. It's hydrating and lightweight at a budget price point. Already stocked up on more for the winter!
Flamingo
When everything shut down last spring, I finally got on the mail-order razor wagon and tried Flamingo. The shave is definitely better than the disposables I'd been using, and I love the convenient shower holder. I'm also a fan of the neon coral color I chose, but just saw this pretty mint green and gold option at Target for the holidays. I've already bought replacements!
Flamingo
The spot treatment was actually what sold me on trying Flamingo. A clever Instagram video demonstrated how it worked; it's made with lactic acid, white willow bark, and other fruit acids to exfoliate and work the ingrown hair out. I found it to be incredibly effective this summer and continue to use it. I found I only needed to use a tiny bit for a couple days on a trouble spot. I plan to buy again.
Glossier
A friend sent me this hyaluronic acid serum (along with a whole batch of Glossier goodies I haven't made my way through), and I was so excited to try it. It dries quickly and feels soothing yet light on the skin. And I just love the packaging and the name. I'll buy again, though I'm eager to try different serums from Glossier now.
Bumble & Bumble
Now that the temps are dropping, I haven't been washing my hair as often as I did in the summer. It's been so nice to have the break from using heat on my hair (and sleeping in), but honestly, it does need a little revival between washes. I've loved using this dry shampoo powder to absorb oils and give my hair some much-needed volume. Grabbing another to last through the winter.
Target
I should probably put some effort into having a personalized daily vitamin regimen, but for now, I've been picking up drugstore bottles and recently grabbed this one at Target. I usually prefer gummy vitamins over pill supplements (who wouldn't?!), and these berry-flavored gummies made taking my vitamins a fun part of my morning routine. A win-win in my book! Will grab another bottle on my next Target run.
The Body Shop
I received this shower gel as a gift, and it, admittedly, got lost in the back of my bathroom cabinet. When I recently unearthed it, I was excited to try it because it looked like a lush, creamy body wash, and its vanilla brulee scent was heavenly. Not only was it both of those things, but it also left my skin feeling silky smooth and ultra moisturized. Though it seems this exact bottle is no longer available on The Body Shop's website, the limited edition warm vanilla shower gel looks really similar and would make a cute stocking stuffer gift for anyone on your holiday shopping list.
Versed
I just started using Versed products this year and have truly enjoyed the products I have tried so far! I usually get a few blemishes around my time of the month, but I started using this serum almost every day and haven't had a bad breakout since. I love that it's such a simple product but does a great job at keeping my skin so smooth and clear!
MOON
I just finished the last of it this morning! Did I buy this toothpaste for the trendy, cool packaging? Definitely. But I ended actually loving it and definitely noticed its whitening effects!
HAN Skincare Cosmetics
This multi-stick from clean beauty brand Han is my entire makeup routine these days. I'm a pretty pale person, and the Rose Dust shade adds just enough natural warmth and color to my otherwise sleepy-looking face. I layer this over Chapstick on my lips and give my cheeks a quick swipe before logging into any Zoom calls. It's completely fuss-free and fool-proof. I would buy again but I'd love to branch out and try the burgundy rose shade too!
Kristen Ess
I've never really been able to understand what kind of shampoo I should be using. Do I splurge and buy one of the uber-expensive ones that is supposed to be a miracle worker? Do I stick with something I can grab for $5 at any drugstore? There are so many types and brands out there, and it has always been overwhelming to me. When I started using this Kristin Ess one, however, I felt like I finally found a happy medium between high-end salon shampoo and drugstore shampoo. It leaves my hair feeling super soft and clean, and it smells great too.
TheraBreath
This might seem weird and random, but I really love this mouthwash and I think people need to know about it. I've always had pretty sensitive gums, and this is the only thing that keeps them healthy and not irritated. I've been using it since the spring and have consistently seen improvements in my gums. Also, the mint taste is not overwhelming, there is no burning sensation, and it is made from more natural ingredients than traditional mouthwash, so it is a much more gentle option that still gets the job done.

This post was in partnership with Equilibria but all of the opinions within are those of The Everymom editorial board.