While decorating her daughter London's feminine nursery a few years ago, Jessica Dworkin kept things classic by mixing blush pinks, whites, and grays and instantly elevated the space by adding a statement herringbone shiplap wall. Then, when her son, Beckham, came along, the Dworkins decided to transform London's room into a new, boho nursery for their baby son. By switching all the pink decor to blue, adding a different crib, and mixing in touches of surfer-dude style, the nursery was perfectly flipped into a cool and calming space for the family's newest member.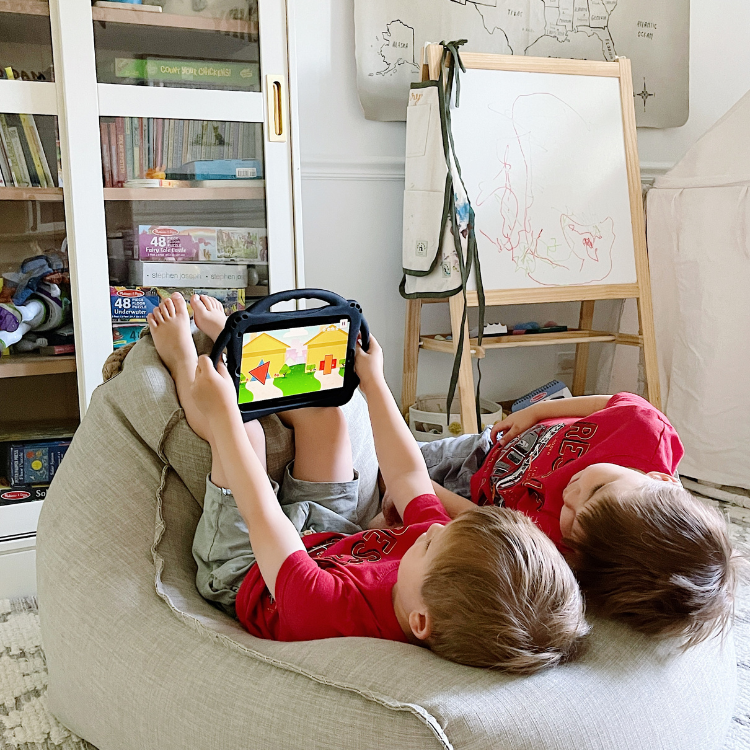 a pediatrician shares what she *really* thinks about LOs and screen time
Keep reading to find out Jessica's favorite places to shop for kids' decor, see which furniture items were interchangeable between London and Beckham's nurseries, and check out toddler London's new room in the Dworkins' gorgeous California home!
Name: Jessica Dworkin
Location: Rancho Mission Viejo, CA
Room's Square Footage: 350
Years Lived In: 5.5 years
Rent or Own: Own
Children: London, 2.5, and Beckham, 5 months
After meeting in Chicago, you and your husband moved back to California (where you're originally from!) to raise your two kids. Tell us about your family and why you're loving living on the West Coast. 
Moving back to California after Chicago was always my plan. I knew I wanted to raise a family where I grew up. My parents are 10 minutes away from us, and all my extended family lives here. It's so nice to have their help with the kids if needed. Of course, the perfect SoCal weather is something that can't be beat! We love spending time outdoors, whether it's going to the beach, park, or on a hike. 
You and your husband bought your house five years ago — what drew you to this home in particular?
We love that our home was being built in a brand new community. Funnily enough, we didn't really plan on buying this house. It ended up just working out. We were on a waitlist where you had to show up to the phase release in order to purchase a home. There were three models you could choose from, and we really wanted Plan #2. However, all the Plan #2s went first. The Plan #3 was a bit over what we wanted to spend, and the Plan #1 was nice too, but it just wasn't our first pick. When they got to our name, it was either a Plan #1 or Plan #3. The Plan 1 was located at the end of the street in the cul de sac. We ended up purchasing that one since we knew we wanted to raise kids in this home. We only have one neighbor to the right of us and a big hill to the left. The cul de sac was honestly the selling point!
You live in Rancho Mission Viejo, California. What do you love most about your neighborhood?
We love that the majority of our neighbors have kids. When we first moved in, everyone wanted to get to know each other. We spent a lot of time at each other's houses getting advice and opinions on how to make our houses our homes. Our neighbors have become family!
Nursery Before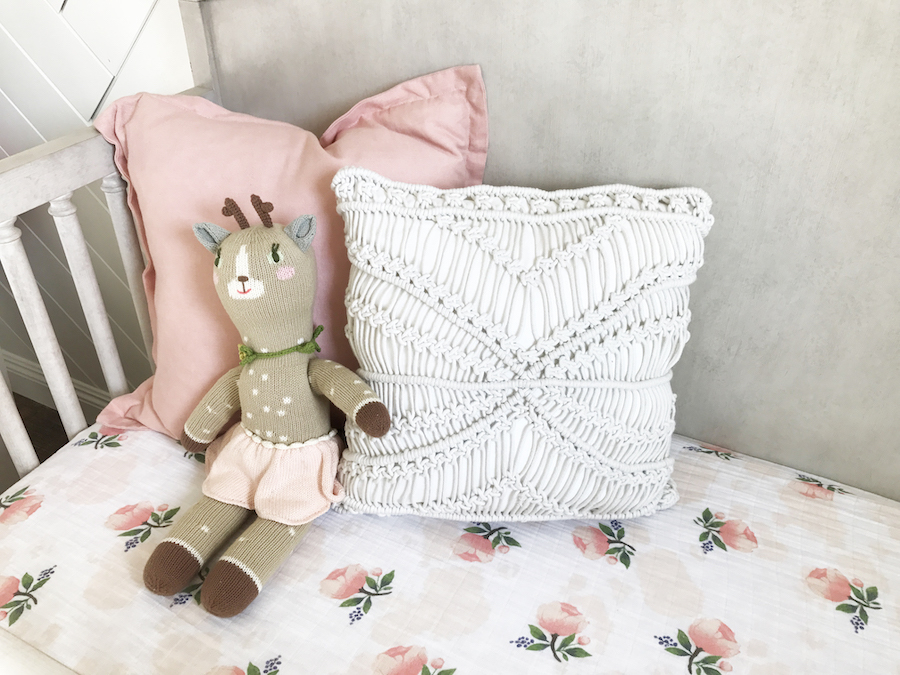 SHOP THE LOOK

What space or room in your house is your favorite and why?
Both my kids' rooms are my favorite. I love walking in to both their rooms and having it feel so light and bright. Watching them play and grow in their own spaces makes my mama heart so happy. 
How would you describe your overall design style?
I would describe my style as boho coastal meets a little bit of eclectic. 
How has living in California influenced your decor compared to living in the Midwest?
Living in a California, my decor has definitely gravitated to the clean lines, coastal blues, and boho feels. Living in the Midwest, I loved all the exposed brick and industrial look. 
You've created the cutest bedrooms for your two kids in your home! Tell us about first decorating your daughter's nursery. 
When decorating my daughter's nursery, off the bat, I knew I wanted blush pink in the mix with whites and gray. I didn't really have a theme when people would ask. I just knew I wanted a unique accent wall that would work if I wanted to change the room to a boy's room in the future or an office. That's how we went with the herringbone shiplap wall. 
You recently switched your daughter's nursery into your son's nursery! How did you change the space for your little guy? 
I tried to keep as many pieces I used for my daughter's nursery for my son. I switched out all the pinks to blue and made it more of a coastal/surf theme. 
Nursery After
SHOP THE LOOK
What nursery furniture and decor items worked for both your son and daughter, and what items needed to be swapped or replaced the second time decorating this room?
The pieces that were interchangeable were the light fixture, accent wall, bookshelves, and curtain rod. We had to get a new crib, rug, curtains, and added more shelves and hanging plants to get more of the boho surfer feel. 
Where did you draw design inspiration from while creating your kids' bedrooms? 
Pinterest is definitely my go-to when I'm trying to find inspiration in my designs. I took ideas from that and ProjectNursery.com.
What are your favorite stores or online retailers for shopping for kids' furniture or decor items?
I love Anthropologie's kids line. The colors are more subtle and calm which is great for their decor. IKEA is also an affordable option I get a lot of my kids pieces from. 
What was your favorite design element in your daughter's nursery? 
The herringbone wall was definitely my favorite element of my daughter's nursery. It added so much character to the room. 
What is your favorite design element in your son's nursery?
The hanging plants and the wired sign are my favorite elements in my son's room. I feel like those decor pieces just pull the room together. 
London's New Room
SHOP THE LOOK
How do you plan to transition your son's nursery into a bedroom for him as he grows?  
Honestly, his room isn't too babyish for a reason. I wanted to make sure I created a space he can grow into. We would only have to change out the crib and rocking chair in the next few years. 
What has been your favorite motherhood memory with two kids so far?
It's been a bit of a challenge to get my son to laugh at anyone other than me. So, when my daughter got him to laugh the other day, it was the cutest thing ever! I could see in my daughter's eyes that she was so proud and excited she got her baby brother to laugh. I caught a little glimpse of what the future holds with these two. 
How do you think (if at all!) your design style has changed since becoming a mom?
My style hasn't really changed too much. I do try and find more kid-friendly pieces — less glass and sharp edges. I've also been trying to find more functional pieces that can store toys and whatnot. 
Jessica Dworkin is The Everymom…
Favorite Sunday activity? Picking up coffee and pastries and eating them on the beach
Last movie you saw in theaters? Aladdin
Go-to takeout order? Thai food
Best way to unwind after a long day? Sitting on the couch watching my shows
Last home item you splurged on? Custom ottoman table in our living room
Favorite date night activity? Dinner and a movie!
Biggest mom fail? Forgetting wipes while my son had a blowout at the mall and having to use the paper towels and water from the bathroom instead. 
Advice you would give your 22-year-old self? Be selfish and only worry about yourself. Take chances and travel!