Pregnancy and childbirth change your body. It's inevitable. And while these changes might not seem as significant as the blessing and joy that is a new baby, they can still be inconvenient. Trying to figure out what to wear in the weeks following your baby's birth feels basically like rocket science, and isn't the most helpful for a new mom's mental health.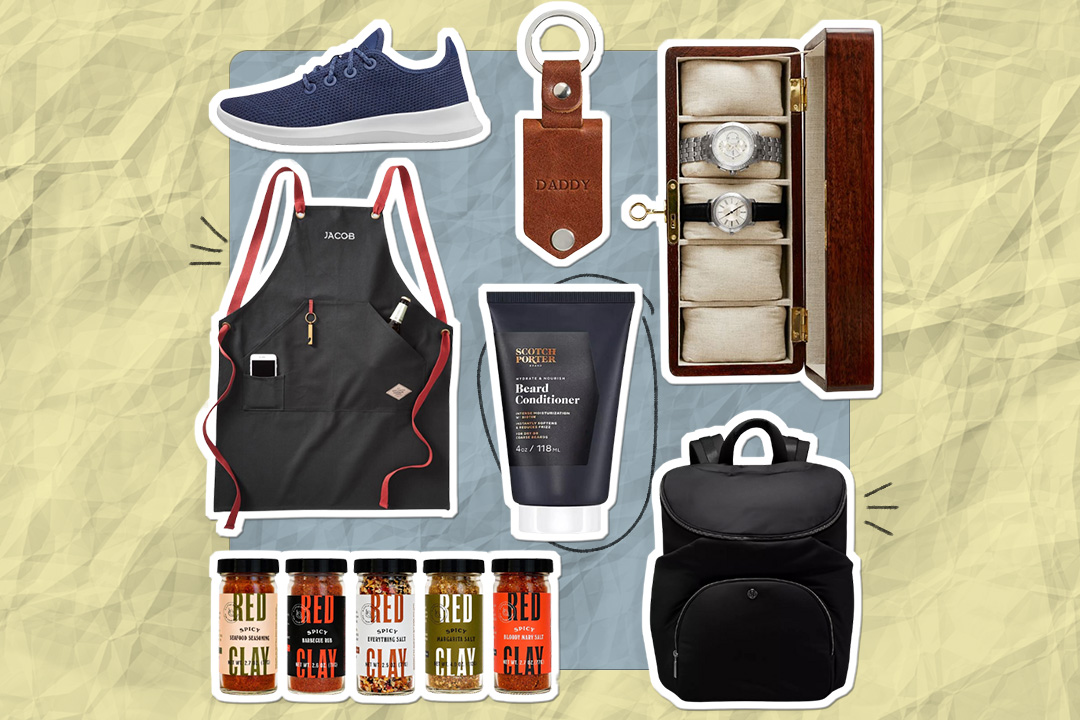 june 18 is coming up fast — have you started shopping yet? 😎
After my first child was born, I experienced hair loss, some of it hormonal and some of it the consequence of using too much natural hair lightener. Regardless, my hair health was at an all-time low. When I became pregnant for a second time, I knew I had to do something to turn my hair health around—something more than just washing and brushing my hair less. I needed something that would not only help me keep the hair I had, but that would also generate new hair growth. Cue Nutrafol.
What Is Nutrafol?
If you've ever Googled "thinning hair" or something along those lines, your social media feeds may have subsequently become flooded with ads for Nutrafol. Nutrafol is a hair supplement subscription that offers a variety of products for both men and women. Luckily for then-pregnant, now-postpartum me, the brand also makes a product designed specifically for women to use after childbirth: Nutrafol Postpartum.
Nutrafol's claim for the postpartum hair growth nutraceutical product reads as follows: "We target key root causes of postpartum thinning—physical and emotional stress, hormonal changes, and nutrient depletion—so that, with consistent daily use, you'll start to see thicker, fuller hair and less overall shedding."
After researching this product, I was cautiously optimistic: I was hopeful that it would not only help me avoid major postpartum hair loss but that it would also help me jumpstart a new, healthier chapter for my hair. I acquired a three-month supply of the supplement and stowed it away until after my baby was born.
My Hair Prior to Nutrafol
To paint the most complete picture possible, I'd like to take a minute to revisit the state of my locks prior to taking Nutrafol. As I mentioned before, my hair before taking the hair growth nutraceutical was objectively unhealthy. It was damaged and broken, and it felt thin. While poor hair health in and of itself is an issue, the real problem lay with what the state of my hair was doing to my self-esteem. As a pre-teen, my hair was so thick and voluminous that I used to have to tame it with frizz serum. A younger version of myself wouldn't even recognize my hair as it looked several months ago. I didn't feel like myself, and I was becoming increasingly self-conscious.
Since becoming a mom, I had actively been taking steps to restore my hair health (washing it less, taking a multivitamin, avoiding tight hairstyles, etc.), but it didn't feel like anything was truly working. Again, I reiterate, I had a lot riding on Nutrafol.
Starting Nutrafol Postpartum
I gave myself two weeks after my baby was born before starting my Nutrafol regimen. While you can theoretically start taking the supplement as soon as you're no longer pregnant, I knew my hormones would be all over the place those first couple weeks and wanted to give my mind and body time to settle down before introducing something new to my routine. I also wanted to check in with my healthcare provider.
According to the Nutrafol website, the postpartum product is "OBGYN-developed, natural, and breastfeeding-friendly." Still, I wanted to do my due diligence.
I reached out to my midwife, who evaluated the product online and confirmed that she considered the supplement safe to take while breastfeeding. She also mentioned that several of the ingredients used in Nutrafol Postpartum are often recommended to nursing moms looking to increase their milk supply. Alright then, I thought, win-win.
My Nutrafol Routine
As advised on the Nutrafol website, I began taking my Nutrafol Postpartum capsules every day, religiously. Each dose is four capsules, all taken at the same time. While some reviews mention that the capsules have an unpleasant taste, I never noticed or was bothered by it. Instructions advise the supplement to be taken with a meal, so I made a point to take the capsules with breakfast. I purposefully kept the bottle on my kitchen counter so I wouldn't forget a dose.
The website advises that women take this product for a minimum of three months to see results, so that's what I did.
If there's anything to take away from this review, it's this: This stuff works. Period. End of story.
Now at the end of my three-month regimen, I can say that I have noticeable new hair growth sprouting up all over my scalp. It's particularly noticeable around my hairline. I can also say that over the past three months, my hair has grown faster than normal and even feels generally healthier.
Currently four months postpartum, I'm pleased to share that I didn't experience any significant hair loss and—in fact—am noticing even less hair in my brushes.
Believe it or not, I even started seeing initial results after the first month. I was shocked when someone I knew told me one month in (completely unaware that I was taking a hair growth supplement) that she thought my hair looked thicker. I kid you not.
My husband also commented on my hair several times over the course of those three months, claiming that he thought my hair looked more voluminous and—one time, while wearing a messy bun—"bigger." Like I said, this stuff really works.
Is Nutrafol Worth the Price?
A common hang-up that prevents people from trying Nutrafol is the price. A single bottle (one-month supply) of Nutrafol Postpartum is $88, although some price-saving options are available if you try out a subscription. For example, if you purchase a three-month supply, you can save 15% ($244 instead of $264). I get it, though—no matter how you slice it, that's a lot of dough for some vitamins.
If you were to ask my opinion on whether or not Nutrafol is worth its price point, however, I wouldn't hesitate to say yes, 100 percent. Why? Because it works. And what's $88 for a bottle of vitamins when you're talking about your hair? To me, it's more than worth it if it means I can get back to having hair that's not only ultra-healthy but that I can feel confident about.
If, going forward, it means I have to cut spending in other areas of my life to continue taking Nutrafol, then cut spending I will. It means that much to me.
A Note on Side Effects
Whenever you're considering taking a new medication or supplement, it's also important to weigh potential side effects. On their blog, Nutrafol covers some basic potential side effects that could be experienced from taking a large amount of biotin (one of Nutrafol's main ingredients). The blog post lists those side effects as "slower release of insulin, skin rashes, lower vitamin C and B6 levels, and high blood sugar levels." It also mentions nausea, cramping, and diarrhea as uncommon side effects and reiterates that users should take their Nutrafol capsules with food to mitigate the possibility of experiencing those discomforts.
I myself did not experience any side effects. There was a point when I began to suspect Nutrafol was causing my sudden and very severe insomnia (too much biotin in the body has been known to do this). However, I ultimately attributed my inability to fall asleep to long COVID. I feel confident in this assessment, as I paused taking Nutrafol for two weeks and didn't experience any difference or relief for my insomnia. I began taking Nutrafol again and my insomnia did, in fact, eventually go away.
Other Nutrafol Products
In addition the postpartum supplement, I also tried a handful of Nutrafol's hair care products. While the shampoo and conditioner are definitely luxurious and leave my hair feeling well taken care of, I can't say they necessarily knock my socks off. Don't get me wrong, they're lovely—I'm just not sure they're $44-for-a-bottle-of-shampoo lovely.
On the other hand, there's the scalp mask. In my humble opinion, the scalp mask is the crown jewel of Nutrafol's hair care products. The first time I used this exfoliating mask, I couldn't believe how much cleaner my scalp felt. My roots were lifted and my head just felt fresh. I use the mask once a week and recommend it to anyone who's looking to shake up their hair care routine.
Continuing My Nutrafol Journey
I'm genuinely so happy with how far my hair has come in the last three months, and I'm just as excited to see where the rest of my Nutrafol journey takes me. I'm going to continue taking Nutrafol Postpartum until my baby turns one, and I'm confident I'll love my hair even more at this time next year.
If you're looking to make a significant, positive change in your hair care and hair growth routine, I can't recommend Nutrafol enough. If you're interested in trying Nutrafol but aren't sure where to start, you can visit the Nutrafol website to take their Hair Wellness Quiz.
To all the moms out there who are feeling down about their hair health, I sincerely hope you consider giving Nutrafol a try. This product has given me back my confidence and provided me with something I haven't had for a very long time: hope for a healthy (and voluminous!) hair future.