The last few weeks have thrown us all for a loop, and it's safe to say we're all still trying to dig around in search of a new routine while we try our best to manage the days. Of course, this has affected everyone differently, and parents have especially been put in challenging positions with school closures and lost childcare.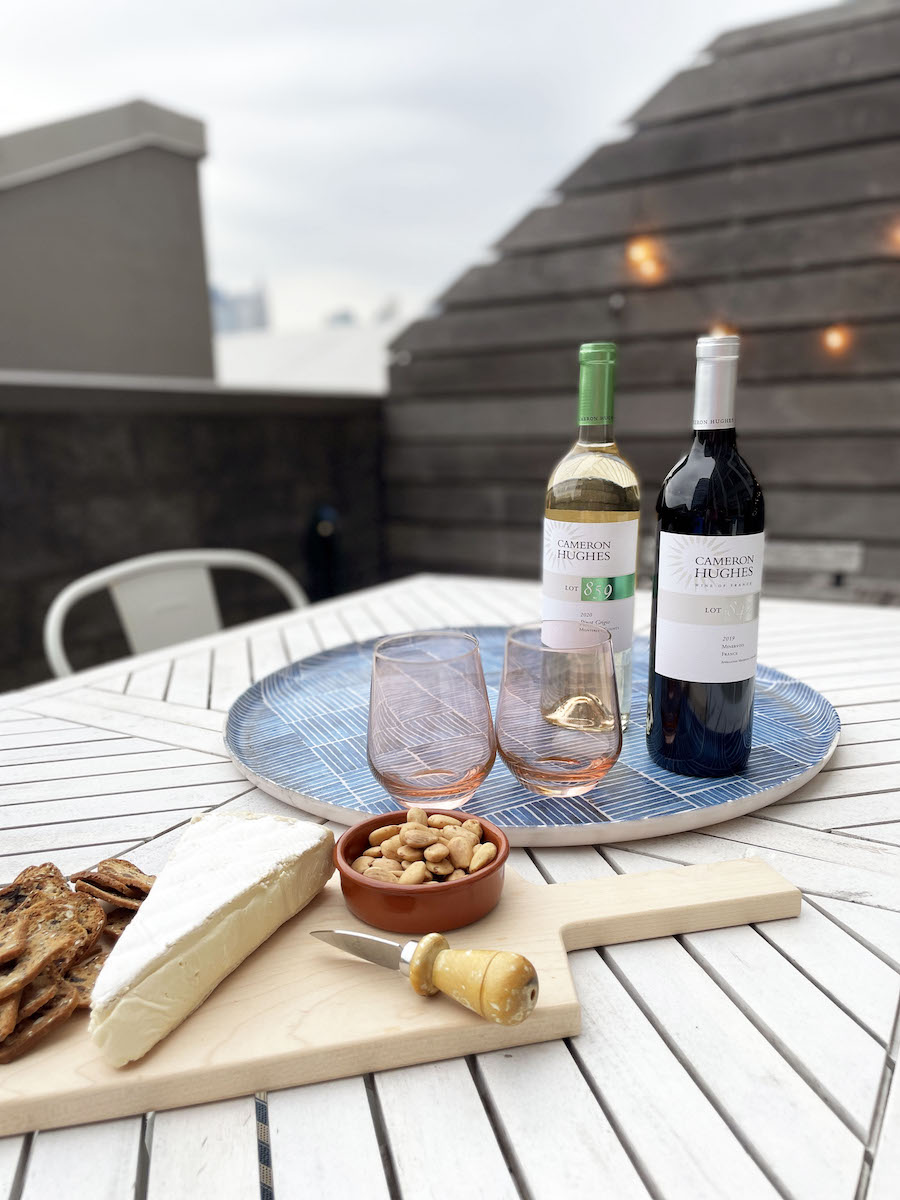 plus, the wines to go with them! 🍷
While life looks a little different now, so might our days. And what we're leaning on to get through this time is likely not the same as it was before. Here, our editors are chiming in on what's bringing a little relief during this period as we all try to navigate our new normal.
Athleta
I bought these leggings on a whim more than five years ago, and they've since become one of my favorite purchases ever. They've held up so well through the countless number of times they've been washed and are still so soft and comfortable. I throw them on multiple times per week now!
Amazon
Even though it's finally getting a little warmer outside, I'm still staying cozy inside while at home by sporting these extra-soft slippers that bring a smile to my face every time I wear them.
Amazon
This is one of my more random purchases in recent history, but I'm telling you, you need this little ice roller as part of your self-care routine—especially now. I use this a few times per week to roll over my always-puffy eyes, and it feels so calming and soothing. Plus, if you're prone to headaches like me, I've found this tool to be really helpful with relieving sinus pressure, tension headaches, and mild migraines.
Some days I don't actually feel like leaving the house, but going for a walk with the baby and our dog and getting fresh air always makes me feel better. It's a rare part of the day where I can pretty much zone out with a podcast and my AirPods.
Peloton
I wasn't into the idea of only doing at-home workouts but gave in and bought a Peloton bike a few months after my daughter was born. Getting to the gym was way harder than I thought it would be, and now since going to a gym isn't even an option, I am so grateful to have this piece of equipment in our living room. I use the bike 3-4 times a week and also have been doing 10- or 20 minute yoga sessions to recharge.
Amazon
Listening to music totally brightens the mood in my house. It can be exhausting trying to entertain a 10-month old all day every day, and music really helps. And since she can't really voice her opinion yet, we aren't restricted to Disney music (though we do listen to that occasionally). We switch up the music throughout the day, relaxing wake up music in the morning, pop in the afternoons, sometimes we'll listen to a whole Broadway musical. If you're feeling a little blah, add music to your day!

I've downloaded more kids' apps in the last month than ever before. And not only that, but I've gone ahead and signed up for all of the subscriptions these apps require without hesitation. We've always relied heavily on Epic! for kids' e-books, read aloud, and audiobooks, but in addition to that subscription, we've tacked on many others: Marco Polo WorldSchool, Montessori Preschool, Curious World, and yes, even The World of Peppa Pig. Every little ding of my Apple Pay is worth the minutes of silent work time I get in exchange.
Target
During the month at home, my oldest son and I started getting through some 'Harry Potter' books together. When he and his brother started incorporating the world of Hogwarts into their play, I picked these up on whim to expand their block play, and they've been a total hit. (They are die-cast and solid metal, so not a good idea for kids who throw!)
Sephora
My skin has been a hormonal mess for the last year, and it's taken a lot of trial and error to get it to the point of finally beginning to calm down. I used to enjoy putting on a mask or doing some skincare after the kids went to bed, but now, I'm way too tired to do anything by that time. Instead, I try to get a mask on when the kids are in the bath and then wash it off while they brush their teeth—this one goes on and dries clear, so it doesn't startle them when I peek into their bathroom to check on them (though, sometimes, I put on the charcoal clay mask specifically for that purpose).


Amazon
Do these do anything? I'm going to be totally honest and say that I have no idea. But when I put them on, I feel like I'm ready to work for the day and leave behind the 'Desperate Housewives,' spinach dip, and online window shopping that's calling my name. I struggle with any glasses that have the nose tips because they give me headaches (why can't I be normal), and I haven't experienced that at all with these. They're comfortable and stylish AF.
Audible
This favorite is two-fold because it's both the book and the service. I had seen ad after ad for Audible but never thought that much about it because I prefer OverDrive from my public library. But I got three months free the last time I was at the Amazon Bookstore (oh, how much I can't wait to frequent you again), and now I'm hooked. This is the most recent book I've been listening to, and I am obsessed. I wouldn't recommend popping this on without headphones with little vulnerable ears around, but when you're winding down at night in bed, it's perfect. The story is easy to follow and so captivating.
Amazon
I got ulta-excited to write this blurb for a few reasons. For starters, I've talked about this product endlessly on The Everygirl, and I have a feeling readers, my coworkers, and my friends alike are a little sick of me talking about it. And this is a whole new world! But I'm also excited because if I convince one mama to buy this magical cream, I'll have done my duty as a beauty lover. Weleda Skin Food is a thick cream moisturizer—it's rich, hydrating, and truly other-worldly. I should forewarn you that this scent is not particularly pleasant, but the effect it leaves on my dry skin (which is even drier from both not leaving my house and using every exfoliator and retinol in hopes of coming back to work with Benjamin Button 5-year-old skin) is worth it. It's less than $15 on Amazon, and it's the only skincare product I could wax poetic about article after article.
2nd Story
When my emotions are running high and the pressures of working and schooling from home feel heavy on my shoulders, 2nd Story is coming to my rescue. This Chicago-based arts organization releases a new set of questions each week to keep families connected and talking during mealtimes. These prompts are an imaginative, whimsical, and pretty funny way to unlock conversation when asking "How was school today?" is no longer an option. My favorite thus far has been this one: what two animals would you combine if you had a magic wand? This dinnertime series is called "How is Your Heart?" and it has lightened up meal times considerably.
My kindergartner and I are breezing through books at an alarming rate. Since school closures took effect, we have accompanied Mr. Fox in his adventures to outwit the bumbling farmers of "Fantastic Mr. Fox." We have battled alongside Princess Magnolia in her quest to defeat goat-eating monsters in the series "Princess in Black." And we've dived deep into the eerie multi-verse of the Amulet graphic novels. Of course, all of our adventuring is only made possible through local bookstore deliveries (God bless them). When our to-read pile thins out, we visit our favorite shops online and place an order. Days later, we find a fresh stack of books at our door. I like to think of it as a part-bonding, part-learning, and part-local-economy-boosting enterprise.
All the yoga, books, cute loungewear, and creative connections would be meaningless to me without access to regular therapy sessions. I am only surviving this moment because I am continuing appointments with my longtime therapist via secure video chat. I feel like this is important to say again and again: there's no shame in asking for help, and right now, doing so is more than warranted.