I've read the tips about maximizing my time, finding a new normal, and sticking to a routine to get me through this crazy time while I work from home. Heck, I've even written some of them. There's just one little thing—actually two little things—standing in my way: my new coworkers. You know, the ones whose diapers I change and lunches I make. Seriously, why are they so obsessed with me?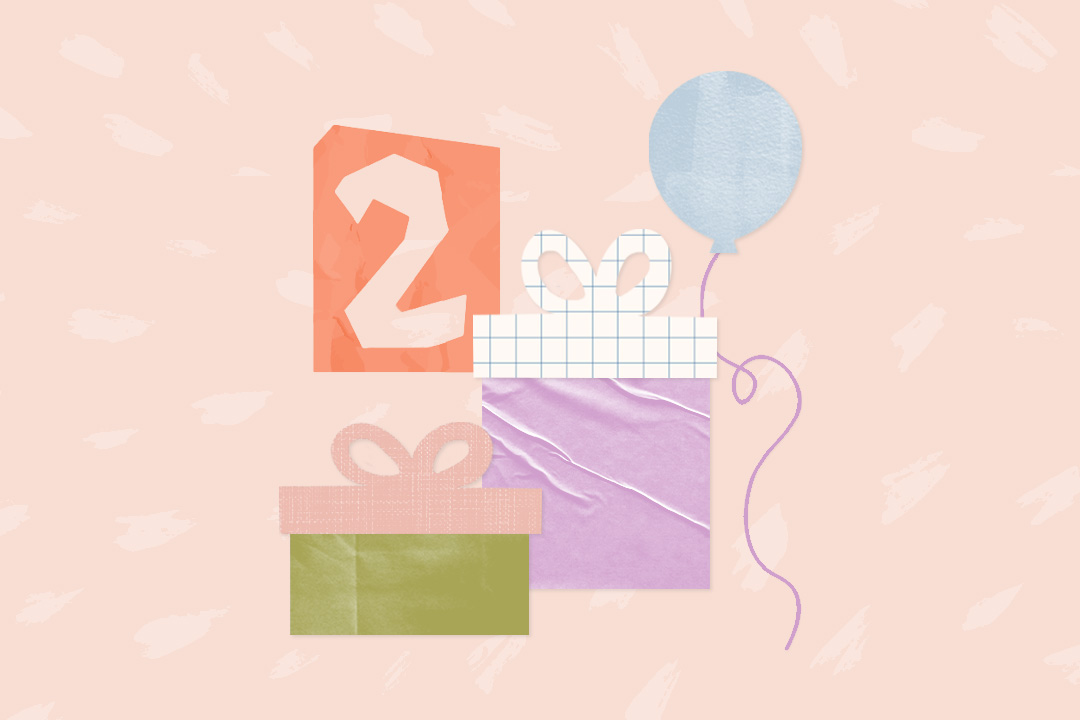 a LO in your life will love these! 🎁
For the past few weeks I've been on a crusade to find any activity that will keep my two kiddos occupied safely for long(ish) periods of time with minimal(ish) supervision. Yes, this is easier said than done, but it's not impossible, and it doesn't have to require new toys. Although, if you happen to have any new toys that you've been saving for a birthday or other special occasion, you may seriously want to consider getting those out now. Nothing like the novelty of something new to occupy kids for hours.
Like everyone else, I'm figuring this out as I go, and what works one day may not work the next. Here is what I've found:
For Both Baby & Toddler
1. Work in Their Space
…at least sometimes. I definitely prefer to get things done in my designated work zone, but working alongside my kids in one of their rooms or their play area can do the trick. I swear, there is something about their proximity to me that directly correlates with their length of play, even when I'm not playing with them.
2. Work Outside
I really feel for the people who live somewhere where this isn't an option right now. If it is an option for you, take advantage of it. My toddler plays longer and more independently when he is outside, even when I'm on my computer. My 8-month-old is content to sit in her high chair or bouncer and simply look around—see below for my favorite portable versions of these items.
Even better news? Research shows that kids who play outside are happier and less anxious than kids who spend more time indoors. We'll take a dose of that right about now.
Great news for parents with babies too: more outdoor time in the afternoon can equate to better nighttime sleep. Researchers at Liverpool John Moores University in the UK found that babies who were better nighttime sleepers were exposed to twice as much daylight between noon and 4pm as the problem sleepers.
3. A Box of Balls
A cardboard box and some plastic balls: that's it, that's the secret. If you don't have any, you're going to want to add these to your next order of essential items. Depending on how much you trust your toddler, you can also offer crayons or markers to decorate.
4. Pots and Pans
It's not a garage band, it's a kitchen band. Just don't forget to put on some noise-cancelling headphones for this one.
5. Pillow Party
Oh, how fun it is to get to do something they aren't usually allowed to do, like take the cushions off the couch and crawl and jump on them.
For Babies
1. Independent Play
It's never too early to foster independent play, and a great way to do this is by setting up a safe space. A safe space is a contained area with age-appropriate toys and no safety hazards where a baby can play independently.
Even young babies who are not yet mobile can "play" independently while laying on their backs on a blanket. Think about it: everything in this world is new to them, so simply looking around their environment is fascinating. When my daughter was a newborn, she loved to lay on her back and gaze at the pattern of the dotted wallpaper in our laundry room. Think about areas that might be more visually engaging for your baby and set up shop there.
2. Cheerios in the High Chair
Since I can't spend my entire day chasing a newly-crawling baby around the house, I've been taking advantage of the high chair to keep her happily occupied and contained. Fan favorite over here: dump some cheerios onto the tray and let her practice her pincer grip and attempt to get the cheerios into her mouth. This activity does not disappoint. Snack for her. Time for me. Even the dog is happy to serve clean-up duty.
3. Suction Toys
Suction toys are also a big high chair hit and perfect since babies tend to drop things, and picking up toys every few minutes is counterproductive.
4. Activity Scarf
Another high chair favorite is the activity scarf, but you can use it anywhere. I wrap it around the back of the high chair so that it stays put.
5. Tissue Paper and Ribbon
It's like a crinkle book, but better. Don't ask me how or why, but tissue paper keeps my baby busy longer. Like tissue paper, I'm not sure what it is about it, but my baby finds ribbon endlessly fascinating.
For Toddlers
1. Hide the Toys
No, not all of them, just hear me out. This one is two-fold. The first part is just like it sounds: hiding toys for my 3-year-old to hunt throughout the house.
The second part is also just like it sounds: hiding toys so that he has fewer options to play with. Why? Research shows that having fewer toys at once helps toddlers to play with each toy longer. With fewer toys, toddlers have more focus and play more creatively. My son is very into cars, construction trucks, and dinosaurs. I know which toys I'm not hiding.
2. Water Play
You don't have to have a water table or even an outdoor space to enjoy water play. We set up a shower water play area that's become a lifesaving part of our daily routine to keep my little guy busy. He loves giving his dinosaurs a bath.
3. Paper Towel Tubes
Toilet paper tubes too. Don't just toss these into the trash. So far, my little guy has made binoculars, a megaphone, a sword, and an art project out of his. I love seeing all the creative ways he's finding to play.
4. Call Mickey Mouse
Yes, this is a thing. If you have an iPad or Kindle, download the Disney Junior Magic Phone app ASAP. You will not regret it.
5. Stickers and Stamps
Every piece of notebook paper and newspaper in our house is now filled with stamps and stickers. My toddler even got extra creative and gave himself a stamp tattoo arm sleeve when we weren't looking. Hey, whatever works, right?
6. Exercise Videos
Thank goodness for Smart TVs and YouTube. A quick search of "toddler exercise video," and the options are endless.
7. Make Up Challenges
How high can you build it? How fast can you run? How many stickers can you fit on that paper? Everyday activities suddenly become much more fun when there's a challenge involved.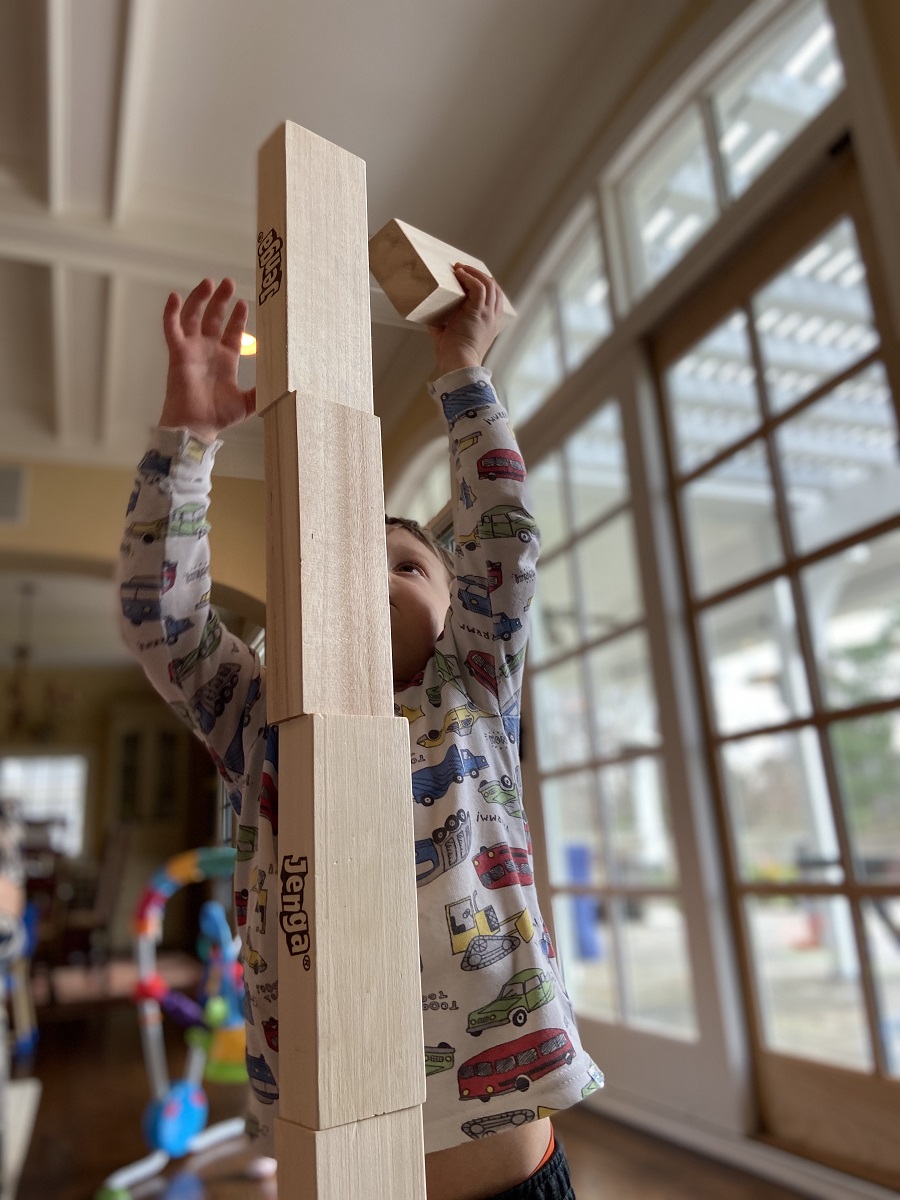 8. Soccer Goal
You don't actually have to have a soccer goal or ball for this one. Just find two non-breakable items to mark either side of the "goal" (empty laundry baskets on their side work great) and a ball suitable for kicking, and watch your toddler occupy himself for hours.
8. Bounce House
This one doesn't fall in the simple category and is definitely a splurge purchase, but I have to include it because it truly works wonders to burn time and energy. If you've ever considered buying an at-home bounce house, now might just be the time. Let's call it Christmas in April, shall we?