Walking down the toy aisle of any baby store can be very overwhelming. There are so many options, and it's difficult to know which toys are beneficial for your child's development. While there are many great options, there are some toys that may offer a little bit more than others.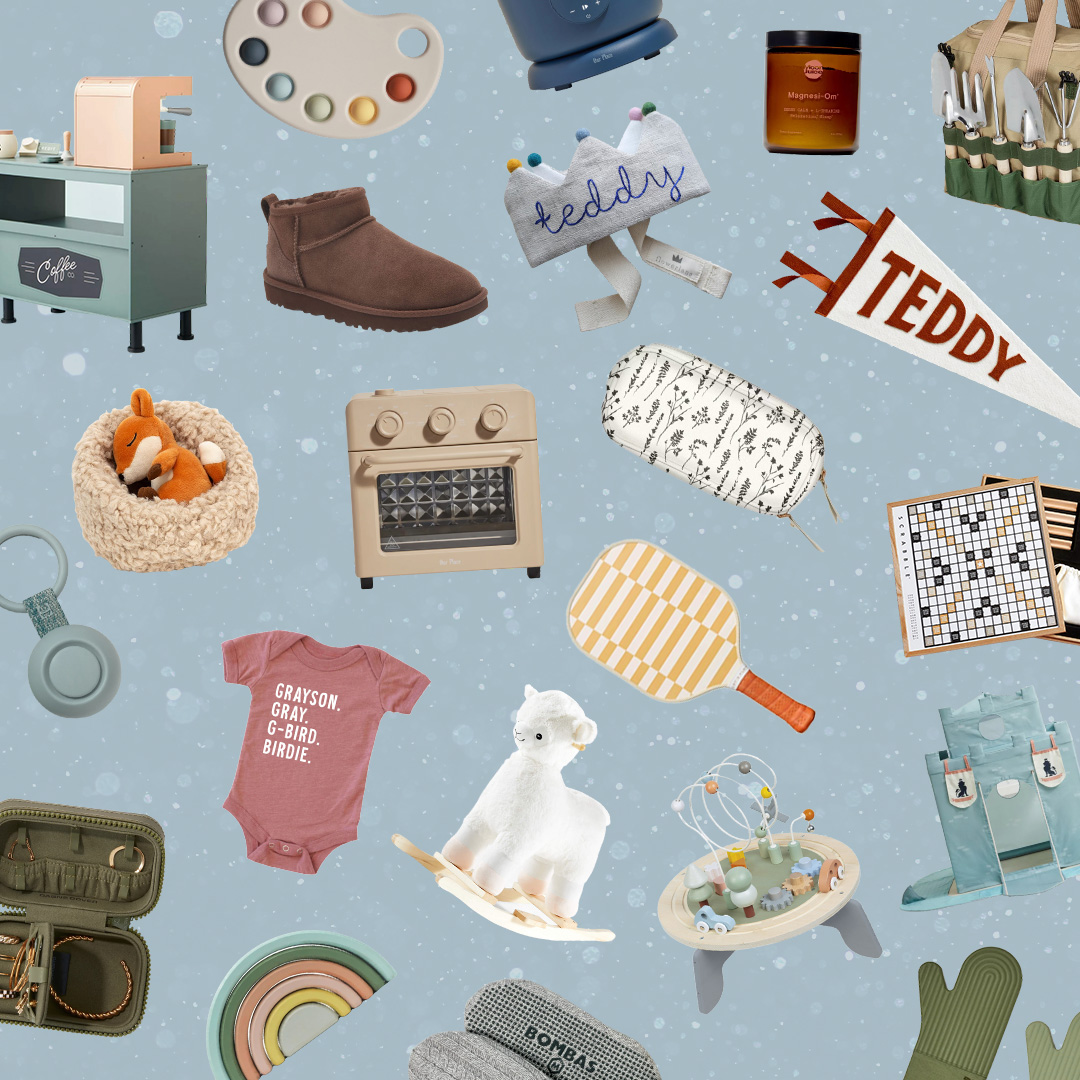 everything you need to ace holiday gifting this year 🎁
The following are some recommended toys that I recommend most for my patients in different age groups.
Newborn to 2 months old
Try to find high-color contrast, low-stimulation toys that will allow your baby to begin to visually focus on objects. Your baby's vision will begin to become sharper around 2 months of age, so this is a good time to introduce toys 18-24 inches from your baby's face. It's also very important to incorporate tummy time as early as possible, so a playmat is a great option for this age. 
Maisonette
These art cards are the best. They are high-contrast and relatively simple, which will allow your baby to focus their vision on the card while not getting overwhelmed. You can use these to encourage your baby to look in all different directions or to look up higher during tummy time.
Buy Buy Baby
This rattle has a very soft ring, which should decrease the chances of your baby startling at the sound. It includes high-contrast colors that make it easier for baby to focus on the toy. It is also very flexible with many rings, which makes it easier for your baby to successfully grasp the toy when they are ready.
Target
Floor mats are so great for a quick play area setup. They break down for easy storage, and you can use as few or as many pieces as you'd like. Floor time is the best way to promote strong gross motor development and using this floor mat can provide a soft surface for that.
3-6 months old
Your baby will begin to use their hands to explore and learn more about the surrounding world. Look for toys that are easy to grasp and aren't too heavy for this age group. You can also look for toys of different textures and gentle sounds that will begin to introduce your baby to new and novel things. I cannot say enough great things about O-balls. There are many areas to grasp, which allows your baby to be successful when beginning to reach for objects. It's lightweight, so it's not difficult to pick up, and it's soft, so if your baby brings the toy near their face, it won't hurt.
6-9 months old
Your baby will be ready to be on the move at this age. Find toys that you can spread out throughout the room to encourage more movement, like balls, cars, blocks, and stacking rings. They'll also begin to understand cause and effect a bit more, so this is a great age to introduce toys that have buttons that will promote more play and development. 
Target
This is a very classic cause and effect toy. It will show your baby how the use of the switch or the button causes the small objects to appear. This initially may startle your baby, but it will get less startling over time.
Target
This kit includes a lot of great options. The soft texture of the balls, blocks, and animals allows for safe play as your baby learns how to successfully bring the toys to his or her mouth to explore.
Target
This cause and effect toy is a little more involved, though equally as effective at teaching your baby how one action causes another. You can use this toy sitting down or during tummy time as well.
9-12 months old
Your baby's personality and preferences will really begin to shine at this age. You will likely know exactly what motivates and excites your baby. Whether it's an intricate toy or a piece of Tupperware, your baby will be exploring all that their environment has to offer.
Target
At this age, we want to encourage more upright play or standing (if they are ready). Try play tables or small chairs, while avoiding any positioning devices that limits their play. The two play tables included below are only examples of many great available options. Be sure to look for the tables with the removable legs so that you can remove the legs and use the tabletop for tummy time or hands and knees play as well. 
These recommendations are meant to be guides for you as you choose toys for your baby. There are plenty more options out there, but I hope these recommendations help make the options a little less overwhelming. Here's to hoping these years of play bring laughter and joy to your homes.