As her blog tagline will tell you, Jill Puente is a true "Jill of all trades." She's an integral member of Google's marketing team, new mom to son, Nico, a travel connoisseur, and interior design extraordinaire. She purchased a 120-year-old fixer-upper home with her husband and worked hard to thoughtfully update it into an uber-stylish modern space that pays homage to its' Queen Victorian roots while still maximizing space for her small family.
Jill pours her heart into each of her passions – and her life looks pretty great from the outside looking in. But what we love about Jill is how genuine and real she is (ahem, looking at you post-baby night sweats). Read on for Jill's career tips for breaking into a mega-company like Google, how to design the ultimate gallery wall, and why choosing to not find out her baby's gender was the best decision she made during her pregnancy: 
Name: Jill Puente
Age: 29
Current Title/Company: Brand Marketing Manager for Environment/Sustainability at Google
Square Footage: 1,500
Rent or Own: Own
City/State: San Francisco, CA
Children: Nico, 9 months
How did you come across the opportunity to work at Google?
After graduating from UGA in 2011, I focused my job search on tech companies in the Bay Area. I landed at a social media marketing startup called Wildfire Interactive. In 2012, we were acquired by Google, and I've been with the company ever since.
Based on your personal experience, what tips do you have for people who are hoping to start a career with Google?
Google looks for candidates who are big thinkers and problem solvers. If you apply to Google, try to think about examples of big, tough projects or problems you've tackled in school or in your job and highlight those on your resume and in your interviews.
After holding different positions at Google, you're now the brand marketing manager for environment and sustainability. What career skills do you believe have led you to grow within this well-known company?
As Brand Marketing Manager for Environment / Sustainability, I bring Google's values to life through programs highlighting the company's commitment to operating in a sustainable way, one of our core values. As the lead for environment and sustainability marketing, I am tasked with leading and inviting more people into the dialogue around open-source sustainability and helping to harness the power of developing technologies, like machine learning, to advance sustainability initiatives for Google's data centers, for other businesses, and for Google's users.
Prior to Google, I earned a Masters degree in public administration and worked on Capitol Hill for a U.S. Senator. These experiences made me extremely passionate about policy and focusing on the things we can do as humans to better the world. I love my current role because I get to work for a big company and think through how we can benefit the world through sustainable business practices and policies.
What makes the work culture at Google unique, and how has it shaped you as a professional?
It's inspiring to work for a company that cares so deeply about challenges like the environment. Google's willingness to tackle issues like this speak to its culture of doing good in the world. It's inspiring to show up to work every day and work with brilliant folks across the organization.
After six years of renting in San Francisco with your husband, Lucas, you decided to purchase your first home. When did you know it was time to buy a home, and how has the experience been different from renting?
My husband spent five years working on his Ph.D. at Stanford, and during that time, we lived off of my salary and his small academic stipend. We made the decision that once he graduated and started working full time, we'd continue to live the same lifestyle and pinch pennies where we could, so we could save up his entire salary to use towards a down payment. San Francisco's housing market is notoriously expensive and competitive, but we knew that we wanted to put down roots here, and the prices go up considerably every year making it tougher and tougher to enter the market. We were really lucky and only had to put one offer in.
The experience of owning has been considerably more rewarding than renting – it's been fun to design our house to our own taste. But I have to admit that it's also considerably more stressful. Our house was built in 1900, so it's almost 120 years old, which means things break often, and we're on the hook to fix them.

Why did you buy your Queen Anne Victorian house, and what were the first steps in the design process?
We made a list of our "must haves" in a house, and this house checked all of those boxes. We wanted a home with character (hardwoods, moldings, and mantles!), plenty of natural light, a garage, storage, some outdoor space, and at least two bedrooms. We also knew we'd be stretching our budget and basically emptying our bank accounts to buy a house, so we searched for a home that only needed minor cosmetic updates versus a ton of expensive fixes. This house was the first house we saw that I knew we wanted to put in an offer for it. It was in good shape and had a ton of character but room for us to add our own personal touches too.
Walk us through the cosmetic changes you've made in your home.
We've made a ton of updates since purchasing our home in October 2016! For starters, we replaced the most of the lighting and we put in working gas fireplaces. We refinished the original floors and our bookcases. Storage is of the utmost importance in teeny SF spaces, so we had someone come in and completely strip the old paint and restore the bookshelf. We added brass hardware to match the kitchen, and it makes the entire living room feel more modern. 
When we moved in, the split bath had white walls and periwinkle beadboard. I was stumped on how to freshen it up without breaking the bank, and then I stumbled across and fell in love with Emily Henderson's master bathroom. I immediately ordered the same exact Farrow & Ball wallpaper and paint and we love it so much. We also updated the lighting and vanity in the bathroom to provide a bit more storage. It's a little cramped, but hey, that's city living!

Were there any rooms that proved more difficult to design than others? If so, how did you overcome these design quirks?
Our living room is really large, and since we don't have a dedicated dining room, we wanted it to serve both purposes. But it quickly felt cramped when we tried to add a dining area to the space. We had to play around with the furniture layout quite a bit before we settled on a design that worked for us. I'm still not 100% happy with it, but I think it's the best possible scenario. If I were a professional designer, I'd probably scrap the TV and go with a smaller couch and armchairs near the fireplace, but the truth of the matter is that we spend a ton of time as a family lounging on the couch (we watch ALL the TV shows…), and it's the world's deepest and comfiest couch, so it's a non-negotiable for us to replace it. We have to make it work!
How would you describe your design style and what room reflects it most?
I would describe our style as modern meets traditional. Our home has very traditional Victorian features: high ceilings, gorgeous moldings, fireplaces, and hardwood floors.
We tried to layer classic pieces with more modern pieces so that it fits the Victorian architecture but also feels young and fresh. We tend to gravitate toward neutral furniture, like our tan bed and our grey couch, because we hope to use them for years to come.

What's the trick to creating a cohesive gallery wall, and where did you find the inspiration for yours?
Our gallery wall incorporates five drawings of Havana, Cuba, which my Cuban husband inherited from his grandparents. We chose other, more modern pieces from Artfully Walls and Minted to balance the gallery wall out. I actually wrote a post about the process of creating it on my personal blog.
After many failed gallery walls over the years, my process to achieve a cohesive one is to:
Choose a color scheme that works for your home and decor.

Create unity and consistency through framing and matting.

Map it out using Photoshop or PowerPoint.

Lay the frames out on the floor and tweak your design if necessary.

Use painters tape to translate the pattern onto the wall itself.

Hang your frames!
What challenges did you face creating a gender-neutral nursery?
We moved into our house in October 2016, and the back room quickly became the dumping ground for all of the furniture that didn't quite fit into any other room. Designing the nursery finally gave us the motivation we needed to clean out the old furniture (side note: my husband is a pro at selling things on Craigslist) and turn that space into a cozy room for our new baby.
Even though I always lean towards using neutrals throughout our house, designing a gender-neutral space was tougher than I thought it would be. I wanted the room to feel appropriate and playful enough for a baby while still feeling cohesive with the rest of our house.
Do you have any design tips for people who are trying to accomplish a gender-neutral nursery theme?
I tried to achieve the gender-neutral look by sticking to more neutral tones with the walls and furniture: greys, tans, and whites. These were the big decisions we needed to make before he was born. We then layered in some pops of color with art, stuffed animals, pillows, and books and bought a few "boy" things after he was born. The shelves were a great place to bring in more playful decor.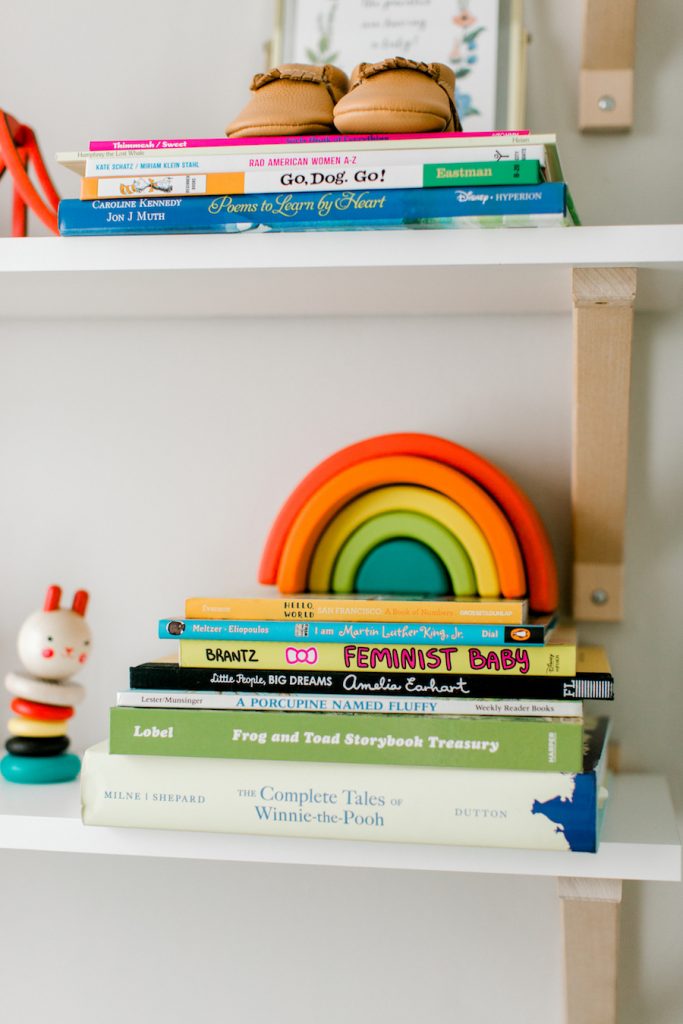 How did you create a nursery that's both functional yet also special for Nico?
We decided to save on certain furniture items, like our side table from Homegoods, the IKEA shelves, and our Babyletto crib (I really wanted the Oeuf crib but couldn't justify spending the money on it). We splurged on items that we will use for years to come, like our custom Pottery Barn Kids glider and Crate and Kids dresser.
I also wanted to add unique elements that Nico will love for a long time. I've always loved Sharon Montrose's baby animal print series, but when it came time to actually choose one, I had a really tough time narrowing it down (they're all so damn cute). Luckily, Lucas took an immediate liking to the baby wolf print, so that made it easy. I also ordered a custom handmade brass mobile to tie into the other brass accents we use throughout our house, and I hope Nico will want to hang it in his room throughout his childhood.
What's your approach to maintaining the white furniture in the nursery?
Our white crib is surprisingly durable. It seems to withstand dings and scratches and is easy to clean with a Mr. Clean Magic Eraser (I swear by those things!). I'm a little worried about our light grey linen glider. Luckily, Nico doesn't spit up, so we haven't had to worry about that, but I'm sure it's just a matter of time before some sort of accident happens, and we'll try to spot clean it.
Where are your favorite places to buy baby/nursery decor?
We sourced items from our nursery from all over: big stores like Target and Ikea, baby-specific retailers like Crate and Kids and Pottery Barn Kids, and small businesses like Olli Ella, Animal Print Shop, and Etsy. Crate and Kids has great furniture pieces that are high quality and stylish. Etsy is my go-to place to find original pieces, like our brass mobile.
What does the future look like design-wise for your home and in what way (if any) does Nico influence your plan?
I'm constantly switching up our home decor. I get bored and tired of things easily, so I change up the styling on our coffee table and bookshelves on a regular basis to keep things fresh. We'll definitely need to baby proof our house in the next year or so. Sadly, the furniture we love, like our vintage bar cart with lots of breakable glass, will need to go into storage until he's older. I also foresee investing in a lot more decorative storage, like bins and baskets, to store the mounting piles of toys in our house.
Why did you choose to not know Nico's gender before his birth, and how did this decision impact your pregnancy experience?
I always expected to find out my baby's sex as early as possible, because I'm a planner by nature. But a few of my close friends convinced me not to, and Lucas and I agree it's the best decision we made throughout the entire pregnancy. I think it was a good decision for us for a few reasons:
I had a tough pregnancy with morning (actually, all day!) sickness, 10+ weeks of nausea, and physical back and pelvic pain, and I was emotionally drained for much of it. I had a hard time wrapping my mind around the stress of birth or having an infant, and for some reason, not knowing the sex helped me to stay focused on my pregnancy and not over-stress.

I also found that we didn't project our expectations onto a boy or girl during the pregnancy – I didn't think – "he'll be a football player!" or "she'll be a ballerina!"

It made the hospital experience extra special. The nurses were all really excited for us, and they all took bets on whether it was a boy or girl.  We also had quite a few friends who admitted they were disappointed when they found out the sex of their baby during an ultrasound, but we were just so happy to have a healthy baby at the end of labor that we were both honestly so excited and relieved he was a healthy, little person.

We got really great gender-neutral gifts that we can use for years to come and with any future child. We didn't choose not to know for this, but it was a huge bonus.
Aside from designing a gender-neutral nursery, how did you prepare for Nico's arrival without knowing his gender?
We registered and purchased neutral, functional items that would work for a boy or girl alike, including the Uppababy Cruz stroller, a Moses basket from Shop Love Dua, and a Monte bassinet. We also registered for neutral colored baby clothes, blankets, and swaddles. It was honestly a huge upside to not finding out the sex of the baby, because I prefer neutral clothes anyway, and we can use the clothes again for any future children, whether they are boys or girls.
Tell us about the struggles and joys you've experienced with your transition to becoming a new mom.
In terms of the struggles, I experienced some rough postpartum symptoms, like night sweats (why does no one warn you about that?) and postnatal insomnia. Nico sleeps through the night, but sometimes I'll only get an hour or two of sleep from my insomnia. It's really irritating! I am working with my OB on tackling those issues, and I'm happy to say that I'm almost back to normal.
The joys are better than I ever imagined, though. I get teary when I think of how much I love him. He's my little mini-me and I love carrying him close to me in our Solly wrap, pushing him in his bassinet on walks (which he loves), watching him learn new skills (like smiling and rolling over!), and singing him lullabies before he falls asleep. It's honestly the biggest joy of my life and gives me so much purpose.
How do you and Lucas divide parenting roles and how has your marriage changed since having a baby?
We're lucky to work at companies with great parental leave policies, by American standards at least. Lucas was home for the first two months, which made the transition into parenthood much smoother for both of us.
There are obviously responsibilities that only I can take on (hello, breastfeeding!) but Lucas tries to pick up the slack by doing other tasks like cleaning the bottles, handling laundry, and ordering Instacart groceries so the fridge is always stocked. He also gets up in the middle of the night with me and handles the diaper changes. He's a true partner, which I really appreciate. It drives me crazy when men are applauded for doing their fair share of the parenting duties – dads are parents, not babysitters!
Our marriage and dynamic have definitely changed, though. We now have to plan ahead for alone time and date nights. We try to book a babysitter every few weeks to have a date night so we can spend some one-on-one time and just feel like adults. Parenting is also emotionally draining at the beginning. We were both pouring all of our time, energy, and love into keeping this new little dude alive (ha), so we had to take a step back and figure out ways to start channeling energy into our relationship again.
We started putting Nico to bed earlier so that we can get back to our nightly ritual of wine and TV, and that little change has been really positive. We love him so much, but it's a different kind of love, and we want to make sure we're still valuing and investing in our marriage and our connection. I also think in many ways my love for Lucas has deepened. He's a really committed dad – he is obsessed with Nico and committed to being an equal partner and parent, and I respect and love him so much for that. Also, his dad jokes are on point.

What advice do you have for new expecting moms?
Read Expecting Better, and try to relax during your pregnancy. There's a lot of fear-mongering and judgment out there, and everyone will have an opinion about what you should and shouldn't do. I drank the occasional glass of wine, exercised vigorously, took baths, and ate sushi throughout my pregnancy, and our baby is perfectly happy and healthy. You have to do what works best for you.
When it comes to being a mom: what are you most insecure about and what are you most confident about?
I'm part of a Facebook group for moms in San Francisco with around 10,000 members, and I'm also part of a mom group at work with several thousand members. They are really helpful communities, but there are a ton of opinions! At first, I was really insecure about whether I was doing things right and questioning everything: Should I start sleep training Nico? Was I feeding him enough? Was the temperature of his nursery okay? But I learned that babies are resilient and all babies are different. I started following my gut and taking a few people's advice that I really trust, like my mom and my friend, Lena, who is an amazing mom and has the best kids.
In terms of what I'm confident about, I'm really happy that we decided to raise a city baby. A lot of folks move out of SF when they start a family, and I totally get it – it's expensive, apartments are small, and neighbors are noisy. But we love living in the city, and it's so nice to walk Nico around our favorite neighborhoods, sneak in a few minutes for a workout class around the corner, and to work from coffee shops while he naps in his stroller. These are things that would be really hard if we lived in the suburbs, so I'm happy we're sticking it out for now.
Raising a city babe has helped us maintain our sense of self. We want Nico to grow up and see us take time for ourselves do the things we love. We don't want him to feel like our world only revolves around him because we don't want him to be a little narcissist or overly dependent on us. We love taking him to swim lessons and music class, but we also love taking time for ourselves to do our own hobbies, and we think it's important for him to see that.
If you could only pick one, what has been your favorite memory from motherhood so far?
It's all been pretty special, but I think mornings with Nico are my favorite. When I feed him in the mornings, he always reaches up and holds my finger with his tiny hand, and it's overwhelming how much I love him in those moments.
Jill Puente is The Everymom…
Favorite room in your home? Our nursery.
Early bird or night owl? Early bird.
Coffee order? Cappuccino.
Best way to end the day? Putting the baby to bed, pouring a glass of wine, and watching Jeopardy with my husband (nerd alert!).
Song you play on repeat? "Here Comes The Sun" – it's the song I walked down the aisle to at our wedding, and it's one of our favorite songs to sing to Nico.
Favorite app on your phone? I love the Podcasts app. I listen to Pod Save America and The Daily when I take Nico on daily walks.
Most embarrassing mom moment? I forgot Nico's diaper bag one day and he had a blowout diaper. Whoops!