The past few years have been beyond difficult for many families, and unfortunately that's led to an influx of grandparents struggling with their mental health. In fact, some studies show that grandparents who were told to stay inside, limit contact with other people, and stopped looking after their grandchildren during the pandemic were much more likely to experience depressive symptoms.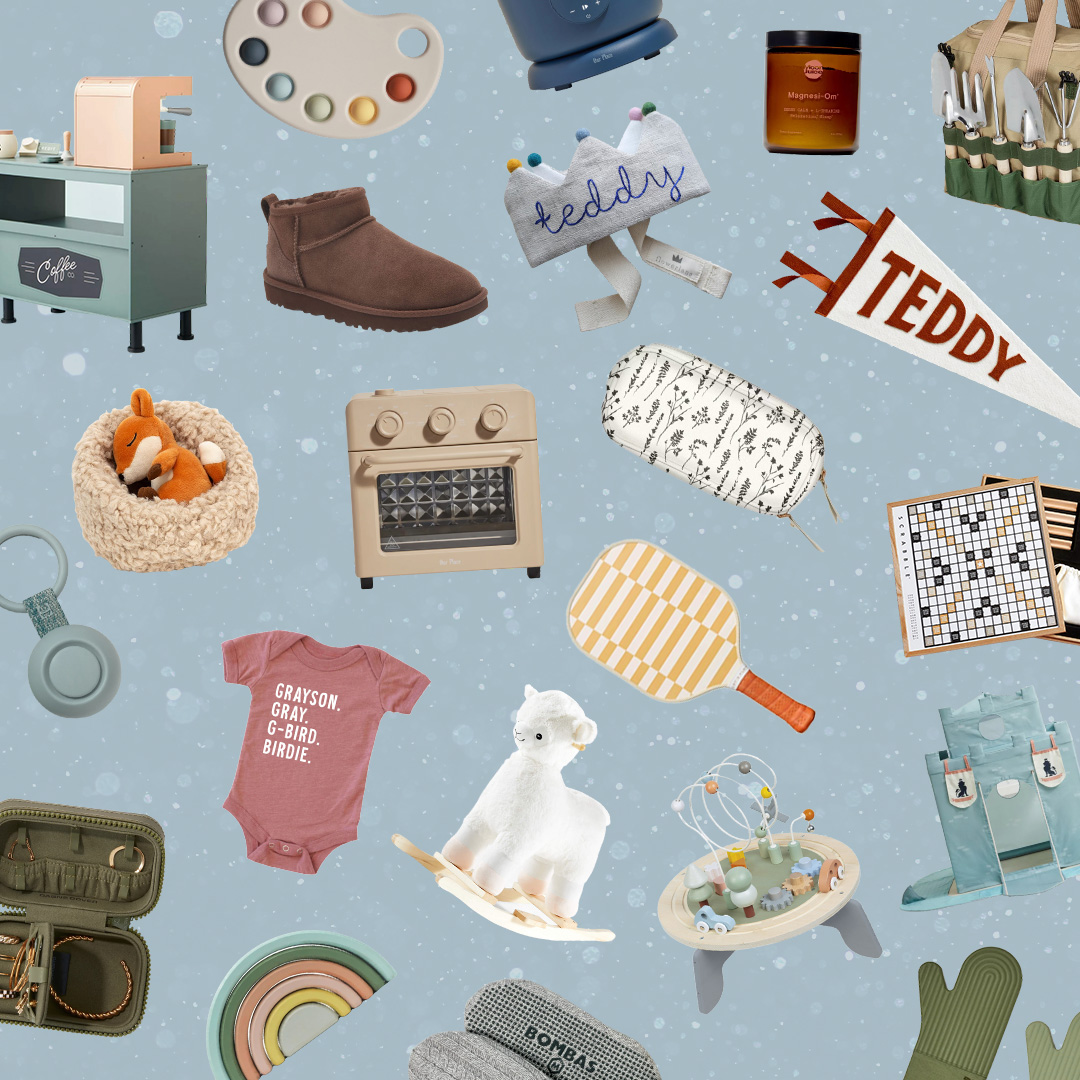 everything you need to ace holiday gifting this year 🎁
While things have gone back to being as normal as possible, families have become more cognizant of mental health warning signs in loved ones. Some signs of depression are loss of interest in preferred activities, decreased or increased appetite and consequent changes in weight, sleep difficulties, and irritability. This article is not to be substituted for medical advice from a physician but is meant as a guideline for families who are looking for additional ways to support grandparents with depression symptoms. We always encourage talking to a medical or mental health professional.
How to help a grandparent struggling with depression
Seeing my parents and in-laws struggle with their mental health after retirement, following the loss of loved ones, and during the isolation of COVID made me explore how I could best support them from afar and in person. As someone who's battled with my own mental health struggles, it's been really eye-opening to be on the other side and to feel helpless about making my loved ones feel better. Here are a few different ways my family has found to help grandparents struggling with depression.
1. Sign them up for a hobby
Whether it's starting a crochet group with friends, taking art classes, or playing cards, one way to help grandparents (or anyone struggling with depression) is by helping them find joy in a beloved hobby or activity. As many of us know, making friends is often more difficult the older we get. But after retiring or losing a spouse or the physical ability to do strenuous activities, it can be even more difficult to find the inspiration to get outside and connect with others.
Gifting a grandparent a class or encouraging them to volunteer once a week can help develop a routine, offer a change of scenery, and forge connections with a new group of people. Not to mention that art, music, and other hobbies can keep the mind active and foster healthy coping mechanisms that can replace the harmful ones they may be used to.
2. Encourage daily exercise
From a daily walk around the block to low-impact chair exercises they can do in their home, one of the best ways to help a grandparent with depression is to help them get moving. If you live really close, consider joining them for daily walks in the morning or evening. If you're farther away, try signing up for an online class together or do a family steps challenge. This can help make exercise into a kind of competition that might motivate grandma or grandpa to move a little more every day, and the natural endorphins released as a result can help them feel better mentally and physically.
While exercise isn't a cure for mental illnesses, it can help ease depression symptoms and motivate those struggling to stick to a routine, find more social support, create a healthy way to cope with stress, and even gain confidence.
3. Use technology to make the most of calls
Technology provides us with the amazing ability to connect with friends and family with the touch of a button. If a grandparent is unfamiliar with using FaceTime or video chat on their phone, write out directions for them or consider purchasing an Amazon Echo or Google Nest Hub.
4. Make an appointment with their primary care physician
While many therapists and psychiatrists have long waitlists these days, you may be surprised at how helpful a primary care doctor can be when a patient is struggling with their mental health. Not only can they run blood work and check out other factors that could be affecting your loved one's mental state, but many primary care doctors can prescribe antidepressants or other mental health medications if they see a need.
This can also be a great option for grandparents who are hesitant about seeing a mental health professional in the first place. Having a doctor they already know and trust explain the importance of addressing their depression can encourage them to be more proactive about prioritizing their mental wellbeing.
5. Invest in a meal prep service
If you have the funds to do so, it can be extremely helpful to set up a meal delivery service for your parents or in-laws who struggle with depression. While some people may find themselves overeating when depressed, others have a hard time getting themselves to eat at all, and both can contribute to worsened health over time.
When your body is running on fumes or fried foods every day, it can make improving mental health even more difficult. Setting up a service to drop off healthy meals that can be quickly assembled or microwaved can make life that much easier and contribute to positive changes in their overall health. You could also use these kits to cook meals as a family, using the time to bond, find joy, and prioritize better nutrition.
6. Show them they're needed
People with depression can think they're a burden and be filled with negative thoughts about not being good enough. One way to help combat this line of thinking is by having them help out with simple tasks around your home or with their grandchildren. For example, my husband and I usually have at-home date nights after the kids are in bed, so we don't necessarily need their grandparents to babysit. However, when we see that one of our parents is starting to complain about not having anything to do or isolating themselves more than normal, we arrange a time for them to watch the kids for us.
Caretaking—whether for grandkids, pets, or plants—can be a good option for grandparents who need to feel needed (as long as you're comfortable with them doing so).