I'm a big believer in the power of putting yourself together every single day. It began during the postpartum period with my first baby, when I realized how much better I felt after a daily shower and fresh clothes, and it continues to this day.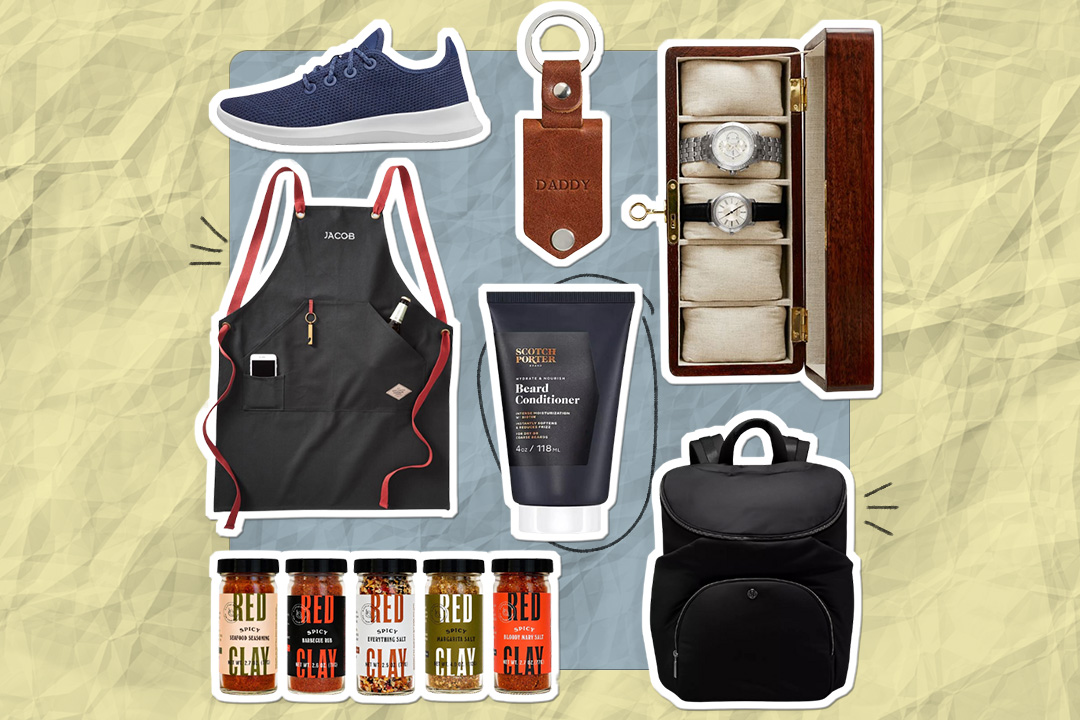 june 18 is coming up fast — have you started shopping yet? 😎
More often than not, feeling physically put-together leads to overall better days in every other way, proving that a little bit of extra effort into getting myself dressed (even if it's just new sweatpants, don't get me wrong), tidying up my hair, and doing a little makeup is so worth it. I'm not saying everyone has to do this, but I highly suggest it, especially when you need to maintain some positive, productive energy … AKA in times like this. 
Taking care of myself in this way has become a staple in my self-care handbag. The act of getting ready in the morning and then removing it all as I wind down in the evening offers me stability, routine, and a personal level of standards, especially during crazy times like now. It's no surprise then that I look forward to my hair and other beauty appointments, knowing that they help me maintain the feel-good-vibes that give me a little boost of energy each new day—which we all so desperately need right about now.
But what happens when some of the personal care you depend on can no longer be "outsourced" (i.e. you aren't heading to your hairdresser anytime soon). Well, you take it on yourself. From coloring your own hair to perfecting the perfect mani, many of us mamas are learning the DIY methods of beauty maintenance.
Not a pro at this sort of thing? No worries: we have tips and tricks of the trade to help you feel and look your best, whether it be for Zoom calls, your toddler, or yourself (which we believe is just as important).
Taming your hair
I've been coloring my hair since my first grays popped up in college, and while I've gone the DIY route before, 95 percent of the time, I leave it to the pros. Anytime I've attempted to save a few dollars and do it at home, I've regretted it quickly, finding that I missed more spots than I covered. 
But since I don't have the luxury of hitting a salon at the moment, I recently ordered a hair color kit from Target and got to work. If you too are aiming to spruce up your locks while in lockdown, here are some must-do reminders:
Set up an area in your bathroom beforehand, with all your supplies and an old towel on the floor. 

Wear an easy-to-remove shirt; an old zip-up sweatshirt or button-up is ideal. 

Use the gloves. Always.

Skip any major color changes right now and stick to just your roots. It's not worth the risk unless you don't mind sporting a unique look if it doesn't work out exactly according to plans. 

Don't hesitate to reach out to your hairdresser and ask their opinion on what type of color to use. I texted my hairdresser, and she was so helpful. She also reassured me that she could blend the color together easily if needed once social distancing is over. 

Hand off the kiddos to your partner if you can and take your time. If you want a decent result, it's worth it to go slow. Focus on the roots and use a mirror to look at the back of your scalp at the end of your part and hairline. Use a little

Vaseline or baby wipes

to wipe off any color that gets onto your skin.

I like to use only half of the deep conditioner that comes with most hair color kits and then use the rest of it over the next week or so to help protect your locks. 
While at home, may we also suggest trying out the air-dry trend on for size? It's a great opportunity to give your locks a little extra love and tender care in the form of a hot tools break. Here's our go-to tips and tricks for mastering this look.
Lastly, we hope you aren't thinking of snipping, but just in case it's crossing your mind … put down the scissors. Unless you have some serious practice in snipping and styling, save any trims for your hubby or your little ones' bangs. We recommend waiting this one out— our hair guru Kristen Ess agrees.
Manage those brows
Waxer? Threader? We hate to break it to you, but in times like this, play it safe and stick with the simplest tool of all: tweezers. Just like with the hair on your head, put down the scissors unless you have some major experience in eyebrow grooming and instead, err on the side of caution.
If your eyebrows are in need of a little love though, pull out the trusty tweezers and get to work … cautiously. 
Using a makeup pencil, hold it to the side of your nose, on an angle, pointing upwards, crossing your eyeball and eyebrow. Where the pencil crosses your eyebrow is where your natural arch should be. Use this as a guideline when shaping and plucking out any excess hairs. And if in doubt, leave the hair. 

It can also be helpful to use an eyebrow pencil to lightly shade in your ideal shape, thus tweezing any hairs that aren't inside this section. 

Full brows are in. Embrace them. The more hair there is to work with, the better your go-to pro will be able to shape when social distancing is a thing of the past.

May we suggest the magic of brow gel?

Glossier's Boy Brow

is a staple in my makeup routine, even on days where I just do the absolute bare minimum: tinted moisturizer, Boy Brow, blush. A little gel goes a long way to making your face look polished and put together—ideal for our days at home.
Handle your nails
Is your weekly manicure a must? No need to fret, I promise you can maintain tidy and even pretty and polished nails at home. It just takes a little time, patience, and practice. 
A key factor here is moisturizing. We're all washing our hands 24/7, so they are at risk to be really, really dry and maybe even cracked and peeling. So just as washing your hands has become routine, make applying a thick hand cream a part of your daily duties as well. I like to apply a thick layer before bed, really letting it sink in. 
When it comes to your nails specifically, you don't need to purchase anything extravagant: nail clippers, a file, a cuticle stick, and if you're feeling really fancy, a buffer. 
Keep your nails tidy and trim. If they're already too long, use clippers to cut back or file to slightly trim down, shape and smooth. 

Rub some olive or coconut oil into your nails, focusing on the skin around your nails and gently push back your cuticles with a cuticle stick. No need to trim this delicate skin—leave that to the pros.

If you want to go big and paint your nails, stick with a light-colored hue (to easily hide any imperfections) and always remember a base and top coat. Nail experts

Olive and June

have several

at-home manicure kits and tools (and gorgeous colors

) available for

purchase online

, as well as

tutorials

to help you perfect the polished look. Go slow and remember, practice makes perfect.
Don't forget your skin
I didn't wear a ton of makeup on any given pre-pandemic day, but I did have my go-to products. While I've loosened up on that routine a bit while being home 24/7, my skincare steps are still non-negotiable. Especially in times of stress, my skin tends to go a bit nuts (hello, breakouts), so I've been paying extra attention to keeping my skin clean and clear.
You may not be able to hit up your loyal aesthetician for a fabulous facial right now, but you can still give your skin major love and care.
Stick to your normal routine, which should already include makeup removal and washing your face every single day.

'Tis the season for

eye cream

. Dark circles be gone.

Hands off your face! We're already being advised to stop touching our face, and it's a habit that should continue long after we return to our normal lives. The more we touch our face, the more bacteria have an opportunity to settle into our pores and cause pimples and more.

While we don't recommend any intense peels or pimple popping at the moment, a little skincare spa time is an easy, often cheap, and do-able self-care treat. Dive into that pile of sheet masks you've been collecting, or treat yourself to a special new serum. Here are some of

our favorites

.

Even if you aren't hitting up the beaches or parks, it's still important to remember sunscreen every day. The sun doesn't care where exactly you are; sun exposure is exposure, plain and simple.
Give your skin a little break just like your tresses and go makeup-free here and there. I like to slather on one of my super hydrating serums and feel "glowy" all day, letting it really sink it.
Tackle that (sunless) tan
Recent spring vacation plans canceled? You probably aren't getting that professional spray tan anytime soon either. 
Still looking for a little burst of sunshine on your skin, the healthy way? Being home day in, day out is the perfect time to perfect your self-tanner skills (ahem, if you end up with some patchy areas—no one's around to notice). 
Exfoliate really well first. Then apply the tanner. 

We love

foam and mousse formulas

as they dry a lot faster, which makes them perfect for when your toddler is screaming for you just outside the bathroom door.

The Tan Towel

is another easy to use method that I've personally used and loved for years.

Moisturize well every day to keep your color maintained, and reapply tanner in a few days as needed.