Let's face it, when you are making a baby registry for your first child, you really have no idea what you're doing. What you rely on is the helpful advice of your family and friends and all of the mothers who came before you.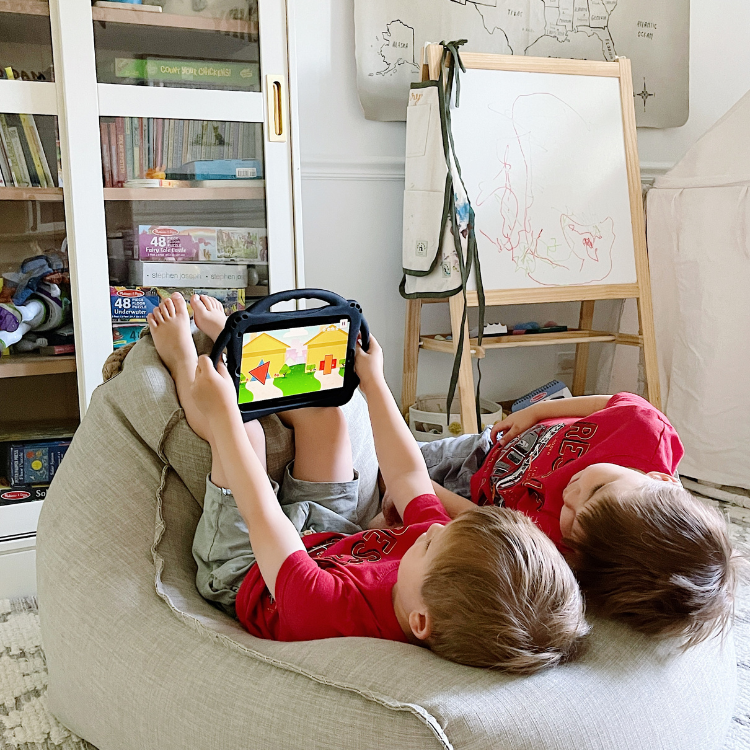 a pediatrician shares what she *really* thinks about LOs and screen time
That helps, of course, but it's not foolproof. Each baby is so different that it's impossible to know all of what they'll need or what will work for them before they arrive. It takes time to get to know your little one and learn their likes and dislikes. It takes time to grow into your motherhood and figure out what will work for you. It takes time to work through all of the expectations you had in your head and heart for your baby and your idea of motherhood and begin to accept your new reality for what it actually is.
All you can do is plan to the best of your ability and leave ample room for pivots and change. And, you can feel safe in the notion that every mother before you has gone through the same thing.
The Everymom editors are sharing the one thing that they wish was on their baby registry. We hope that our must-haves will help you ease into motherhood, but more than that, we wish for you the grace that we all learned for ourselves upon becoming mothers — because you can never know until you are actually in it.
BabyBjorn Bouncer Bliss and Toy Bar
My daughter was on the fussier side for a few months, and the Baby Bjorn Bouncer Bliss was one of the few things she loved. It's beautiful (we have the black quilted fabric which looks great in our home) and ergonomic, so I didn't worry about letting her stay in there for longer periods of time. The bouncer folds flat and is both light and portable, so it's easy to move from room to room, so you can do things like shower and eat. The toy bar is a must and easy to take on and off. Unlike most seats that you'll only use for a few months, this can be used from birth to age 2!
LoveveryBaby Toy Subscription Kits
The folks at the LoveveryBaby company are masters of creating beautiful, educational toys and a playmat for babies – all based on Montessori methods of teaching and learning. We registered for and received the playmat that our son loved and used for tummy time, but when he was 4 months old, we started receiving the subscription toy kits that quickly became a staple in our house. Every two months a new kit would arrive with a handful of age-appropriate toys and everything you needed to know about his developmental stage and how to interact and use the toys to teach and engage the baby. Cannot recommend enough to everyone expecting or with a baby under 12 months old.
Milk Snob Nursing Cover
I discovered Milk Snob nursing covers after my second baby and loved them so much it's now my go-to gift for new moms. The fabric is insanely soft and breathable and comes in many cute prints. It folds up so small so it's easy to throw in a diaper bag or even a small purse. And it doubles as a carseat cover for sleeping babies – and a stranger-deterrent so people you don't know won't paw at your little one. Plus it was invented by a mom entrepreneur.
Travel Stroller
I didn't really understand why a travel stroller was necessary, and I guess you could technically travel with your regular stroller, but this one has made my life much (much) easier. Our Uppababy Vista is great for when we're home, but it is very heavy. I love this travel stroller because it folds up to the size of a briefcase, but still fits a car seat.
Magnetic Onesies and Jackets
When my son arrived 5 weeks early at 5lbs., 5oz. we were totally unprepared with any clothing that small. My in-laws ran out and cleaned out a local baby store of all preemie clothes and brought us a stack of onesies from Magnetic Me. We were instantly obsessed and ordered several in each size as he has grown. My husband lives for these onesies. The magnets are so easy and these jammies are so soft, have a looser fit, and come in cute patterns. They make diaper changes and frequent outfit changes a breeze and come in so many styles — gown, footie, bunting, anything you can think of.
Nursery Glider
Our small apartment had an oversized chair that I believed would be perfect for nursing the baby. However, it proved to be impractical and very uncomfortable. I ended up buying a nursery chair on my own, and I wish I would have had the foresight to register for one for two reasons: the cost, and it would have been delivered and set up before my baby arrived. I've spent hours in my glider and have napped in it with the baby on several occasions. It is the one piece of furniture in our home that was truly worth every penny.
ErgoBaby Original 3-Position Carrier
My first baby had colic. And my second baby, well, he had an older brother that needed to go places. Both kids were worn nearly the entirety of their babyhoods. When they were super little, I loved having a soft wrap to carry them around, but as they got older and heavier, this carrier was basically attached to my body.
In five years, between my two boys, this carrier went with me to airports, parks, grocery stores, vacations, museums, farmer's markets, and over 30 football games. It was such a prominent part of their babyhoods that I actually cried after realizing I accidentally left it a game – my youngest was almost 2-years-old then. If I ever have another baby, this will be the first thing I buy.
The Ollie World Swaddle
I received both a zippered swaddle and a pack of muslin swaddle blankets at my shower, but in true parenting fashion, our son was very squirmy and very long! He outgrew the zippered swaddles in just a month and I never quite mastered a blanket swaddle that would stay put. Shortly afterward, I discovered Eva Chen's OG Baby List (she's the Director of Fashion Partnerships at Instagram and a mom of two), where she listed The Ollie World Swaddle. It saved us! The fabric is so snug and breathable and the tie-up bottom accommodated a tall, growing baby, so I never had to size up. I recommend it to everyone.
Muslins
I had the unique experience of having my baby in London, so a lot of the brands and items that I saw on friends baby registries at home weren't really available here. We tried to be very minimalist with what we bought for our baby, but the one thing that we (happily) bought in excess are muslins (or mussies, as they're usually referred to here) in all sizes. We use them for everything: burp cloths, swaddles, sun covers, breastfeeding covers, towels, light blanket, bassinet sheet. Their use is endless and I never leave home without one (or two).
One-Step Baby Bottle Sterilizer & Dryer from Baby Brezza
Never in a million years would I have considered a bottle sterilizer a new mom must-have. But then one showed up on my doorstep from a friend after I'd been battling milk supply issues and it was as if the heavens had parted. Nursing in itself is an exhausting affair. Add to that frequent pumping sessions, and you have the makings for one tired and baby-consumed mama.
The Baby Brezza One-Step Sterilizer and Dryer took the edge off my near-constant pumping, handling sterilizing and (the best part) thoroughly drying pump parts and bottles alike. Sure, you could certainly do without this machine and rely on the time-consuming process of boiling and air-drying your items instead. But when this little gadget handles it all so seamlessly, why would you turn it away?
Skip Hop Nursery Style Wipe-Clean Changing Pad
With my first, I used a traditional changing pad in which you'd have to change out the cover when the inevitable baby stain would hit — and as a mom of two boys, that's a decent amount! For my second, my good friend from YouthfulNest told me about Skip Hop Nursery Style Wipe Clean Changing Pad that not only saved me time — and a little bit of my sanity — but also meant that one less thing had to go in the laundry. It's been a game-changer for quick clean up diaper changes for my little guy.