There's a reason 'nesting' comes naturally for many moms-to-be. In anticipation of baby's arrival, many moms will feel an overwhelming desire to clean, organize, and put together the house, especially the baby's nursery. Much like a mama bird waiting for her eggs to hatch, many moms will feel the strong desire to make a comfortable space for their baby to come home to.
we've curated 40+ presents that are sure to put on smiles on their faces 🎁
Of all the excitement that comes with awaiting the arrival of a new baby, putting together a nursery may be the most fun. This is a time for new parents to be creative. Whether we choose to find out the baby's gender or keep things neutral, pick a theme or go with the flow, putting together a nursery is our first attempt at creating a space just for them.
But, among the excitement may also come feelings of uncertainty, especially for those of us who are becoming parents for the first time. It can be difficult to know everything that a baby will need, and all the nursery essentials we should have on hand. While the benefits of having a baby registry are plentiful, if we don't know what to include on them, they may not be as helpful as they should be.
That's why we're providing some registry guidelines when it comes to the nursery department. Consider this a blueprint (or pink-print, yellow, green—whatever color scheme you prefer) to follow for all nursery essentials to include on a baby registry. These product options are tried and true, and many are hand-selected and approved by our editors at The Everymom who have personally used and recommend them. When it comes time to put together a baby registry so you're prepped for the nesting stage, look no further than this list for all of the best nursery essentials.
Creating your baby registry can be overwhelming, but we're here to help with editor- and expert-approved picks for everything you need for your new baby (and for you!) with our first ever Baby Registry Awards. Click here for our top picks for everything from bouncers to baby bottles.
Nursery Essentials to Add to a Baby Registry
1. Cribs
After baby grows out of the bassinet stage, they'll need a crib to sleep in. These options are tested to be of the highest safety quality and free of toxic chemicals. Plus, they're designed to fit seamlessly into any nursery theme or color palette.
2. Crib Mattresses
When it comes to finding the perfect mattress for the crib, look for one made of high quality, non-toxic materials. Every parent wants peace of mind while their little ones are sleeping.
Newton
This crib mattress tops our list for most innovative design—not foam or coil, this hypoallergenic mattress is made with a Wovenaire core that's 90% air and 10% food-grade polymer, providing the same comfort with more breathability.
Naturepedic
Knowing that baby is sleeping on the highest of quality materials is imperative for a parent's peace of mind. That's why we love the Naturepedic organic cotton mattress that is made of 100% waterproof, food-grade polyethylene. The customer reviews speak for themselves on this one.
3. Crib Sheets
We love crib sheet options that are made from organic cotton, non-toxic materials, and come in a variety of patterns like these.
Burt's Bees
These Burt's Bees cozy jersey knit crib sheets come in many prints and solid colors and are so soft for your sweet little one's skin.
Nestig
This is our readers' most-shopped crib sheet—and for good reason: they come in adorable patterns and are made with certified, non-toxic dyes.
4. Humidifiers
When nasal congestion inevitably rears its ugly head, be sure to have a humidifier on hand in the nursery to help baby sleep better.
Canopy
Our editors and readers agree: Canopy's humidifier is a top registry product! Humidifiers can get moldy so quickly and this one can be washed in the dishwasher.
Leviot
We love that this humidifier has both cool and warm mist options. The warm mist allows for greater and quicker relief of congestion.
5. Dressers
With all of the stuff babies come with, we're going to need a space to store it all. A sturdy dresser will not only hold all of the baby clothes and other essentials, but it can also hold a changing pad atop for diaper changes. Plus, the right dresser will last long after the infant stage and transfer into a big kid room seamlessly. Remember to anchor baby's dresser—along with any other heavy furniture—as part of baby-proofing.
6. Recliners and Gliders
A functional chair is one of the most important nursery essentials—especially for late night feedings. You'll want supportive armrests and the ability to rest both your head and feet while holding your little one. The best chairs, known as gliders, rock back and forth noiselessly so baby doesn't wake up after drifting back to sleep.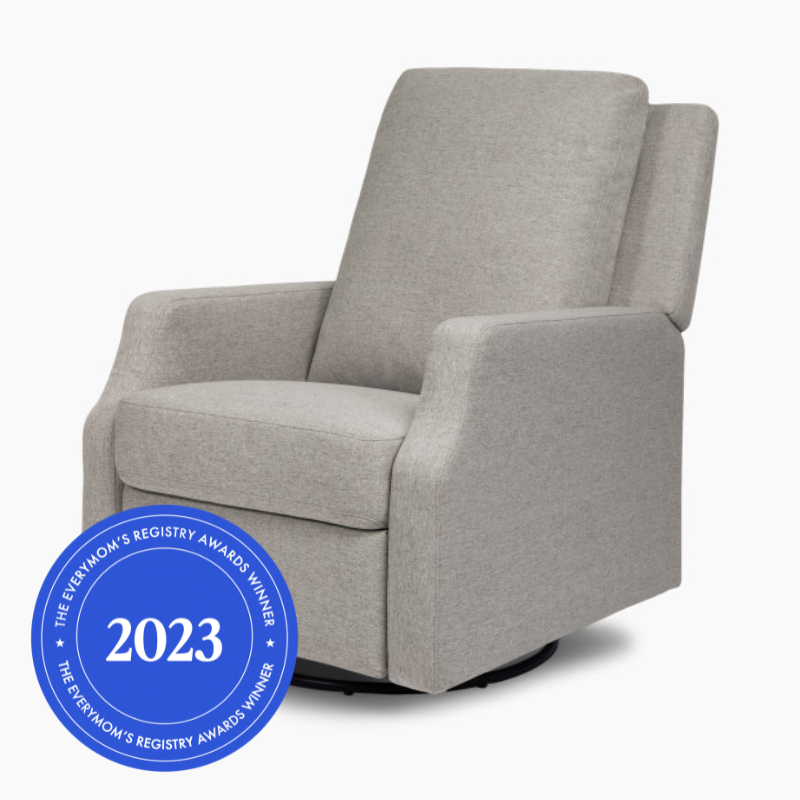 Namesake
A comfy glider can make all the difference for a new parent. The Namesake Crewe has our vote because it's quiet, comfortable, durable, and stain-resistant—plus it reclines and swivels.
DaVinci
While this glider doesn't have an attached footrest, but it does come with a matching ottoman. Also included is a lumbar pillow for added comfort and support.
Babyletto
This chair is unique and beloved for having an electric footrest (AKA, less noise), soft fabric, and USB charges built in for the ultimate level of convenience.
7. Storage Shelves
Like any bedroom, storage is a must in a baby's nursery. Not only will you have endless amounts of baby clothes, but also baby grooming essentials, toys, books, blankets, and more. So, have a sturdy place for storage in the room with one of these options like cube shelves that offer a lot of space and the option to either house items on display or tuck them away in storage cubes.
Target
That little baby eventually grows into a toddler and that toddler will come with many things to store. A reader and editor favorite, this cube organizer is a budget-friendly must for bins full of toys and other supplies.
Target
For a larger room or a nursery meant for twins, consider this larger cube organizer for additional storage space.
Target
These fabric cubes are lightweight, sturdy, and perfect for storing any items we don't want on display in the baby's nursery.
many colors and patterns available
8. Bookracks
No doubt baby will receive a small library of books whether at your baby shower or as gifts as they grow. We love having plenty of options for books as reading to baby is a wonderful learning and bonding opportunity. Store baby's books proudly in one of these stylish bookracks.