As soon as summer ends, many of us are already counting down the days to Christmas. After all, what is better than a chilly Christmas morning, drinking hot cocoa, and opening presents from a dear loved one? But while we are excited, many of us often feel the heavy weight of stress as we envision all of the work that needs to get done in order to make the holidays magical.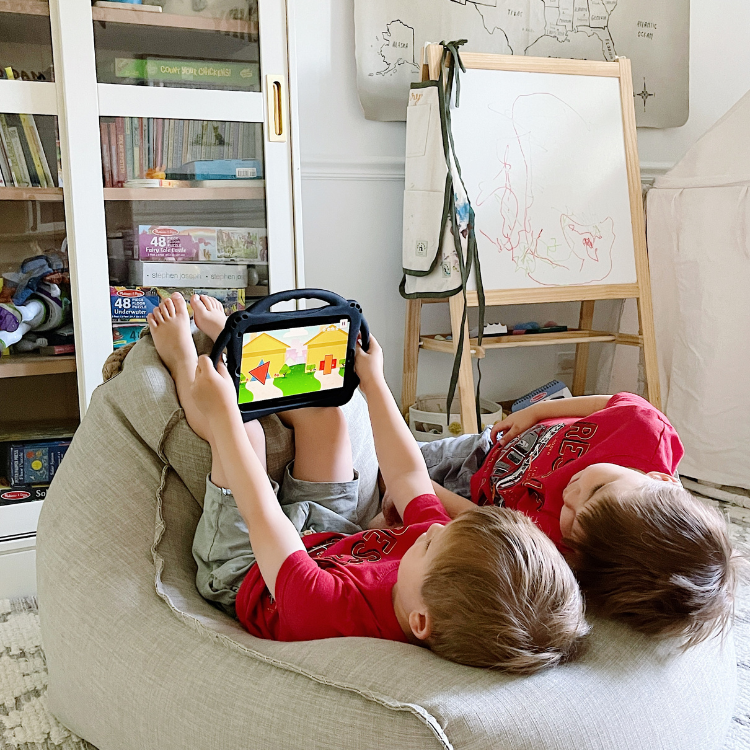 a pediatrician shares what she *really* thinks about LOs and screen time
Despite Christmas being one of my favorite holidays, every year, I can't help but feel stressed as I map out all the tasks that need to get done to make the holidays magical. I often find myself yearning for the days of childhood, when everything seemed to happen with Christmas magic.
From buying and wrapping gifts to decorating the house, it all can seem like a huge endeavor, especially when you are an exhausted parent just struggling during the day-to-day. Sometimes the holidays can be ruined by the stress of it all, which is why it's important to use all the help you can get. From hacks for decorating the tree and wrapping gifts to keeping kids entertained with holiday crafts, a little extra help around the holidays is something everyone can use.
Here are a few TikTok hacks to make things simpler this season.
Let's talk about Liz's light trick that she found while watching TikTok. She places the lights vertically on the Christmas tree to make removal easier in case a light goes out, and as a bonus, less lights are needed to cover the tree.
Nikki talks about working smarter, not harder when filling out your Christmas trees. She fills the tree's gaps with garland in the easiest way I've seen so far!
This cute little craft idea should keep the kids entertained for a bit while parents take turns wrapping presents and supervising.
If you're looking for a simple Christmas tree sensory activity, this is one of my favorites for toddlers. It is wonderful for children who want to decorate the tree but don't have the skills to place fancy ornaments on the real tree yet.
Buying the perfect present can sometimes be really difficult for family and friends. With this Tiffany hack, you have the perfect gift that nearly everyone can use, and you don't have to worry about breaking the bank or gifting something someone will never use.
For those of us on a budget or just looking to save some money, these are some cute and crafty Christmas ideas using common holiday items from the dollar store.
If you hate how cards tend to get lost in the hustle and bustle of Christmas, I am obsessed with this gift wrapping hack that utilizes the gift wrap as a pocket for cards.
This is one of the simplest yet most effective inventions that will make your life a million times easier. I know I'm not the only one who struggles to cut wrapping paper (not to mention losing the scissors a dozen times), so if you struggle like me, this is a great tool.
Shop the Video
When it comes to many American holiday celebrations, potatoes will be present at most big gatherings. And since I hate unpeeled potatoes, this hack from Shannon will make peeling a breeze.
For those of us who are looking for healthier alternatives this holiday season, this idea of using quinoa instead of stuffing is great.