You know some of the people I'm really thankful for? The Trader Joe's team members. My cart was so full for this haul of holiday treats, I was able to have a lovely conversation during checkout with two members of the TJ's team about our holiday plans, in-laws, and the new Trader Joe's holiday items this season.
Below, I'm sharing some of my favorite Trader Joe's holiday standbys as well as some treats I'm excited to try, from sweet desserts to savory snacks to festive beverages. Plus, don't forget Trader Joe's always has the best affordable wreaths, garlands, flowers, and more to help with your decor and holiday hosting. Read on for the best of Trader Joe's holiday this year.
Holiday Sweet Treats
Joe-Joe's Dark Chocolate Covered Peppermint
Take everyone's favorite Joe Joe's and dip them in dark chocolate and peppermint—yes, please! These are already a kid-favorite at my house.
Dark Chocolate Star Cookies
Confession: I just called my local Trader Joe's to see when these delicious star-shaped shortbread cookies dipped in dark chocolate would be hitting shelves because they weren't in stock on my last visit. Good news for me, the truck was arriving that day so everyone should have them in their TJ's soon! My daughter also loves the mint mini-star cookies. I stock up on these for daily treats all through the season, and they also look so cute as part of a holiday dessert board.
Danish Butter Cookies
I'm officially obsessed with the Scandinavian-style packaging for these butter cookies. Not only are they delicious, but they'll also look so cute on the counter.
Astounding Multi-Flavor Mini Pretzels
The biggest hit at our family Thanksgiving was this mini-pretzel treat—as evidenced by the wear-and-tear on the package. Each of the four delicious flavors comes in its own separate bag that the adults and kids were fighting over. Personally, I preferred the dark chocolate with peppermint candy canes.
Chocolate Caramels
For those who, like me, have a weakness for chocolate-covered caramel, Trader Joe's has no shortage of treats to delight. Grab a delectable box of Dark Chocolate Sea Salt Caramels.
Cookie Mug Hangers
A perennial Trader Joe's favorite, these adorable spiced cookies are made for cozy winter sipping. Perfectly designed to fit on the rim of your mug to make any warm drink a delightful treat.
Mini Gingerbread People
My sister-in-law texted me a pic of these cookies with the caption, "If you don't know, now you know." Gingerbread cookies with white fudge frosting—yum! These gender-inclusive "gingerbread people" are just one more reason to love TJ's.
Gingerbread Ice Cream
Still craving even more gingerbread? Grab a pint of TJ's Gingerbread ice cream too!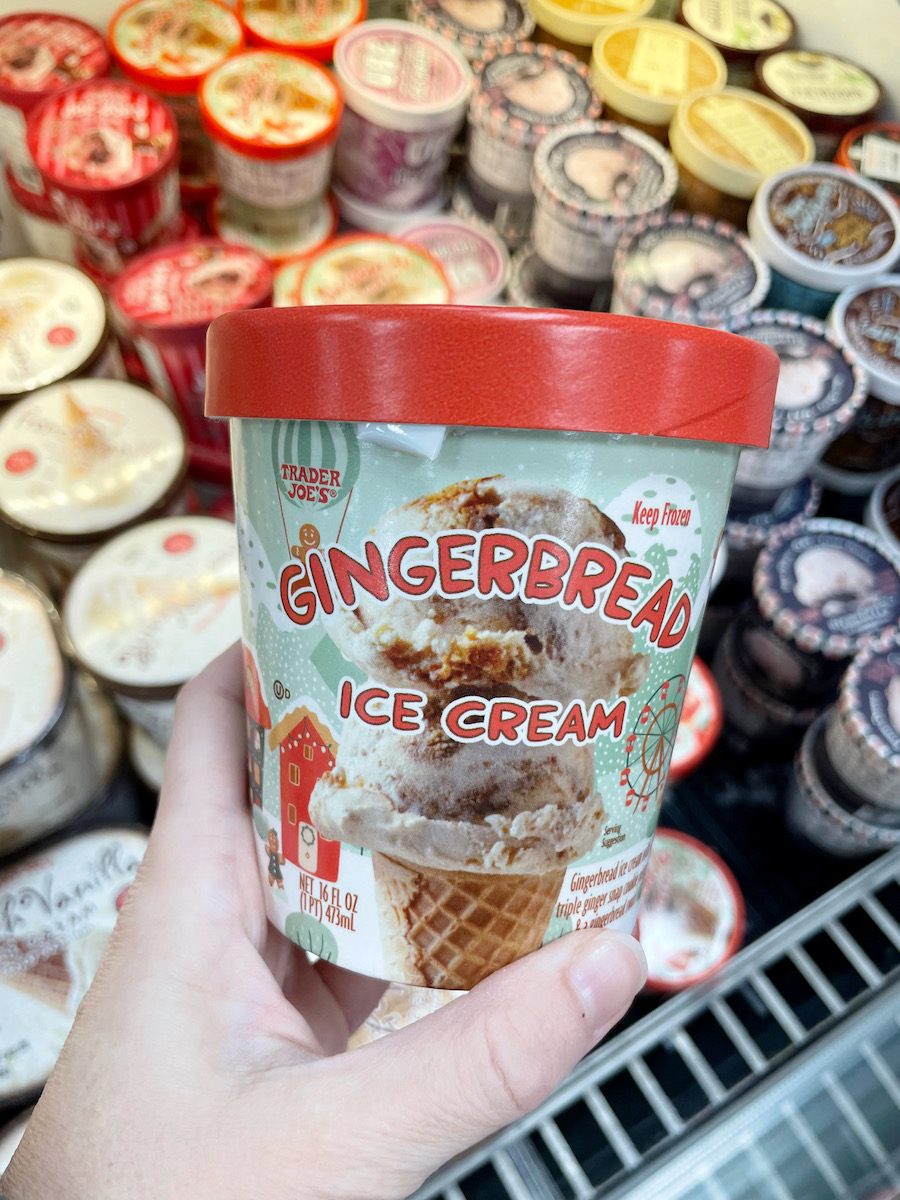 Mini Chocolate Mousse Desserts
For a more sophisticated treat, try these mini chocolate mousse desserts with a shortbread crust or these adorable mini chocolate mousse presents. Just be sure to read the label: These tiny treats need two hours to defrost in the fridge before enjoying.
Hold the Cone! Peppermint Flavored
My year-round go-to treats at Trader Joe's are the Dark Chocolate Peanut Butter Cups and Hold the Cones. My kids have been loving these peppermint-flavored Hold the Cones! for the holidays.
Christmas Sprinkles
Grabbed these on my latest shopping trip because there's nothing worse than having all the ingredients for Christmas cookies, then realizing you're missing one ingredient. Plus, the candy cane, trees, and snowflake shapes in this mix are so cute!
Savory Treats
Brie With Truffles
This cheese had me at truffle. Since I'm hosting Christmas dinner this year, I grabbed this early to make sure it would be part of my holiday cheese board.
White Truffle Popcorn
And for other truffle fans, this airy popcorn with a hint of truffle is another yummy munchable holiday snack.
Spicy Snack Bar Mix
Add this snack mix to a charcuterie board or a bowl for a perfect holiday happy hour appetizer. A not-so-spicy mix is also available.
Holiday Beverages
Candy Cane Green Tea
According to TJ's Fearless Flyer, this tea garnered a surprisingly enthusiastic response when it was launched in 2009. It continues to be a holiday favorite 13 years later because it's "astonishingly evocative of an actual candy cane."
O'Nog Non-Dairy Oat Beverage
For eggnog lovers hoping to go light on the dairy this season, try this oat-based O'Nog with a spot of rum or whiskey for a holiday cocktail—or add it to your espresso for a seasonal coffee.
Egg Nog
For those who prefer their 'nog premixed, Trader Joe's has you covered too with this beautifully packaged Egg Nog you can serve over ice.
Triple Ginger Brew
Grab this ginger brew for all your holiday mule recipes, like the berry mules on our festive drinks recipe list!
Sparkling Pomegranate Punch Beverage
Pomegranate is another festive flavor to drink on its own or use to create holiday cocktails.
Sparkling Cranberry & Ginger Beverage
A friend texted me this very photo of the packaging, which includes a recipe to make it a cocktail—or a mocktail—perfect if you're pregnant this season and still want a way to toast to the end of 2023!
Sugar Plum Sparkling Beverage
For those looking to make festive mocktails this season—whether pregnant, under 21, or trying to drink less alcohol, consider TJ's Sugar Plum Sparkling Beverage! I'll admit I haven't tried it, but for under $4, this seems like a low risk worth taking.