It's a harsh reality in parenthood when you learn that you have to feed your kids and your family nearly every meal basically from birth to infinity. Day to day, just as you clean up breakfast, someone is sure to ask about snacks or lunch. As the day goes on, my workday will often get away from me, and I'll inevitably text my husband, "So, what should we do for dinner?"
Getting out of the mealtime doldrums is a challenge, but meal planning for every day each week is personally a lofty goal for me. I can get to about Wednesday, then I'm out of ideas, so I love using shortcuts to simplify the process. While my husband and I may not meal plan an entire week, I've rounded up five things that have helped simplify weekday meal planning.
Both my husband and I work from home, and while I love the flexibility, our kids still come home from school two hours before our workday ends, which means snacks and various other requests happen during those two hours. So I try to be as productive as possible while they're at school.
That also meant I often worked through lunch or grabbed something quick—and not necessarily fresh or healthy—until I started ordering Territory Foods to cover my weekday lunches.
Why do I love meals from Territory Foods? Well, registered dietitians build their menus, and then real chefs across the country craft the food using sustainable, locally sourced ingredients. Meals are freshly made to be anti-inflammatory, without refined sugars, gluten, or dairy, so I also feel good after I eat them too.
Plus, I don't have the extra time to be measuring or chopping ingredients when I'm trying to make the most of my time during the workday, so I love that the meals from Territory Foods come ready to eat. And ordering is easy: You just open the Territory Foods website, enter your zip code, and receive menu options based on where you live. From there, you can choose your preferences—each meal even names the chef making your food. Ordering from Territory Foods has made taking care of my own mealtime needs so much easier.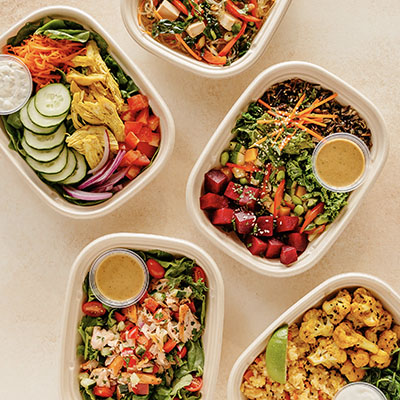 Territory Foods
Ready to receive high-quality, delicious,
and healthy prepared meals right at your doorstep?
Use code EVERYMOM for $30 off your first Territory Foods order!
2. Enjoy Family Happy Hour
When the clock strikes 5 p.m. at our house, the stress level seems to skyrocket. My husband and I both work from home, and if neither of us have suggested a dinner idea, we're often scrambling to figure out who's cooking, what we are making, and how long the kids have been watching TV.
For a while, I was insistent that we needed to sit down to a family dinner every night. After a gentle intervention by my husband, who suggested we take out the formality out of weeknight mealtime, we now take some nights to pour a glass of wine and feed the kids something easy while we all sit and talk around the kitchen island. This also means my husband and I either eat later, munch on easy appetizers in lieu of dinner, or have one of our Territory Foods meals. It takes so much of the pressure off our evenings, and we still get to spend time together.
3. Keep Frozen Staples on Hand
I have a stock of frozen meals in our deep freezer at all times. Family stand-bys include Trader Joe's Alfredo pasta, Orange Chicken, and frozen rice. We also have Costco-size chicken nuggets, meatballs, and frozen vegetables. They're an "always-grab" item on my grocery trips to ensure we have something to eat if we're out of ideas or don't feel like cooking.
4. Utilize My Kitchen Gadgets
How many of us have old kitchen appliances gathering dust in the back of our cupboards? To make sure my current gadgets don't go the way my old George Forman Grill did, I make use of my personal trifecta of kitchen helpers: crockpot, air fryer, and dutch oven. I still haven't sprung for an Instant Pot—maybe it'll be on my holiday wish list—but these three little babies are my go-tos for easy (mostly) one-pot meals. Some family favorites are bone-in chicken breasts in the air fryer, shredded beef tacos in the crockpot, and Alfredo lasagna soup in the dutch oven.
5. Take Advantage of Hot Lunch at School
If you have school-age kids, use the hot lunch option as much as you can. In addition to avoiding the morning stress of packing lunches, in the U.S., the Department of Agriculture extended its free lunch program through June of 2022, so eating lunch at school can also help your family budget.
This post was in partnership with Territory Foods but all of the opinions within are those of The Everymom editorial board. We only recommend products we genuinely love.