I love to cook, but some days I am just not in the mood. For me night now, it's the combination of doing so much at-home cooking over the last year plus raising a toddler while pregnant. You can pretty much guarantee I'm drained of energy by 7 p.m. Once my toddler is in bed, the last thing I want to do is pull up a recipe and spend more than 10 minutes at work in the kitchen.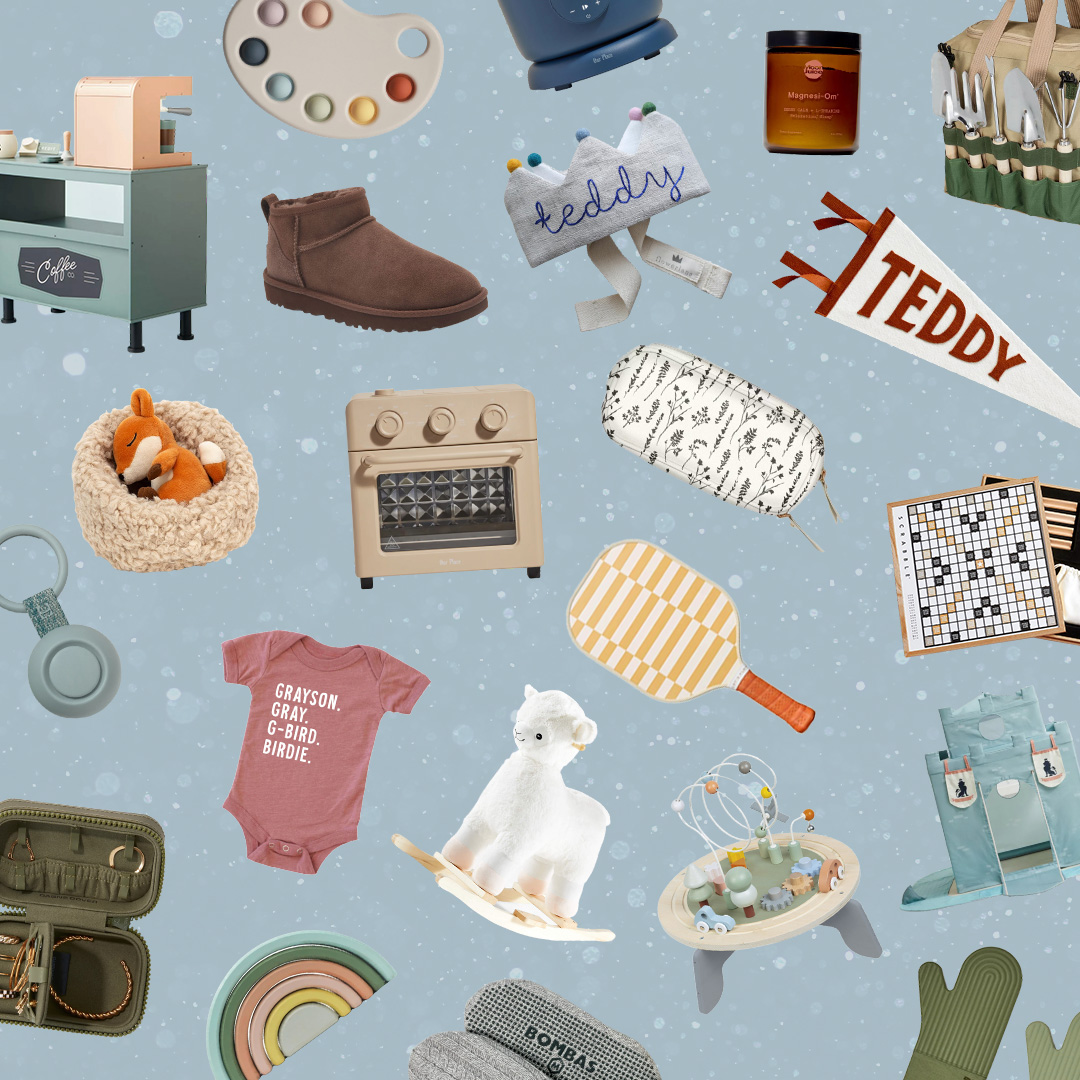 everything you need to ace holiday gifting this year 🎁
So like any inventive (and tired) mom, I head to the freezer and grab a meal instead. Freezer meals aren't what they used to be—anyone else remember thinking it was a treat to get a TV dinner? Many now can actually taste just as good (sometimes better) than home cooking.
If there ever was a freezer section of my dreams, it's of course found at Trader Joe's. I love the variety of options and—even though I'm a fan of takeout when I'm feeling too tired to cook—I do think some of their freezer meals can compete with ordering out (with a much better price tag). Many Trader Joe's frozen items can be filling enough on their own, while others can easily be paired with a grain or salad to make the meal feel more complete.
Whipping up some rice or a simple green salad to pair with a frozen entrée is much easier than brainstorming and prepping an entire meal. Mom hack: I aim to make a large portion of grains on Sunday to have on hand for these semi-freezer meals throughout the week.
Need some freezer-stocking inspiration? These are the best frozen meals that you can grab during your next visit to Trader Joe's.
Vegetarian
1. Stacked Eggplant Parmesan
This is a great vegetarian option from Trader Joe's. One package has two servings but easily can be consumed by one person (or maybe that's just me). If you are sharing it with someone, I'd recommend a side of some sort to balance out the meal and to make it more filling.
2. Riced Cauliflower Bowl
My husband unfortunately hates riced cauliflower so we rarely make it as a side. However, I love cauliflower in all forms, so when I'm dining alone or am looking to heat up a quick lunch, these cauliflower bowls are a great choice. I up the flavor profile by drenching it in hot sauce (which I admittedly do to most of my food).
3. Paneer Tikka Masala
The Paneer Tikka Masala could be a meal in itself or make it a family-friendly spread with some of the other Indian-inspired Trader Joe's frozen meals featured below!
4. Riced Cauliflower Stir Fry
While not exactly a meal on its own, this stir fry is a powerhouse of vegetables and goes perfectly with leftover grilled chicken. I've made cauliflower stir fry from scratch and this comes out relatively the same with a whole lot less time and effort.
5. Jackfruit Cakes
These interesting little cakes are meant to taste like a crab cake, and they totally do. Jackfruit is a pretty versatile item that takes on the flavors surrounding it, and the flavors in this quick dish are really good. While not a full meal on its own, pair it with the above Riced Cauliflower Stir Fry and you're set.
Pizza & Pasta
6. Organic Spinach and Ricotta Pizza
Pizza night can be any night with the right pick from TJs. OK, I truly love all of the frozen pizzas I've tried from Trader Joe's and this one is no exception. If you feel like frozen pizza is sort of meh, I recommend adding a kale salad to the top and dipping it in ranch dressing—this always takes it to the next level.
7. Burrata, Prosciutto & Arugula Flatbread
This flatbread feels a little fancier than a frozen pizza and is super delicious. Make it as an appetizer-inspired meal or consider serving as part of a charcuterie board, perhaps with a bottle of red wine to really set the mood.
8. Spaghetti Cacio e Pepe
I'm personally not much of a pasta connoisseur (I happily think that chickpea pasta tastes the same as real pasta), but my pasta-loving friends insisted this is a really incredible frozen pasta meal. They were right, plus it pairs well with a salad.
9. Cheese Pizza with a Cauliflower Crust
This is one of my favorite Trader Joe's finds and my toddler also happens to enjoy it. We each can take one of these down like it's a personal pizza. To make it more filling, I go for my "salad pizza" approach and top it with a hearty kale salad. You can also use this pizza as a base to be creative by adding toppings of your choice.
Take-out Inspired
10. Butter Chicken with Basmati Rice
Thanks to the side of rice, this feels like a sufficient enough meal on its own. If I have a craving for Indian food but don't feel like ordering delivery, this is the next best thing. If you are looking to make it a more complete meal, I'm also a huge fan of the fresh naan available at Trader Joe's. Pro-tip for the naan at TJs: top it with a drizzle of olive oil and a sprinkling of garlic powder, pepper, and salt, then warm it up in the oven before serving.
11. Mandarin Orange Chicken
This dish kind of reminds me of dining at Panda Express at the mall during high school, but in the best way possible. Since this is just chicken, I recommend adding a side of rice (grab Trader Joe's frozen rice that only needs a few minutes in the microwave) and some steamed or roasted vegetables.
12. Chicken Tikka Masala
This favorite in our house again comes with rice so it feels complete if you're dining solo and need a quick meal.
13. Pork Gyoza Potstickers
While you wouldn't think these are a meal on their own, there have been a few lazy nights at our house where they became a full meal. These potstickers taste just as good as takeout (in my opinion) and can be a nice appetizer or just a simple, quick meal on their own.
14. Turkey Burgers
We'll close out the list with a simple base to a semi-homemade, better-for-you-than-fast-food dinner option: turkey burgers. These only contain three ingredients so they are a nice and healthy option.
Beware—they are frozen but they are raw, so they do require a bit of work on your end, but it's simple and doable on a grill or on a stovetop. Add your favorite toppings or chop it up over a salad and your meal is complete.