As my conversation with the Trader Joe's cashier dwindled, he announced the damage: $153.64. I raised my eyebrows in shock. Usually as I'm checking out, I'm contemplating if I should put anything back so I don't have to explain to my husband why I went over our allotted $200 grocery budget again this week. Thankfully, I wasn't going to have to do any justifying this week because, recently, I've been more intentional about what I buy at the store.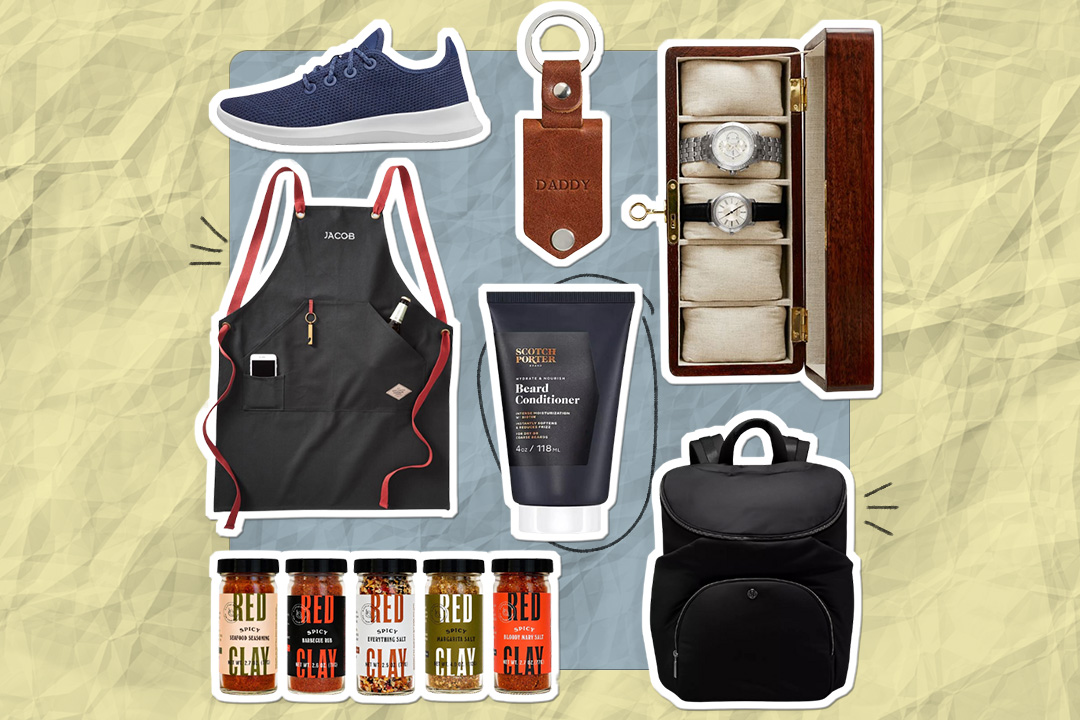 june 18 is coming up fast — have you started shopping yet? 😎
The novelty of Trader Joe's still gets me every time I walk in. I can rarely pass the floral section with grabbing a handful (or two) of eucalyptus for our bathrooms and something prettier like hydrangeas for my kitchen. I always get excited as I pass the "These items are new!" section because I look forward to seeing what new product are out.
Growing up, I was always dragged along for grocery shopping trips with my mom each week. There was a total of six of us, and my mom made sure to make a home-cooked meal each night—treating a family of six to a restaurant was expensive. I used to dread going to the store, but every time I went along with her, I always got a little treat for myself. 
I try to adopt this same mindset when I go to the store now. Since I am the main cook in the house, it's important to me to take my time at the grocery store so that I can stay on budget, and Trader Joe's makes the whole experience that much better. Right now, I'm in a bit of a food rut, so my tactic is to get my favorite staples, but then also see what looks good to me as I peruse each aisle.
This week, I came a little shy of my $200 weekly budget which is likely because I skipped grabbing a bottle of wine (don't worry, I have some in the fridge). I also didn't need as many canned goods (like tomato sauce or peppers) or frozen fruit. 
So, what did I buy at the store this week? Let's take a peek!
1. Beverages
For the longest time, I've been waiting for Trader Joe's to carry hemp milk. My husband prefers hemp milk (a non-dairy alternative to coconut milk or almond milk) because he says it tastes better and it's not as watery as some almond milk. Up until this point, we had to buy his hemp milk at Whole Foods. I was so excited, and I knew my husband would be too. He likes to have it with his cereal, mix it in oatmeal, or splash a bit into his morning coffee.
I can't quite pinpoint what it is, but I love this specific brand of orange juice and lemonade. These both taste like you just squeezed oranges and lemons from your backyard—it's really that good. They're great with your breakfast, or you can add a little alcohol and turn them into refreshing cocktails. Either way, don't pass these up!
2. Meats
I love the different meat selections that Trader Joe's has. Sure, most of us grab our usual ground beef and some chicken, but TJ's makes it easy to switch up your weekly meals with all of the options.
The kielbasa is a super quick weeknight meal staple in my house. I love to use it for sheet pan meals by slicing it up and putting it on a baking sheet with some peppers and potatoes. Toss all of this in the oven, and in about 25 minutes, dinner is done and the cleanup is minimal.
TJ's recently released this chicken tikka masala meal, and I am loving it. If my husband and I are both eating it, I'll buy two so that we both feel satisfied after we've eaten. It's great because it comes with rice too! All you do is take the package out of the cardboard, poke a few holes in the plastic, and put it in the oven. Again, a quick and easy weeknight dinner (or lunch!) that is light on effort with a ton of flavor.
There are a few different varieties of flavored chicken packages, but my favorite is the Shawarma. It's already in its own marinade so you just need to take it out of the package, add a little salt and pepper, and place it on the grill or in a pan until it's cooked through. I love having this with rice or over a salad, but also would be great on a sandwich or with some pita bread.
3. Frozen favorites
Over the years, frozen foods have gotten a bad rap, but I do enjoy the frozen items that Trader Joe's has. From desserts to appetizers, vegetables, and more, you really can make a delicious and healthy meal from your family right from the freezer section.
Right now, my son is in a major pancake and waffle phase for breakfast. He hasn't tried syrup yet, but he still loves waffles or pancakes with a little butter and some fresh fruit on the side. Since my son has eczema and a dairy allergy, I have to make sure to buy ones that don't have any dairy in them. I was excited to see that TJ's had a dairy-free option for both of these, which means I don't always have to make them from scratch. They're super quick, and he loves them, so it's a win-win!
I'm not a big seafood eater, but these cod filets are really good. My sister recommended them to me and said she likes to use them for fish tacos, so I picked them up on my next grocery trip. My son loves when I make these for him—he'll likely eat all of the fish before touching anything else on his tray. 
The dumplings make Asian night at our house so simple. You can also get ones with shrimp, pork, or veggies, and again, they are so easy to make. Pair these dumplings with a little teriyaki sauce or soy sauce, and dinner will be ready in under 30 minutes.
4. Miscellaneous items
The random finds I grab at TJ's is probably one of my favorite parts of grocery shopping. Like I said before, Trader Joe's is always releasing new products, so it's pretty common for me to pick some I've never had before.
I recently saw this chocolate lava cake in the freezer section, and I couldn't pass it up. I'm a sucker for lava cake especially topped with some ice cream after a long day. While this isn't something I'll likely buy every week, it was something to look forward to when that sweet craving hits.
Who doesn't love boxed mac and cheese? If I'm looking for a quick lunch or just want something nostalgic on a Saturday afternoon, this white cheddar mac & cheese is perfect. I always grab a few boxes of these because I never know when I'll need something fast for a meal.
Last, but certainly not least, are these yummy PB&J granola bars. Just think of these as your favorite PB&J sandwich but in bar form. These are a great afternoon snack for my son (he loves them!), so I always toss some in his diaper bag or in my purse when we're on the go.
To round out my $200 weekly trips, here are a few other must-buys from my grocery hauls:
Fruit (their plumcots—a hybrid between plums and apricots—are so good!)
Tri-colored bell peppers
Bagged arugula and spinach
Mini potatoes (perfect for the sheet pan meal I mentioned above with the kielbasa)
Everything bagels & sandwich bread
Almond milk
Grass-fed ground beef
Organic, Free-Range chicken thighs
Spicy Jalapeno Chicken Sausage
Pasta sauce (the Arrabiatta is my favorite—it has more flavor than regular marinara and a tiny bit of heat)
Olive oil
Almond butter
Applesauce
Frozen rainbow carrots (a weekly staple in our house)
Frozen turkey meatballs
ABC bars (Almond Butter Chocolate—the perfect midday snack)
Blood Orange Italian Soda
Grocery shopping is something we all need to do, and I'm grateful that a fun and friendly grocery store like Trader Joe's exists. Keeping on a weekly grocery budget is key for my family, and I hope sharing a few of our favorite items will make it easier for you on your next shopping trip. And remember, don't forget the flowers—think of them as a thank you gift to yourself for all the hard work you do.
This article was originally published on August 18, 2020, and has been updated for timeliness.