Solo grocery store trips and Target runs can feel like a mini-vacation when you're a new mom. These days, even seasoned moms may be feeling the need for alone time outside the house. Of course, we love our families, but they've also been the majority of our in-person company for the past five months.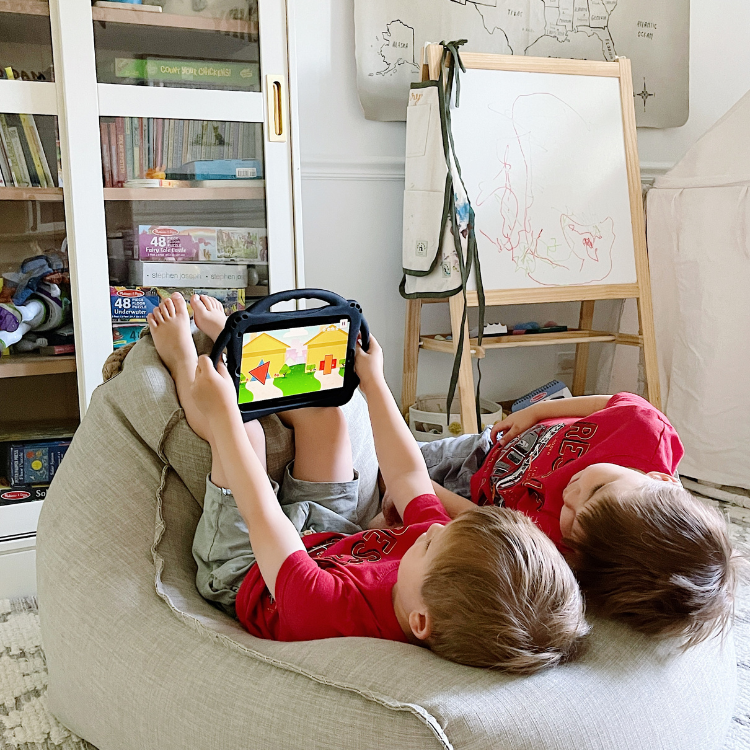 a pediatrician shares what she *really* thinks about LOs and screen time
My Trader Joe's outings were always a grocery store trip I didn't mind making, but now, I really look forward to them. Not only do the staff seem to take extra precautions in cleaning carts and monitoring the number of people inside the store, but every person I've seen—team member or customer—is wearing a mask. So, it takes some of the stress away from interacting with people outside our bubble. I suspect many others, like me, are seeking small treats and simple joys during this time, so I wanted to share some of my favorite staples, snacks, and treats from Trader Joe's.
Daily Staples
Everything but the Bagel Seasoning Blend & Dip: We go through this seasoning so quickly. And I love the dip as a snack for veggies or as a spread on a Greek chicken pita wrap.
Bag of Mini or Regular Avocados & a Bag of Lemons: Avocados end up as guacamole, in salads, or as avocado toast (topped with Everything but the Bagel seasoning, of course). I use lemons to make homemade salad dressings, to season grilled fish and vegetables, and if they're going bad, I use any extras to clean the kitchen or the garbage disposal.
Naan & Hummus: Both are versatile favorites. We use the naan for sandwiches, dips, make-your-own pizza crust, and more. The Mediterranean-Style Hummus is another family favorite for snacking or using as a sandwich spread.
Snacks for the Kids (That I Love Too)
Snacks (and maybe frozen meals) are where Trader Joe's truly shines in my opinion. Since the stay-at-home orders, our family's snack consumption has definitely increased. Here are a few I buy for the kids, but I eat them too.
Treats Just for Me
Coffee Fixings: Trader Joe's helped me perfect my at-home iced vanilla latte earlier this summer—a Nespresso iced-coffee pod, cold foamed Oat Beverage, and a splash of their Coconut & Almond creamer served over ice.
Wine & Cheese: Trader Joe's cheese selection section may be my favorite part of the store. Do I want fresh mozzarella for caprese? Feta for scrambled eggs and salads? Or a new cheese to try for at-home happy hour? I can't say enough good things about their Tribunal red blend—including that it's a wine under $10.
I've also been loving the Shell House brand hard seltzers for an alternate summer beverage, especially the Pomegranate flavor.
Sweet Treats: Ok, so sometimes I share these two favorites with my kids. Both are perfectly portioned for after dinner (or afternoon) treats. But I always buy a few boxes of the Hold the Cones in a variety of flavors so I can keep the chocolate on chocolates for me.
Beauty Products
I used to skip the skincare and cleaning at Trader Joe's until I ran out of face moisturizer and decided to grab their Enrich lotion with SPF 15 on a whim. Now, I'm on my second summer using Trader Joe's Enrich as my daily face moisturizer, and I've branched out to try other Trader Joe's skincare options.
Sunscreen: I've been using this Mineral Sunscreen Stick on my kids' faces all summer and just bought the mineral sunscreen spray to try as well.
Skincare: I'm hopeful these two products can replace my more expensive skincare options for hyaluronic acid and exfoliation. I just started using them and love the texture so far. Since they're both relatively inexpensive, it doesn't cost much to try them out.
This shaving cream goes on almost like a lotion versus a foaming shaving cream, but the honey mango scent smells like a vacation to me, so I've continued using and buying it.
Soap and Hand Sanitizer: I keep the large handsoap in my kitchen and the foaming hand soaps in the bathrooms because my kids just have an easier time using it. I like how the Lavender Chamomile scent smells like clean laundry too.
I grabbed this on my most recent trip. I love the convenience of a sanitizer spray to have in my purse or in the car. The scent is polarizing; my cousin says it smells like "bad decisions from college," but I think it smells fresh and citrusy.
Flowers & House Plants
It's hard to walk past the fresh stems and houseplants at Trader Joe's. Buying fresh flowers, finding a little fiddle leaf fig, or sweet succulent can help brighten your day too.