Art, music, creativity, peace, and love were the pillars of the 1970s. Like any decade, it had some trying times, but overall we can look back on the decade with a smiley face sticker and our fingers out in a peace sign. Plus, fun revivals of 1970s culture are everywhere we look: from crocheted tops to bell-bottom pants to new '70s-inspired series (shout out to Daisy Jones!) And the variety of music that came out in the '70s paved the way for many of today's great artists.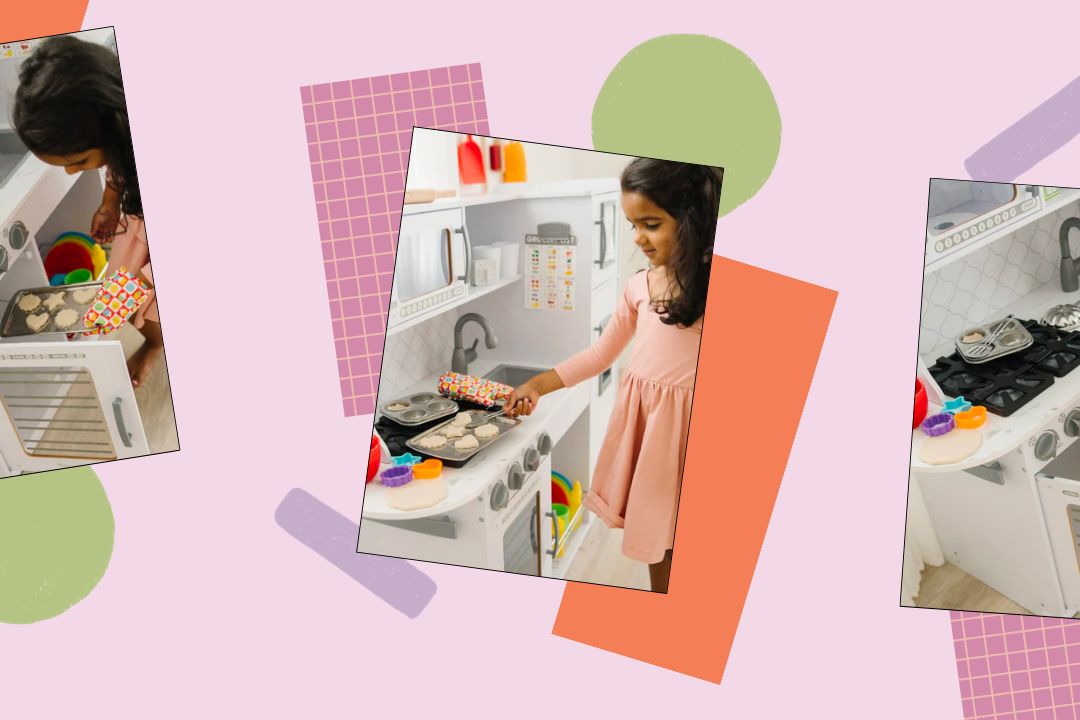 While we haven't ventured back into the realm of pet rocks just yet, the influence of the 1970s is going away anytime soon. So why shouldn't we draw baby name inspiration from the decade too? Read on for 70+ of the grooviest (and our favorite) '70s-inspired baby names that are so totally far out. Nothing but peace, love, and rock 'n' roll ahead!
'70s Inspired Baby Names
'70s Inspired Girl Names
Angie
Angie, ain't it time we say goodbye? Classic rock fans will recognize this name as the title of the tune by The Rolling Stones.
Beth
Similar to "Angie" is this 1796 ballad by Kiss. Beth, I hear you calling—to tell you to choose this beautiful name for a baby girl. Of course, Beth is one of the many ways to shorten Elizabeth, a mainstay on the list of most popular girl names.
Daisy
We re-loved this name all over again after watching the new series Daisy Jones & the Six, and are pleasantly reminded of the iconic role of Daisy Duke in Dukes of Hazzard that aired in 1979. Daisy is a great baby name to consider that is both music and spring-inspired.
Dawn
When we hear the name Dawn, imagery of light and daybreak, of course, comes to mind. The culture in the '70s aspired for love and lightness, making this a beautiful name inspired by the time period.
Diana
Few pieces of pop culture have as much of a cult following as Wonder Woman. The series first hit television screens back in 1976 and fans have been naming their little girls after the Princess of the Amazons ever since Lynda Carter's renowned portrayal.
Donna
For those of us who didn't actually grow up in the 1970s, we got a peek into the far-out vibes of the decade by watching That '70s Show. We're, of course, drawing inspiration from the lovable redhead of the series, Donna Pinciotti.
Farrah
The Charlie's Angels bombshell that is Farrah Fawcett is more than just a gorgeous head of feathered hair. The actress was a star in several movies and TV shows throughout the decade and beyond and remains an icon to this day.
Florence
Take a look back into 1970s pop culture and you'll see more Florences than you realize. Our favorites are Florence Henderson who starred in The Brady Bunch and the spunky character, Florence Johnston, from The Jeffersons.
Hope
Hippie culture was all about hope for a brighter future. This simply lovely name holds both Biblical ties and represents peaceful ambitions.
Jamie
This name was a popular choice for little girls born in the 1970s. We have no doubt this was at least partially influenced by the popularity of the rock band Van Halen and their song "Jamie's Cryin'."
Laverne
The '70s were a great time in history for witty sitcoms, including the popular Laverne & Shirley. Inspire your little girl to grow up to have strong friendships by choosing this vintage baby name for her.
Leia
The original Star Wars premiered in 1977 and the world hasn't been quite the same since. Fans of the series can draw baby name inspiration from the original Princess Leia played by Carrie Fisher.
Love
Peace and love were what the hippie generation was all about. Any fans of the Netflix series You also saw this name being used for one of the main female characters. This also makes for a sweet middle name option—think Jennifer Love Hewitt.
Marigold
Flower power was the name of the game in the '70s, and this name embodies that belief to a tee. Marigold also holds the beautiful meaning of 'golden flower.'
Melody
Music was constantly in the air in the '70s, so it's only right to include this lyrical name meaning 'song.' We know a little girl with this name will let her voice be heard.
Simone
Fans of Daisy Jones & the Six will recognize this as the name of Daisy's good friend. The disco queen holds a name that fittingly means 'hear' or 'listen.'
Tracy
Holding a spot on the top 50 baby girl names throughout the 1970s is this confident name meaning 'fighter.' Fans of The Patridge Family grew to adore this name because of the youngest sibling.
The Most Popular Baby Girl Names in the 1970s
In addition to Elizabeth, these were the most popular names for little ladies born in the 1970s, according to the Social Security Administration.
Jennifer
Amy
Melissa
Michelle
Kimberly
Lisa
Angela
Heather
Stephanie
Nicole
Jessica
Rebecca
Kelly
Mary
Christina
'70s Inspired Boy Names
Archie
We saw this name in headlines recently as the name chosen by Prince Harry and Meghan Markle for their newborn son. While partially popularized in the 1970s thanks to the character Archie Bunker from All in the Family, we expect even more of a revival for this classic name.
Bobby/Robert
It may be hard to find a name more fitting for a list of '70s-inspired baby names than Bobby thanks to all of the pop culture references behind it. We had characters named Bobby in beloved '70s TV shows like Dallas and The Brady Bunch. Not to mention Janis Joplin's "Me and Bobby McGee".
Danny/Daniel
Giving Bobby a run for its money is Danny (the '70s sure liked their -y names!). We know him as another beloved member of the Patridge family, one of the ultra-cool T-birds in the movie Grease, and the title of Elton John's 1973 hit song.
Duke
Take a wild ride down memory lane with this name inspired by the good ol' boys of Hazzard County.
Freddie
Just like the lead singer of Queen, and the series we all know and love, Scooby-Doo, this name without a doubt transcends generations.
Jackson
While there are plenty of influential Jacks and Jacksons out there, we were particularly inspired by a famous children's music group that was wildly popular in the 1970s. Of course, we're thinking of none other than The Jackson Five.
Jimmy
Inspiration for this name can be drawn from two very different sources. Classic rock enthusiasts will quickly equate it to the lead singer of "Stairway to Heaven" artists, Led Zeppelin, while others may be reminded of our 39th president, Jimmy Carter.
Lionel
The one and only Lionel Richie began his wildly successful music career in the late 1970s and has been inspiring listeners ever since. Plus, we love that this fierce name means "little lion" and is perfect for the newest little cub in the family.
Marlon
I'm gonna make him an offer he can't refuse—choose this baby name, you won't regret it! Here we're drawing inspiration from the one and only Marlon Brando, who starred in several hit movies from the 1970s, like The Godfather and Apocalypse Now.
Michael
Throughout most of the 1970s, Michael was the number one most popular baby name for boys. It's no wonder Ashton Kutcher's character in That '70s Show, affectionately known as Kelso, held this first name.
Waylon
Country music fans know him as one of the founding fathers of outlaw country music. Many artists, spanning many genres, credit Waylon Jennings for his influence on the music industry. His music reigned supreme all throughout the decade.
Wilder
Nature and hippie culture go hand in hand—like the trees, forest, sun, moon, and stars. This name meaning 'wild' or 'untamed' ties to the great outdoors and all that there is to be appreciated in the wilderness.
Ziggy
The '70s as we know it wouldn't be the same without the legendary David Bowie. This moniker was used by Bowie as his alter ego since early on in the decade. Fans to this day can draw inspiration from this influential artist and have their very own Ziggy Stardust. Those who grew up in the 1970s might also recognize Ziggy as the title character in a popular newspaper comic series.
The Most Popular Baby Boy Names in the 1970s
In addition to some of the picks above, these boy names were all part of the decade's top 20 most popular names for boys in the '70s, according to the Social Security Administration.
Christopher
Jason
David
John
Brian
William
Matthew
Joseph
Kevin
Eric
Jeffrey
Richard
Scott
Mark
Steven
Gender-Neutral '70s Inspired Baby Names
Billy/Billie
We're all in the mood for a melody, and you've got us feelin' all right. We can, of course, thank Billy Joel for this catchy tune that came out in 1973. Movie buffs can also draw inspiration from the Billy Jack films that were popular throughout the decade and into the 1980s.
Charlie
Like Farrah, we can draw inspiration from Charlie's Angels with this recently made gender-neutral name. The crime drama series was a hit like none other started in 1976.
Dylan
Should you consider using this far-out baby name? The answer, my friend, is blowin' in the wind. Though he released this particular song a decade early, Bob Dylan was a huge name in music in the 1970s.
Harrison
While we still get to see him play legendary roles to this day, actor Harrison Ford began making a name for himself in the 1970s. We love this British name that quite literally means 'son of Harry.'
Jackie
As a quintessential gender-neutral name, we had to include Jackie on our list of '70s-inspired baby names. Not only were we inspired by the world's most lovable brat, Jackie Burkhart from That '70s Show, but we also looked to the man who changed the world of baseball, Jackie Robinson.
James
The 'Godfather of Soul,' James Brown, who dominated throughout the '60s and '70s had to be included on our list. Seen typically as a masculine name, parents have been loving this name for baby girls in recent years (and so have we!).
Peace
The '70s were right in the midst of the Vietnam War era, and with so many against fighting in another deadly war, the idea of peace was at the front of everyone's mind. When we hear this name we can't help but picture all things tie-dye and peace signs.
Ryan
Known as one of the greatest baseball players of all time is pitcher Nolan Ryan. He spent the 1970s breaking records and making a name for himself that would stick around for decades in the world of baseball.
Sonny
We know you won't be able to help but sing I got you babe to a little one of this name. This sweet baby name is inspired by one-half of the pop duo, Sonny & Cher who were highly popular in both the '60s and '70s.
Stevie
We of course had to include the queen of rock 'n' roll on our '70s-inspired baby names list, Stevie Nicks. Music lovers of all kinds still rock out to the hits of Fleetwood Mac to this day.
Taylor
It's no surprise that we were inspired by one of the best-selling artists of all time, James Taylor, who had hit song after hit song all throughout the 1970s.
Tyler
The 1970s wouldn't be the same if it wasn't for the rock group, Aerosmith, and we have Steven Tyler to thank for that. Plus, anyone familiar with '70s pop culture will recognize this name because of The Mary Tyler Moore Show.
Zephyr
With notes to the rock band from Colorado and the great outdoors, this name meaning 'west wind' is one we can totally jive with.