There's no time quite like spring. As the snow starts to melt and the sun peeks out a bit more, we feel a renewed sense of energy and excitement. With everything starting to look a little less gray, flowers and plants beginning to regrow, and animals coming out of hibernation, we can't think of a better season to draw inspiration from.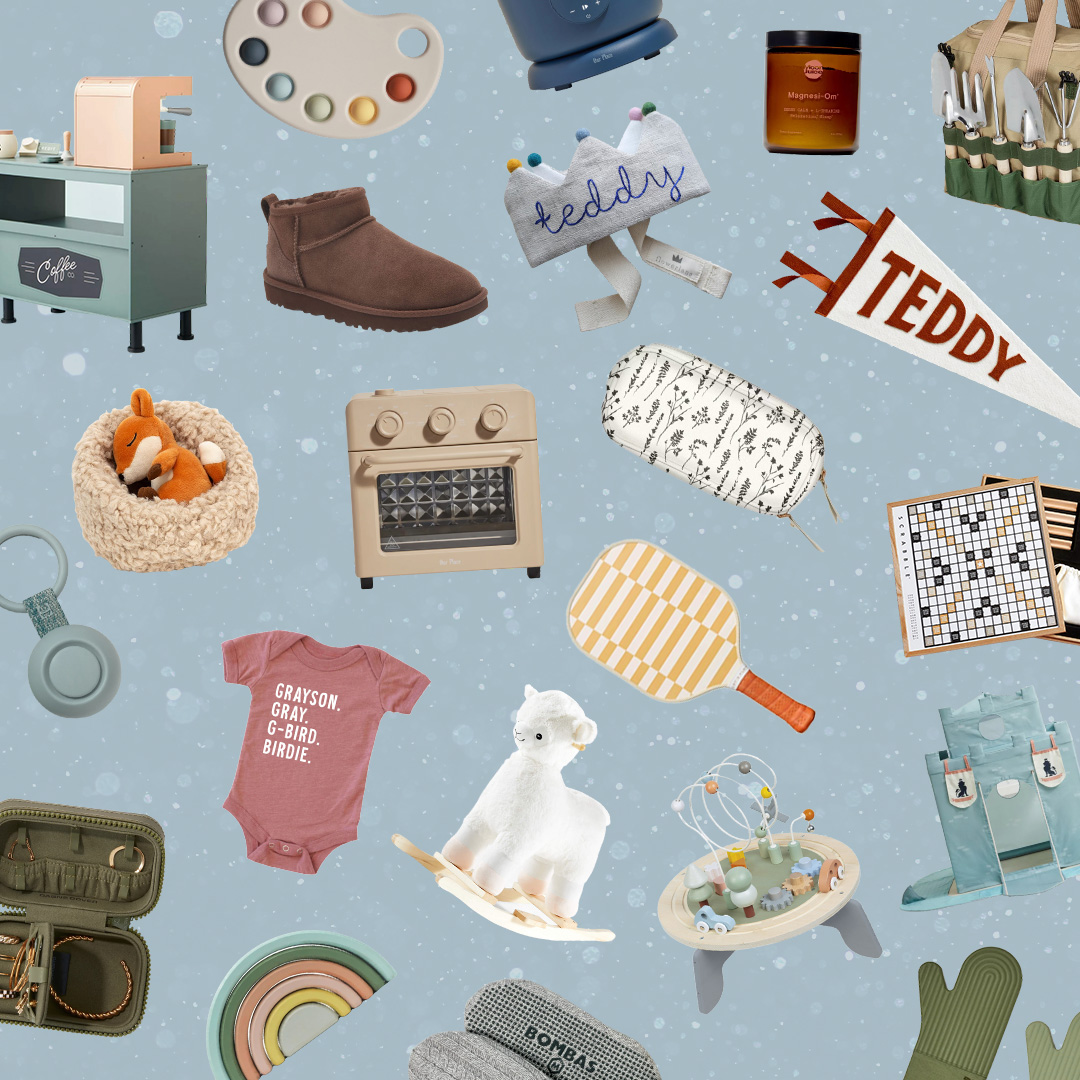 everything you need to ace holiday gifting this year 🎁
When it comes to picking out a baby name for your newborn, we can use all the inspiration we can get. There are endless options, and so many routes to go with: cute names, names inspired by pop culture, vintage names, or even something beautifully unique. When we think about all of the lovely aspects of spring, we couldn't help but notice that there are several facets of the season that would pair perfectly with the adventure of having a newborn.
With springtime comes the best of both worlds: lovely flower-like names like Daisy and Marigold, as well as strong forces of nature like Wolfe and Hunter. The possibilities can go on and on, but we wanted to make sure to give you just the right amount of inspiration by gathering 40+ of our favorite spring-inspired baby names.
Baby Girl Spring-Inspired Names
April
As the first full month of spring, it's only right that this beautiful name lands a place on our list. This name with Latin origins refers to fertilization, which makes perfect sense as spring is a time for everything to begin to grow. Your little one can embody growth and renewal with this lovely name.
Aurora
One of the most captivating names on our list both means 'dawn' in Latin and references the natural phenomenon of the Northern Lights, also known as the Aurora Borealis. With ties to Roman mythology, Aurora was also the goddess of the dawn. If you want your little girl to embody light and brightness, consider naming her Aurora.
Birdie
Originally used primarily as a nickname, Birdie came on everyone's radar as a first name when actress Busy Phillips named her daughter this after being inspired by Former First Lady, Lady Bird Johnson. Of course, this Swedish name holds the meaning of 'bird,' and we can't think of anything more quintessentially spring than chirping birds.
Brooke
Of English and German origin, this popular name means 'water' or 'small spring.' You may be familiar with the name because of the famous actress Brooke Shields. While historically seen as a gender-neutral name, it reached its highest levels on the list of baby girl names in the 1980s when it dropped significantly in popularity for boys.
Clover
You'll see plenty of floral references on our list, but Clover, meaning 'meadow flower' is certainly one of the most unique. If you counted your lucky stars the day you found out you were pregnant, naming your little one Clover after the symbol of 'luck' may be just the right choice. The name is a more modern take on floral-inspired names and has been increasing in popularity, but it hasn't reached the top of the charts quite yet.
Dahlia
It doesn't get much lovelier than a name meaning 'flower of the valley' and symbolizing beauty, commitment, and kindness. Inspire all of these wonderful qualities in your little girl by naming her after the Dahlia flower. The name became relatively popular in 2021 and hasn't lost steam yet.
Daisy
Our minds can't help but go to The Great Gatsby when we hear the name Daisy, but you might also be reminded of the wonderful new TV series and book, Daisy Jones and the Six. We expect this name meaning 'day's eye' to increase significantly in popularity this year.
Flor
This lovely, one-syllable name embodies springtime as it means 'flower' in Latin. Just unique enough, Flor reached its highest popularity in 2005 and has been slowly descending since.
Flora
For a spring name that has been used again and again in literature but hasn't been overly popular in recent years, consider naming your little one Flora. Also meaning 'flower,' characters named Flora have been seen in The Turn of the Screw, Waverly, and Sleeping Beauty.
Florence
To raise a little girl who can't help but prosper in life, the name Florence might just be the perfect choice. With Latin origins, this feminine name means 'blossoming,' 'flourishing,' and 'prospering.' After staying consistently in the top 500 baby names until the 1950s, the vintage name took a significant dip in 2009 but is slowly increasing in popularity once again.
Freya
Some of our favorite names are a mixture of modern and traditional, and Freya does just that. This name, meaning 'noble woman,' comes from old Nordic mythology as the goddess of love, beauty, and fertility. The name didn't reach the Social Security Administration's list of the top 1,000 baby names until 2013, making this a beautifully unique option.
Goldie
Your little one is sure to always find the pot of gold at the end of the rainbow with this Yiddish name meaning 'gold.' Traditionally seen as a nickname in the 1800s, we've seen Goldie used as a first name just a handful of times in recent years. In 2013, Steve Madden and his wife welcomed a baby girl and named her Goldie Ryan (so cute!).
Hazel
In the 1880s, there was a surge of botany-inspired names and this name referring to the brown color of hazel trees was one of them. After nearly a century of not being on the radar, Julia Roberts named one of her twins Hazel, which potentially led to the rise of its popularity in the early 2000s. We've also seen the name in pop culture as one of the main characters of John Green's The Fault in our Stars. The name broke into the top 50 baby names in 2020.
Iris
It doesn't get much more spring than a name from Greek mythology that means 'rainbow.' This elegantly mythical name had its most popular ranking on the SSA's list in 2020, coming in at number 127.
Jasmine
If you see your little girl as a 'gift from God,' Jasmine might be the best name for her as it gets this meaning from Persian origin. Also referring to the jasmine flower, we've seen the charming name used in Disney's Aladdin. As of 2021, it was within the top 200 baby names on the SSA ranking list.
June
This sweet and simple name, which means 'young' in Latin, refers to the warm weather month. Since the 1880s, the name has been steadily popular but has never reached the top fifty. Perhaps the most well-known June is the wife of the one and only Johnny Cash, June Carter Cash.
Magnolia
Bringing to mind the beautiful Magnolia tree and its flowers, this name has Latin roots and means 'of great excellence.' After remaining uncommon for much of the 20th century, the name saw a resurgence in the early 2010s, likely due to the popularity of the TV show Fixer Upper.
Marigold
Meaning 'golden flower,' Marigold has been seen in English novels, children's books, and the popular period piece Downton Abbey. The name remains outside of the top 1,000 names, making it an uncommon and lovely choice for a spring-inspired baby name.
May/Mae
If April showers bring May flowers, you may want to add this to your list of baby name options. Fittingly meaning 'the fifth month,' this name is also shared with the Roman earth goddess. While very popular in the early 1900s, May has not held a high ranking on the list of baby names within the last 20 years.
Meadow
Pay homage to the days of free love and hippy culture with this name that was popularized in the 1960s and 70s before Meadow was known as Tony Soprano's daughter in The Sopranos. Raise your very own flower child with this earthy name meaning 'grass' and 'vegetation.'
Nora
For a name with an extensive history and a number of origins, Nora is a delightful option. In Arabic, Greek and Hebrew, the name means 'light,' while Latin origins tie it to 'honor.' We happen to think you can't go wrong either way. As of 2023, Nora is ranked 96th in popularity.
Poppy
With symbolism as beautiful as the flower the name comes from, Poppy represents sleep and peace. After a record low in 1993, Poppy is slowly increasing in usage but still ranks fairly low on the list. For a spring-inspired name you won't see on every attendance list, consider Poppy.
Rose
Referencing the most romantic flower, Rose may just be one of the most beautiful names on our list. As beautiful as it is, it hasn't been a favored name since the early 1900s.
Sahar
In true spring fashion, this lovely Arabic name means 'dawn,' 'morning,' and 'awakening.' While more common in Persian-speaking and Muslim countries, this would be a beautiful name to see make its way up on the SSA popular baby names list.
Vida
Celebrate the fact that you created life by naming your little one this Spanish name meaning 'life.' It has not found a spot on the list of the top 500 baby names, but we don't see why such a sweet name shouldn't.
Willow
Popularized in recent years by Jada and Will Smith, but also recognized for its inspiration from the charming willow tree found in many wilderness areas, comes this dreamy, elegant name. Yet to reach the top 100 of baby names, this earthly option is a wonderful choice for a spring-inspired baby name.
Wren
Welcome your 'little bird' by gifting her a name of the same meaning. Slowly growing in popularity in the last decade, this uncommon name has a natural beauty that can't be denied.
Baby Boy Spring-Inspired Names
Albert
You may have seen this classic name all over the place, like Albert Einstein and Albert Lee, but you may not know that it means 'noble' and 'bright' due to its German origins. After being incredibly popular in the early 1900s, it dropped significantly on the popular baby names list. But, like all vintage names, we have no doubt it will make a resurgence at some point.
Bear
As one of the most powerful names on our list, naming your little cub Bear will all but ensure he grows to be strong, brave, and loyal. Though it's never been an abundantly popular choice, actress Kate Winslet chose the name for her son in 2013. It's certainly a strong spring-inspired name to consider.
Denver
It may be impossible to hear the name Denver and not picture the city situated by the impressive Rocky Mountains of the US. The name is of French and Old English origin and holds the meaning 'green valley.' Your little one is sure to grow to be an adventurer with a name as daring as this.
Jay
Though the name is short, its meaning in the Hindu culture embodies strength and courage. Meaning 'victory,' Jay may often be seen as a nickname, but is a bold option on its own. Throughout the last century, it has stayed a favored option for newborns, with an avian nod to spring.
Lambert
Just as spring brings sunshine and lightness, the name Lambert holds the meaning of 'light of the land.' While often seen as a surname (think Adam Lambert), its use as a first name was a prominent option throughout the early 1900s.
Ridge
Give your little guy the strength of the mountains by naming him Ridge. The name holds the meaning of 'continuous elevated mountain crest,' and has British origins. The vintage name has increased in popularity since 2015.
Silas
If you want to capture the peacefulness of nature, consider the name Silas—one that means 'of the forest.' While only mildly popular in the 1950s and 60s, Silas shot into the top 100 baby boy names for the first time in 2021.
Sonny
This may be one of our favorite names on this list as it not only embodies the warmth of the sun we all long for in the spring, but also reminds us of Cher's late singing partner and the music they made together. Let your little babe know you've always got them by choosing this name that, unsurprisingly, means 'son.'
Wesley
With the lovely meaning of 'western meadow,' this name of British origin is a great option for a spring-inspired boy name. While traditionally used to honor the founder of Methodism, John Wesley, the strong name can perfectly suit any little one.
Wilder/Wylder
Expectedly, this masculine German name means 'wild.' Often seen as a surname, Wilder has been growing in popularity in recent years. For a name that encapsulates strength, freedom, and fierce nature, this is a great option.
Wolfe
Another masculine German name, Wolfe expectedly holds the meaning of 'wolf.' Wolves are known to be devoted to their pack—playful, and loyal. We can't think of better characteristics for a little one to grow into! So far, this name has never reached the top 1,000, making it a notable option for your spring baby.
Gender Neutral Spring-Inspired Baby Names
Hunter
Inspire your little one to pursue the things they want in life by giving them a name that means 'one who hunts/pursuer.' This earthy name is a commanding option for both a boy and a girl and has been a favorite in the US since the late 1800s for boys and the 1990s for girls.
Oakley
Raise a nature lover by giving them this Earthly name of British descent that translates to 'meadow of oak trees.' Wildly popular in the early 1900s for boys, the name saw a decline in traction in the 70s and 80s. Since then we've seen a significant resurgence in the name for both boys and girls, including the alternate spellings Oakleigh and Oaklee.
Parker
Meaning 'park keeper,' this name embodies spring and being a caretaker. Your little Parker will feel right at home in nature with this British name that has gained popularity for both genders since the turn of the century.
River
While literally meaning a 'flowing body of water,' River also symbolizes freedom. Give your little trailblazer encouragement to pave their own way with this powerful name. Originally seen as a masculine name, River has become more and more common for little girls as well. Singer Kelly Clarkson named her daughter River Rose in 2012.
Robin
We've all seen our fair share of Robins in pop culture—Robin Williams, Batman and Robin, Robin Hood, the list goes on. Sharing a name with the American bird, Robin holds the German meanings of 'bright' and 'shining.' After reaching its peak popularity in the 1960s, according to the Social Security Administration, its usage has fluctuated, but we can't think of a better time to bring it back.
Sky
For a name that elicits beautiful imagery whenever spoken, consider this out-of-this-world Scandinavian name meaning 'atmosphere seen from Earth' for your little one. Though it's never reached high levels of popularity for boys or girls, it is a sweet spring-inspired baby name to keep on your radar.