Picking out the perfect name for a newborn is one of the first important decisions parents make. It's something that will stick with our baby more than likely for the rest of their life. No pressure, right?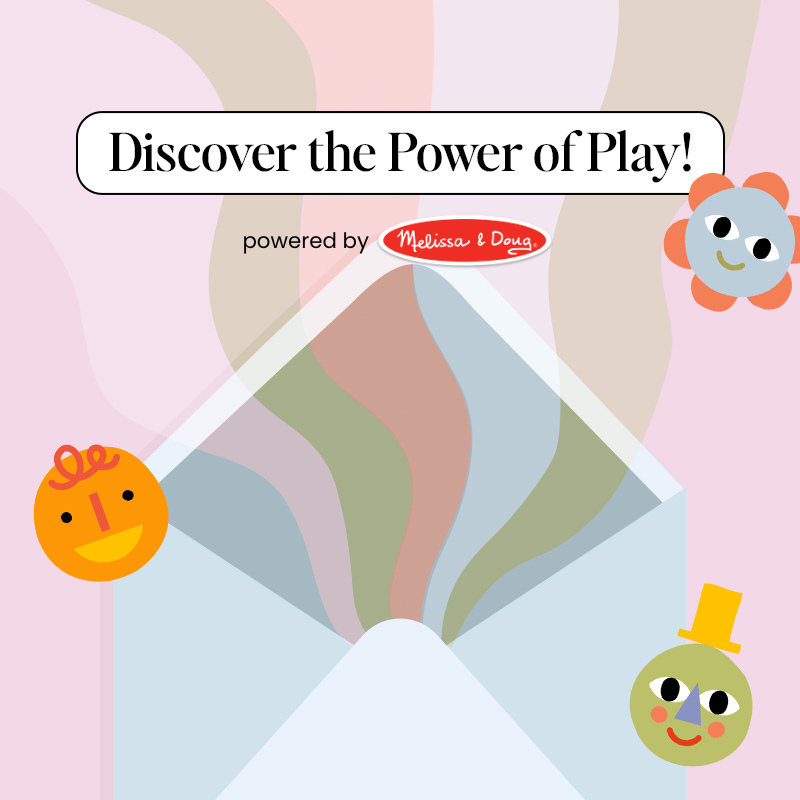 make the most out of every moment with your little one
Some of us may have had a baby name picked out for several years. Maybe we've been inspired by the changing of the season or the characters of our favorite TV shows. Or maybe we've always known we want to go the vintage route. At any rate, many of us have probably spent a significant amount of time picking out the perfect first name for our little one.
What may have gotten pushed to the side during our pregnancy—because, let's face it, we had a million other things on our mind—is finding a middle name that's just as perfect. While finding the one name among all names might feel harder than trying to remember what we had for dinner last week, it is possible to nail down a middle name we love.
Here we're sharing everything you need to know for the best middle names for babies, including things to consider, tips for picking the perfect one for you, and all the inspiration you could want.
The Best Middle Names for Babies
Best Middle Names for Baby Boys
Booker
Meaning 'scribe,' this unique name is perfect for writers, readers, or anyone with a love for words. You may think of the famous Booker T. Washington who was an African American author, educator, and presidential advisor in the 1800's and into the 1900's. Talk about inspiration!
Crue
As you welcome a new member of your familial team, consider using this middle name that means 'crew' or 'team.' Classic rock fans may also appreciate the tie this name has to the legends of band Mötley Crüe.
Damon
If you want to draw inspiration from the hit 2000's television drama The Vampire Diaries, we won't judge—and know you'll be in good company. This commanding name of Greek origin means 'one who tames.'
Jackson
You don't have to be a resident of Mississippi to appreciate this timeless name. Literally meaning 'son of Jack,' this is a great middle name option to pay homage to an influential Jack in your life. Even if you don't know any, you can draw inspiration from well known Jackson's like Andrew and Pollock.
McCoy
Often seen as a surname, this masculine title of Scottish and Irish origin means 'fire.' Babies with this middle name will share it with country music legend Neal McCoy. We picture this name pairing nicely with a first name with three syllables, such as Anthony.
Knox
Also derived from Scottish origin is this name meaning 'round-top hill.' Knox rose in popularity as a first name back in 2008 when Brad Pitt and Angelina Jolie used this name for one of their twin boys. But, it's been a strong option for both first and middle names since the 13th century.
Liam
For many, this name will stir up images of Miley Cyrus' ex Liam Hemsworth. No matter what we think of the actor's current reputation, we can't get enough of the Irish name meaning 'helmet of will' or 'protection.'
Marcel
Think of this as a name fit for a 'young warrior.' Exuding incomparable strength, this name comes from Ancient Greek origins stemming from the names Marcus and Marcellus. Fans of The Vampire Diaries spin-off series The Originals will equate this name to a noble leader who is always just and fair.
Sawyer
Any readers among us will recognize this name from one of Mark Twain's greatest pieces of work, The Adventures of Tom Sawyer. For a little adventurer, consider using this title that means 'woodcutter.'
Turner
Originating from Normandy, France, this classic surname holds the meaning of 'woodworker.' Raise a hard worker by bestowing him with this powerful name.
More Middle Name Ideas for Boys
Benjamin
Cole
Daniel
Ethan
Henry
John
Luke
Marcus
Oliver
Thomas
Best Middle Names for Baby Girls
Colette
For raising a strong little girl, consider giving her this title that means 'people of victory.' With two syllables, this name would pair nicely with a first name of either one or three syllables, like Hope or Madison.
Estelle
Of Latin origin, this girls name will fit well for the little 'star' of your life. We love that while this name sounds like it is historical, it's actually only been around since the 19th century.
Fay
For an ultra-feminine middle name, look no further. Meaning 'fairy,' this short but sweet middle name would fit perfectly with a longer first name like Delilah or Addison.
Grace
This name continuously tops the charts of popular girl middle names for a good reason. Not only does its one syllable sound make it fitting for pretty much any name combination, but who doesn't want their daughter to grow up to exude 'simple elegance'?
Glynn
For a name that is just as unique as it is lovely, we love Glynn. This Welsh name means 'valley of water,' and is a great option for something a little less common. We think it works perfectly with a first name like Hannah.
Josephine
A top 100 baby girl first name in the early 1900s, we believe this lovely name of Hebrew origin would make a just as lovely middle name. Pair it with a short first name like Eva or May for a name combination that's both timeless and beautiful.
Maya
This sweet name has more diverse origins that you may have thought. Tying back to Hebrew, Spanish, Greek, Hindu, and Polynesian origins, this name holds the meaning of 'illusion' or 'dream,' as well as 'courage' and 'bravery.'
Rose
Consistently a popular choice for baby girl middle names, Rose, of course, reminds us of the romantic flower. This one syllable name pairs nicely with pretty much anything, including names like Olivia and Elena.
Reese
It might be impossible to not think of American actress Reese Witherspoon when hearing this name, but who says that's a bad thing? We couldn't be more excited about this name that means 'enthusiasm.'
Sabine
Drawing back to a fierce Italian tribe known for their protective nature, Sabine is one of the strongest on our list of the best middle names for babies. We think it would make a lovely pair with a short first name like Ava.
More Middle Name Ideas for Girls
Claire
Elsa
Fleur
Hazel
Isabella
Marie
Maeve
Nicole
Pearl
Scarlett
Gender-Neutral Middle Names
Arbor
Nature enthusiasts will love this mighty name meaning 'tree.' With unique names, it can be fun to use alliteration by pairing it with a first name that also begins with 'A' (without rhyming too heavily). Think Annabelle Arbor or Asher Arbor.
James
We love that this classically masculine name has made a name for itself on the baby girl's list in recent years. While we think it's a stunning first name as well, we love it as a middle name paired with a first name like Harper.
Jude
Make The Beatles proud by drawing inspiration from one of their most popular tunes. A Hebrew name meaning 'praised,' this name is beautifully suitable for a baby of any gender.
Kit
From celebrities like Kit Harrington to Eartha Kitt, this snappy gender-neutral name is a great option. Fun, short, and sweet, it would pair perfectly with a longer first or last name.
Lane
Meaning 'path' or 'roadway,' we can use this name to always remind us to guide our little ones. We've heard it time and time again in pop culture, from "Penny Lane" to Lane Kim from Gilmore Girls.
Monroe
While traditional seen as a masculine title, Monroe has won the hearts of girl moms in recent years as well. Inspired by two well-known individuals, James Monroe and Marylin Monroe, this name is sure to withstand the test of time.
Rhode
Meaning 'rose,' this name also elicits imagery of the roads we travel on. You may be familiar with it as the middle name of the American model and spouse of Justin Bieber, Hailey Rhode Baldwin, and the name of her skincare line.
Scout
Literary fans will quickly tie this name to the noteworthy novel by Harper Lee, To Kill a Mockingbird. Not only does the name mean 'to listen,' the word 'scout' often holds an adventurous connotation. Raise a little explorer by donning them with this unique middle name.
Shae or Shay
With Gaelic origins, this name means 'admirable' and 'fortunate.' Bring forth good fortune and honorable qualities for your little one with the help of this name. Plus, each time we hear it, we're reminded of the stunning Canadian actress Shay Mitchell.
True
A name meaning 'real' and 'genuine' is sure to bring good qualities to anyone who holds the title. You may be familiar with it as the first name of Khloé Kardashian's first child.
More Gender-Neutral Middle Names
Banks
Cameron
Drew
Ezra
Finley
Indy
Lennon
Peyton
Reid
Tatum
Factors To Consider When Choosing a Middle Name
Cultural Significance and Family Heritage
Choosing the best middle name for babies is the perfect time to consider something that is tied to your family heritage or culture. Dig up that old family tree or head to Ancestry.com to see if there are any names that stick out to you. If those older names aren't your thing for a first name, there might be some great middle name inspiration hidden somewhere. Of course, you can also choose to honor someone who has had significant impact on you life by giving your baby their name—or their surname.
Picking out a middle name is also a great time to consider cultural significance. Choosing a middle name that ties back to your family's cultural background is a great way to honor your heritage.
Meaning and Symbolism
It's no surprise that words have meanings. Picking out a name that has significance or symbolism to your life is a great place to start. For example, if you have a love for the great outdoors, draw inspiration from nature with a middle name like Forrest, Aspen, or Wren.
Sound and Compatibility With First and Last Name
For all of us who like to look at the facts, there actually is a science behind choosing the best middle names for babies. For the best sounding name combinations, we'll want to use names with different amounts of syllables. In this case, if we choose a name like Josephine that has three syllables, we'll want to pair it with something that has one or two syllables, like Grace, to avoid a mouthful. Also consider the number of syllables in baby's last name and try to have a variation in the number of syllables throughout the full name. We also may suggest avoiding names that rhyme too closely or have too many repetitive sounds.
Popularity and Trendiness
Whether you want to stay on the trendy side or not, it can be beneficial to know the popularity of the name you're choosing. Luckily, each year the Social Security Administration puts out a list of the most popular baby names for boys and girls. We can consult this to determine the current popularity of any name we consider using.
Tips for Choosing the Perfect Middle Name
Ask Family Members for Suggestions
If you want a familial middle name, there's no better resource to turn to than your family. While taking a peek at the family tree can be a great resource, your family members may have even more knowledge of your relatives and heritage, such as nicknames that you could transition to a middle name.
Keep Future Implications in Mind
You may want to consider things like what the baby's initials will be or potential nicknames that could stem from their names. If a baby's first and middle name both start with 'J' but you're not a fan of the nickname JJ, you may want to avoid the combination. Similarly, you may not want a baby's initials to be a common acronym, like 'FBI,' that will easily be associated with the term.
Choose the Name You Love
When it really comes down to it, there are no rules to follow with middle names—or any baby names for that matter. While we don't recommend pulling a Phoebe Buffay and going with Banana Hammock, you should take advantage of the creative freedom here and pick a name that you love. We also like to point out that having two middle names is more common than you might think. If you have two family members you'd like to honor with your baby's middle name, go for it!