As a member of the AAPI community, growing up in the '90s, it was difficult to see yourself reflected in the content available. I think I might have been an adult before I saw a South Asian representation on a screen who wasn't Apu from The Simpsons.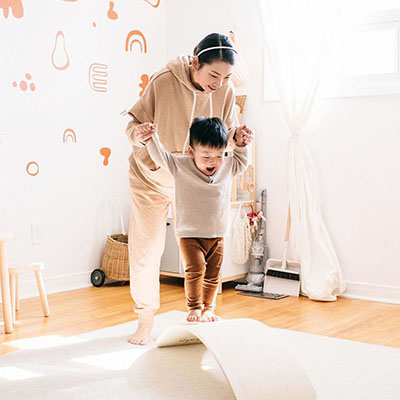 If your kid is turning 2, get ready for hilarious conversations, much more involved play, and lots of sweet, sloppy kid hugs and kisses. As for what you'll need? Leave that to us.
Now, there are so many more wonderful movies out there featuring a diversity of characters parents can choose to watch with their children. Stories that empower and celebrate exactly who we are and what we are capable of. I've taken to watching them even without the kids because my inner child has been crying out for it this whole time. Here are some of my favorites you can share with your family.
Moana
Where to watch: Disney+
Rating: PG
This is one of my favorite Disney movies of all time. It's stunning visually but the story is also incredible. There is no prince here for the princess to fall in love with. It's a story about a young woman who is on the precipice of leadership and realizes that she has to save her people, even if her father disagrees with her methods. Plus the songs are amazing and will have you bopping long after the credits roll.
Lilo and Stitch
Where to watch: Disney+
Rating: PG
Lilo, a young lonely girl, adopts a rambunctious dog, Stitch, or so she thinks. He's actually an alien experiment that's escaped from his home planet. While Stitch overturns their lives, Lilo's sister is at her wit's end, trying to raise her sister as a single parent after their parents died. But when the aliens coming looking for him, Lilo reminds everyone that they are Hawaiian and Ohana means family, and family means no one gets left behind. This movie is so surprisingly lovely. It shows us that family can mean what we want it to mean and that not everything in life will be wrapped up in a bow.
Over the Moon
Where to watch: Netflix
Rating: PG
Fei Fei is young when her mother passes away. But she has always loved the story of the Moon Goddess, Chang-e, and continues to share that bond with her mother long after she passes. As her father begins to open his life back up to the possibility of love, Fei Fei worries that her mother will be left out and decides she must build a rocket to the Chang-e and save her family unit. This movie shares Chinese folklore, and also shows how vulnerable we can all be on the precipice of big change.
Mulan
Where to watch: Disney+
Rating: G
When the imperial army calls up a man from each family, Mulan decides to step in for her injured father and join up, pretending to be a man. She finds herself in dangerous situations and constantly on the verge of being found out. But when she alone is able to uncover a plot to kill the emperor, she and her friends from the army step up and try to save China. This is a movie that has stayed with me from childhood. The songs are catchy, but more importantly, Mulan's bravery and love for her family will stay with you for a lifetime.
My Neighbor Totoro
Where to watch: HBOMax
Rating: G
This is a great Japanese classic about two young girls whose mother is sick in the hospital. When they move to be closer to her, they meet the spirits that live in their new house and the surrounding forest. It's a tale of friendship and how it can help us heal in times of trouble. It's stunningly animated and a lovely reminder of how our littles are so resilient even in the face of life's biggest hurdles.
Hanuman Da' Damdaar
Where to watch: Disney+
Rating: G
This animated tale tells the story of how Hanuman came to be. If you are unfamiliar, Hanuman is a god in the Hindu religion. He is a fierce warrior and a helper to Lord Rama. But how did he become the adult we know and love? Through this movie, we see the trials and tribulations that Hanuman overcame to become the god that we love today. This movie is so cheeky and fun. It's a great reminder that even the greatest warriors had humble beginnings and needed to find their way.
Raya and the Last Dragon
Where to watch: Disney+
Rating: PG
Raya's people have been at war with each other since anyone can remember. In order to bring peace to her land, she embarks on a quest to find the last dragon. Along the way, she meets those who want to help her and those that want to stop her. I've been impressed how Disney appears to be moving away from love stories in kid's movies, and instead focusing on young women's quests to help their people. That's an underlying message that we can all use.