As a member of the AAPI community, growing up in the '90s, it was difficult to see yourself reflected in the content available. I think I might have been an adult before I saw a South Asian representation on a screen who wasn't Apu from The Simpsons.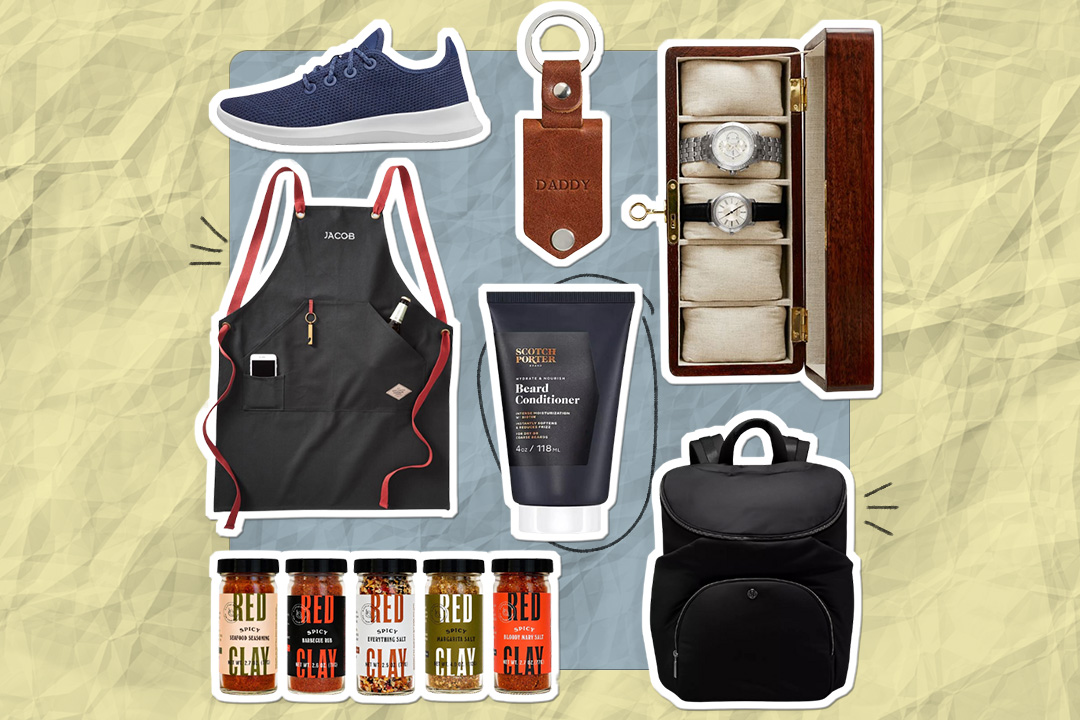 june 18 is coming up fast — have you started shopping yet? 😎
Now, there are so many more wonderful movies out there featuring a diversity of characters parents can choose to watch with their children. Stories that empower and celebrate exactly who we are and what we are capable of. I've taken to watching them even without the kids because my inner child has been crying out for it this whole time.
While some are perfect for an unforgettable family movie night, others would be more suitable for big kids. Either way, there's truly something for everyone on our list of our favorite AAPI kids movies you can share with your family.
Movies for the Whole Family
Moana
Where to watch: Disney+
Rating: PG
This is one of my favorite Disney movies of all time. It's stunning visually, but the story is also incredible. There is no prince here for the princess to fall in love with. It's a story about a young woman who is on the precipice of leadership and realizes that she has to save her people, even if her father disagrees with her methods. Plus the songs are amazing and will have you bopping long after the credits roll.
Lilo & Stitch
Where to watch: Disney+
Rating: PG
Lilo, a young lonely girl, adopts a rambunctious dog, Stitch—or so she thinks. He's actually an alien experiment that's escaped from his home planet. While Stitch overturns their lives, Lilo's sister is at her wit's end, trying to raise her sister as a single parent after their parents died. But when the aliens coming looking for him, Lilo reminds everyone that they are Hawaiian and Ohana means family, and family means no one gets left behind. This movie is so surprisingly lovely. It shows us that family can mean what we want it to mean and that not everything in life will be wrapped up in a bow.
Over the Moon
Where to watch: Netflix
Rating: PG
Fei Fei is young when her mother passes away. But she has always loved the story of the Moon Goddess, Chang-e, and continues to share that bond with her mother long after she passes. As her father begins to open his life back up to the possibility of love, Fei Fei worries that her mother will be left out and decides she must build a rocket to the Chang-e and save her family unit. This movie shares Chinese folklore, and also shows how vulnerable we can all be on the precipice of big change.
Mulan
Where to watch: Disney+
Rating: G
When the imperial army calls up a man from each family, Mulan decides to step in for her injured father and join up, pretending to be a man. She finds herself in dangerous situations and constantly on the verge of being found out. But when she alone is able to uncover a plot to kill the emperor, she and her friends from the army step up and try to save China. This is a movie that has stayed with me from childhood. The songs are catchy, but more importantly, Mulan's bravery and love for her family will stay with you for a lifetime. The live-action remake of Mulan is also available on Disney+.
My Neighbor Totoro
Where to watch: HBO Max
Rating: G
This is a great Japanese classic about two young girls whose mother is sick in the hospital. When they move to be closer to her, they meet the spirits that live in their new house and the surrounding forest. It's a tale of friendship and how it can help us heal in times of trouble. It's stunningly animated and a lovely reminder of how our littles are so resilient even in the face of life's biggest hurdles.
Hanuman Da' Damdaar
Where to watch: Hulu Hotstar
Rating: G
This animated tale tells the story of how Hanuman came to be. If you are unfamiliar, Hanuman is a god in the Hindu religion. He is a fierce warrior and a helper to Lord Rama. But how did he become the adult we know and love? Through this movie, we see the trials and tribulations that Hanuman overcame to become the god that we love today. This movie is so cheeky and fun. It's a great reminder that even the greatest warriors had humble beginnings and needed to find their way.
Raya and the Last Dragon
Where to watch: Disney+
Rating: PG
Raya's people have been at war with each other since anyone can remember. In order to bring peace to her land, she embarks on a quest to find the last dragon. Along the way, she meets those who want to help her and those that want to stop her. I've been impressed how Disney appears to be moving away from love stories in kid's movies, and instead focusing on young women's quests to help their people. That's an underlying message that we can all use.
Abominable
Where to Stream: Prime Video
Rating: PG
In this heartwarming film and one of our favorite new AAPI kids movies, three teenagers unexpectedly encounter a friendly Yeti named Everest. Lost and alone, the group help him find his way home. They must venture through China to reunite him with his family, all while trying to escape from a greedy businessman and zoologist who want the Yeti for themselves. Added bonus: families can watch the show Abominable and the Invisible City on Hulu.
Up
Where to Stream: Disney+
Rating: PG
One of the most lovable characters in one of the most enjoyable movies there ever was is based on the appearance of young Peter Sohn, a Korean American director and animator at Pixar. Of course, we're talking about Russel from the beloved movie Up. After Carl Fredericksen loses the love of his life before accomplishing their dream of traveling to South America, he sets out to take the adventure on his own. Instead of going the conventional route, the balloon salesman ties thousands of balloons to his house and heads south, home and all. Little does he know, a neighbor boy in the wilderness scouts, Russel, has tagged along as a stowaway.
Turning Red
Where to Stream: Disney+
Rating: PG
Mei Lee wants to be the perfect daughter in her mother's eyes, but she also wants to explore her youth and cultivate her self-interests. When the 13-year-old finds herself literally turning into a big red panda when she gets too excited, she finds new ways to attempt to honor her family as well as pursue her passions.
Movies for Big Kids
To All the Boys I've Loved Before
Where to Stream: Netflix
Rating: TV-14
Based on novels of the same name, To All the Boys I've Loved Before, starring Lana Condor, has taken the entertainment world by storm. Lara Jean secretly writes love letters to the boys she has a crush on. Never to be sent, the letters serve as a personal outlet for her feelings. That is, until one day when her world is turned upside down as all five of her letters are mailed to the boys. When you can't get enough, watch To All the Boys: P.S. I Still Love You and To All the Boys: Always and Forever on Netflix, too.
Crazy Rich Asians
Where to Stream: HBO Max
Rating: PG-13
Excited to be accompanying her boyfriend on a trip to Singapore for a family wedding, Rachel was not prepared to find out how well off his family truly is. Not to mention, he's also known as one of the country's most eligible bachelors. Now she's not only dealing with the pressure of meeting her boyfriend's family for the first time, but also navigating jealous socialites and his disapproving mother.