It would be an understatement to say that babies and new parents require a lot of things. If you're attending a baby shower (or making a registry for your own), it can be overwhelming to scroll through a long list of products to find the perfect gift.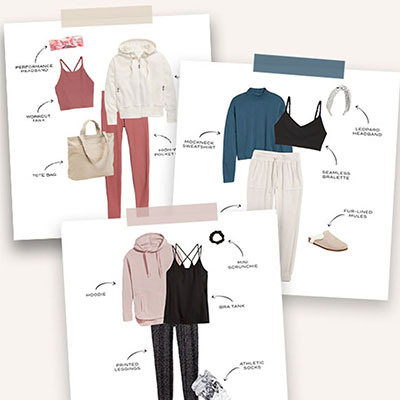 Shop 6 of Our Favorite Loungewear Outfits From Old Navy
Need to spruce up your at-home wardrobe? We've put together six cute, comfy, and budget-friendly loungewear looks from Old Navy.
This way to shop! —>
While adorable footie pajamas are tempting and diapers are incredibly practical (obviously a necessity!), baby showers are the perfect opportunity to give a memorable, unique, and also useful gift for parents-to-be. As a baby shower attendee, you want your gift to be put to good use and to make the life of new parents just a tiny bit easier. Nothing feels better than getting a text from a new parent raving about how amazing your gift is (plus, cute baby pictures usually accompany these texts!).
For first-time parents, it's nearly impossible to know exactly what you'll need. Does a newborn need toys, and if so, which ones are the best? Will the baby like being swaddled and will that be with their arms in or out? While you can't necessarily answer these questions before the parenting journey begins, certain products are crowd favorites for a reason.
Whether you're attending a baby shower in person, are celebrating virtually, or are working on your own registry, here are 12 amazing products that new parents will love.
KiwiCo
Figuring out how to play with a newborn is both important and confusing. It seems like newborns don't do anything, but there are actually specific ways you can play with your baby to encourage their development and learning. The KiwiCo Panda Crate toy subscription box is the gift that keeps on giving, with boxes arriving every two months, helping new parents navigate the early days of play. The various boxes take subscribers from 0 to 24 months of age. Moms (and babies!) will have something to look forward to whenever a new box arrives.
Use code EVERYMOM at checkout for 30% off your first month's subscription with KiwiCo!
This post was in partnership with KiwiCo but all of the opinions within are those of The Everymom editorial board.