"Congratulations, but beware of the 'pregnancy mask' during your second trimester. There isn't anything you'll be able to do about it," a former neighbor said when she learned about my pregnancy. Why is it people can't seem to help themselves when sharing "words of wisdom" with pregnant women? I remember hearing plenty of skincare warnings and tips—many in the form of old wives' tales—during my pregnancy.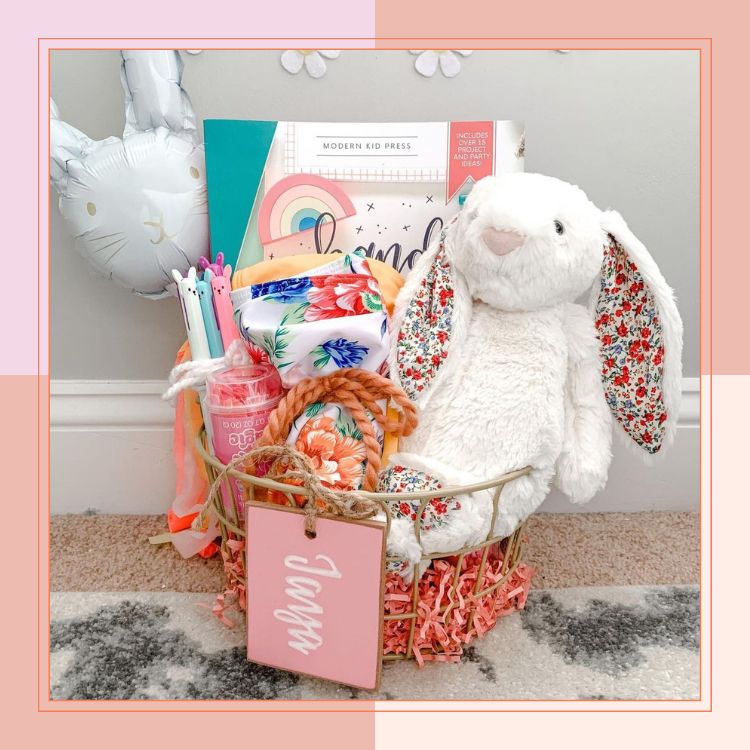 everything you need to get ready for the Easter Bunny's visit on April 9th! 🐰
If you're pregnant, you may have to change certain things in your daily routine, like cutting down on caffeine or avoiding certain foods. It can also be confusing to figure out how to best care for your skin. When I was pregnant, I was so afraid of using anything harmful that I steered clear of my regular skincare routine for most of my pregnancy. This left my skin feeling dull and looking dry.
I spoke with an expert to help you avoid the myth that skin care is hard during pregnancy. Dr. Loretta Ciraldo is a board-certified dermatologist based in Miami with over 40 years of experience. She is also the founder of Dr. Loretta skincare. Below, Dr. Ciraldo addresses common misconceptions about pregnancy skin care, which ingredients to avoid, and how to make time for skin care—even when you're exhausted.
Meet the expert

Dr. Loretta Ciraldo, M.D. FAAD

Board Certified Dermatologist and Founder of Dr. Loretta Skincare
What is the biggest misconception about skincare during pregnancy?
The many generalizations about skin during pregnancy are probably the biggest misconceptions I hear. Some women are told they'll develop stretch marks, some that acne will come out, and others that they can't use a hybrid sunscreen. My advice is that if you have any preconceived notions or challenges with your skin in pregnancy, address these immediately with your OB/GYN, and if necessary, see a dermatologist early for best guidance instead of friends' advice.
What skincare ingredients should pregnant women avoid?
Tretinoin and Adapalene should not be used in pregnancy. These can cause damage to the embryo. If a woman using one of these becomes pregnant, she should stop using them. I have never seen any problems if they are stopped once the woman learns of her pregnancy. Of course, Accutane is associated with severe congenital disabilities. Hydroquinone should also be avoided in pregnancy since it can be absorbed into our bloodstream to cause hormone disruption during pregnancy.
Self-tanners with dihydroxyacetone have some respiratory discomfort for pregnant women, and I don't advise them during pregnancy. Certain chemical SPF actives, specifically oxybenzone, octocrylene, and octisalate—if present in concentrations higher than 8.7% in the sunscreen—can get into the bloodstream where any potential adverse effect cannot be ruled out. So read your favorite SPF label carefully to be sure you are not using one with these levels of these actives.
What sunscreen would you recommend for pregnant mothers?
Sunscreen use is paramount in pregnancy! During these nine months, high estrogen levels make us more susceptible to the sun's rays. Many of my patients tell me they burn more easily and have less sun tolerance in pregnancy, and most women get hyperpigmentation more easily.
I recommend that you continue to use your favorite brand of SPF or CC cream every day [as long as they don't contain the ingredients listed above]. In pregnancy, you may become more sensitive to scents or textures if you try a new product, so I like sticking to one you know you'll use. It should be in the range of SPF 30 to 50. I only use Dr. Loretta products on my skin and in my practice. Our Urban Antioxidant SPF 40 is my recommendation, along with IT Cosmetics CC cream SPF 50, which comes in a wide range of tints, so you can use it as makeup as well as SPF.
Are there safe products for pregnancy acne, hyperpigmentation, or melasma?
For pregnancy acne, I recommend glycolic acid and topical (prescription) Erythromycin Gel. To address the hyperpigmentation, be sure to use a tinted sunscreen since the iron oxide will help to resolve melasma and other forms of hyperpigmentation more effectively. I also love topical Vitamin C for these conditions.
What advice do you have for someone who may feel they don't have the energy to care for their skin during pregnancy?
Take a good facial cleanser into the shower with you and use it there, so you are sure to use a facial cleanser once a day. Be sure to wash your face after you rinse off all your hair care products since this can help to prevent acne breakouts from hair care.
Leave your sunscreen next to your toothpaste and apply it to your face before you brush your teeth every day. This is especially important in pregnancy when high estrogen levels are associated with a greater risk of post-inflammatory hyperpigmentation from acne as well as melasma. Studies confirm that keeping your SPF next to toothpaste increases your rate of use.
---
Pregnancy and parenthood bring out a lot of advice from people, and skincare is no different. You may feel overwhelmed by the opinions you hear, but the good news is you don't have to follow everything you hear. Sure, you may find that you have to make some changes to your skincare routine, and as Dr. Ciraldo mentioned, it's best to seek advice from a professional so you receive care tailored to your concerns and/or needs. You may even find that your skincare regimen becomes simpler during your pregnancy, which you'll appreciate once the baby changes up your routine yet again.